Viruses, Hoaxes and Scareware
---
If you look at the adverts, please come back by clicking the back arrow at the top


> This page may help you avoid (or clear) those nasty destructive programs.

See also Here for Basic Security

There may be times when your installed anti virus software is unable to clear a virus and you need to tackle it even before Windows has started. A number of companies provide free software that is capable of starting your machine and cleaning it. Microsoft uses a 'bootable Windows Defender program'. Defender is like Security Essentials. See http://windows.microsoft.com/en-gb/windows/what-is-windows-defender-offline Other 'portable' anti virus software comes from Sophos, Spybot Search and Destroy, AVG Rescue CD, Avira Rescue System, F-Secure Rescue CD and Kaspersky Rescue Disk

A little known program from Microsoft will check your machine for viruses. See https://docs.microsoft.com/en-us/windows/security/threat-protection/intelligence/safety-scanner-download

Helpful Guru Bob Rankin has just updated his recommendations on free and paid AV programs


Leo Notenboom also has an excellent article about removing PUPs (Potentially Unwanted Prograns) at https://askleo.com/remove-pups/

http://askbobrankin.com/update_free_antivirus_programs.html?awt_l=Orks6&awt_m=Jo13YRCAxuP6SL

I use Avast Free. So does Bob Rankin. Avast 2016 - a summary by him. But you have to be prepared to be pestered daily to upgrade to the pro version. This applies to most other anti virus software. After all there are riches to be found from this problem!


My own version of this advice is in a paragraph below

Malware protection

These days we would be very fortunate if we have never been affected by Malware, or Adware. They can take various forms but are usually about making money for the person spreading the software. We might have been downloading a reputable program but inadvertently clicked on something we didn't want. We find that our searches are being sent to somewhere THEY want you to go, or they may promise to check your computer for viruses or because it is slow. Chances are they will find dozens of things wrong, then suggest you pay for more software to get rid of the problems. Don't go down that route. Immediately set about clearing THEIR software. There are a number of tools to help with this in addition to your anti-virus software (which didn't stop the intrusion) I always have the free versions of the following reputable programs in readiness for such an event. If you wish to get them go to the links here, rather than browsing for the programs. To be on the safe side it is a good thing to have a working Restore point before scanning with these. Of course EVERYONE is in the business to make money. The free ones usually do a reasonable job but increasingly, these days, it will be suggested that you buy their 'Pro' version that does even more. The choice is up to you.
1. www.malwarebytes.co.uk to get to the setup, called MBAM.
2. www.piriform.com/ccleaner/download to get Ccleaner. It clears rubbish but also has an uninstaller and a Register cleaner
3. https://toolslib.net/downloads/viewdownload/1-adwcleaner/ to get Adwcleaner. This is a powerful tool which will remove most nasty intrusions that others miss.
4. I actually pay for the basic version of Iobit Malware, which keeps on improving the way it checks the PC. I have just installed the update which revealed a text file which showed some of the improvements: What's new in IObit Malware Fighter 5:

+ Optimized IObit Anti-malware Engine - Scan much faster with lower resource usage. Detect and remove more threats thoroughly for higher security.
+ New Anti-Ransomware Engine - Protect your important files from malicious attacks and illegal access by third-party programs.
+ New Download Protection - Scan your downloaded files to keep your PC away from the malicious files.
+ New Camera Guard - Protect your camera from unauthorized use and prevent malicious programs from spying on your privacy.
+ Enhanced Scan - Strengthen the scan for Rootkit to protect your PC in all-round.
+ Optimized Surfing Protection and added Ads Removal - Protect your browser from various online threats and remove more annoying ads for safer and smoother surfing experience.
+ Optimized Plugin / Toolbar Cleaner - Monitor the activities of Plugins / Toolbars in real-time for safer and cleaner PC.
+ Optimized Update Process - Update database and product version more timely, stably and conveniently.
+ Brand New UI - Support high DPI displays & high resolution screens for better experience.
+ Larger Database - Support removing more latest stubborn malware and viruses.
+ Better Compatibility - Enjoy full-round protection on latest Windows 10.

One thing I am

not

so keen on is the constant nags to install even better versions of their various tools !

5. As a final check, if I think something is amiss I run the program Superantispyware. There is a free version of this, too. I do not have any of these programs loaded at startup but do have shortcuts on the desktop to them, in case I need them.
I also quite like the Iobit uninstaller (http://www.iobit.com/en/advanceduninstaller.php ) as it clears things from the register that are often left behind by most un-installers.
One program that is spending a lot on publicity lately is Scanguard A number of reputable writers say to stay clear of that one.
If you have had a number of friends say they have had unusual emails from you, usually trying to advertise something. Chances are that your email address has been hacked, It would certainly be a good idea to change your password. If your email is rejecting your password even though you are certain you have entered it right ? First, make sure that you don't have your caps lock on ! Passwords are case sensitive. But if you really can't get in i is as well to get through to your email program provider and report it, as it is possible someone has changed it so THEY can get into it. That could be more serious.
Anti Virus Programs
It pays to shop around as many are offering discounts Of course one must also have an anti virus program.There are several free ones, usually with paid versions offering more protection. Most offer a free trial.
Most anti virus programs are now written to work with Windows, Apple and Android devices
For Windows, the minimum should be what was called Microsoft Security Essentials (or what is also called Windows Defender) http://windows.microsoft.com/en-gb/windows/security-essentials-download It is free and there is no paid version or Apple or Android versions. It is updated daily via the Windows Update system.
There are many other anti-virus programs vying for the top spot. Most have free versions and free trials but usually also have paid for versions, which offer a wider range of protection.
AVG
McAfee
Kaspersky http://www.kaspersky.co.uk/
Avira www.Avira.com
www.Bullguard.com
www.Avast.com.
If you cannot tackle the virus problems yourself.the Which report said Carphone Warehouse did the best job and charged only £25 on average. Pcworld charged an average of £95 and missed more. When it came to which AV software that tested well they favoured Bullguard and Microsoft Essentials (free). Personally I have been more impressed with Avast recently, although it bothers you to upgrade. The Comprehensive version is £39 and the Premier one is £49. A little less if you buy 2 or 3 year packages.

Despite all my efforts I managed to pick up a bothersome program which kept on interupting my even flow: I got a browser hijacker on not just one but two of my PCs ! Next thing I knew my Google Chrome was looking down the barrel of something call 'Roll around'. The effect is that whatever site you browse to you see Roll around adverts. And, worse than that it can lead you to sites that you would prefer not to visit, some of which are reputed to do even worse things to your computer.

I found and uninstalled the program, then ran that old favourite, Malwarebytes, which reported a few cases of Roll around, which I quarantined. I even deleted the words from my registers. But the adverts continued to appear alongside the contents of the pages I had browsed for. I expected to find additional add-ons in the Settings of my Google browser but there were none. I was beginning to run out of ideas, so restored to a week before and that appears to have fixed it.

So, how did I contract this persistent infection ?

I use a Microsoft program to string together videos and pictures in a format that will play on the family DVD player (via TV). Unfortunately, the videos I was using were from a camera and were in the MP4 format. And that is one format that the program cannot accept. So, my error was to download a free converter, so I could make the, all into WMV (Windows Video) format. Such free programs are notorious for including a 'payload' of that kind. And it did.





The moral of this tale is to be careful what you download; and use Restore as soon as you find that your browser is leading you astray.

This sort of thing is becoming all too common and they are becoming ever more difficult to rectify.

PASSWORD CHANGE ? There have been frequesnt leaks of data including passwords and much more besides People are frequently advised to change their passwords. Certainly businesses and people who do on line banking or buy stuff should consider making a change. One company that provides and on-line password vault called LASTPASS is enabling people to check whether the sites they use have been compromised. There are three versions of their program from Free to Enterprise.. 2017. Even Lastpass has now been hacked. You are advised to open the program directly, rather than any other method (such as an add on to your browser), to avoid problems. See a report HERE

If you are suspicious about a particular file and think it might contain a virus you can forward it to http://www.virustotal.com/ for a thorough report


But to see what the UK government suggests see https://www.cyberaware.gov.uk/

As good geek Leo says , you don't need a new computer because you have a virus. Viruses, however sophisticated, are only software. Your hard ware is still intact. It may be old and slow (and that is another reason to get a new machine) See http://askleo.com/one-reason-why-you-dont-need-a-new-computer/?awt_l=BNm.h&awt_m=Jbza9y998JdfbL

By the end of 2015 the Cryptolocker scam had been cracked. But other versions of Ransomeware have appeared, such as Wannacry and Petya (June 17) . If you wish to read the full story of Petya please click on the Sophos site HERE


Sophos also offers a free anti virus software (but insists that you get rid of all your current anti malware programs)

And Sophos offers a free malware clearances tool which can be downloaded from HERE

Ransomware This has become the biggest money spinner on line. Malware infects your PC (if you downloaded the virus). It then encrypts the data (such as documents and spreadsheets) and when you try to open them you get a demand for a large sum of money to get the key to open them. A company might be totally dependent on these files and there is NOTHING anyone can do to break the encryption. If you have backed up the files to somewhere outside the machine (another machine, an external hard disk, a flash device or something like Dropbox, you may be able to restore them. But otherwise you are in a fix. The average price is $300.

Malware is becoming common and sophisticated. A contact got something by clicking on a link in an email from a friend. This had been sent to her by one of their friends (who should have known better). She found that Internet Explorer was not usable. Restore did not help. She managed to use Firefox to download fresh copies of AVG, Ccleaner and Malwarebytes (free). These appeared to clear many items but the problems continued. She finally ran Superantispyware twice and finally cleared the last bug. I advised to delete all previous restore points, which would have contained the infection. But it was a long job and she was experienced. Imagine trying to instruct a newbie to do all this via email. Things are weighted in the scammer's favour.
PEOPLE CONTINUE TO LOSE MONEY. Check your accounts, change your passwords and even your credit card.

It is imperative that your computer is made secure against these things. See Help8 for more details about Microsoft's free offerings

If you come across a scam/fraud, get as much detail as you can and report it to http://www.actionfraud.org.uk/

I have just removed the most difficult virus I have ever tackled (in a friend's computer). It was from antivira. The instructions are at http://www.bleepingcomputer.com/virus-removal/remove-antivira-av There are several steps to take, so print and follow the instructions closely. In particular not that when disabling it with the program Rkill I found it necessary to click on it several times, ignoring the warnings the virus continued to send. The reason that I consider it to be the most difficult is that it disabled Safe Mode, stopped every EXE file from running and even prevented boot of the XP disk from the drive, thus preventing an XP repair. The program constantly amends Internet Explorer so that it only visits a proxy site (and this must be altered (see the notes on the site above) although it didn't affect access to the net by Firefox. The total time to remove this virus was around four hours ! Alternative methods for removal can be found at http://deletemalware.blogspot.com/2011/02/how-to-remove-antivira-av-uninstall.html

What is Trusteer Rapport and do I need it ? Trusteer is a company which specialises in software to protect banks (and you) from fraud. Many banks in the UK and USA recommend this software and it is even possible that it will have arrived on your PC just because you have done on-line banking. Rapport produces regular reports which may popup on your bottom line stating how many times it has prevented accesses to your PC which might compromise it. Although I look at these reports I fail to understand what they are preventing and am even assured by the report that the listing does not mean that your machine is infected. The software is trying to prevent accesses which might enable a crook to copy your bank details and password.


The latest scareware program is introduced to users by a screen that looks like a normal browser warning (IE, Firefox,Chrome etc) and even mimics Windows Security Essentials warning screen. It suggests that you download a program called Win7 AV to clear the viruses but, in fact, infects you further. Watch out for this clever one. A friend who had a virus infection writes "After cleaning my PC with AVG and Spybot, I also cleaned it with Spyware Terminator, Superantispyware and Malwarebytes (as you recommended) and in that order. Surprisingly Malwarebytes discovered what the others didn't. This illustrstrates that depending on a single virus remover, even one as popular as AVG, is not wise.

Like many people, I get phone calls saying that I have a problem on

my

computer. This is a scam, originating from call centres in India but controlled by people in the UK. They try to convince you that you have a virus by suggesting that you look at certain files. They then suggest to the gullible that they pay £90 to download a program (which is actually free) to clear the virus. Once hey have your card details they are home and dry ! There is NO REASON these days to be without virus protection ! http://www.microsoft.com/security/portal/ is the Microsoft centre for research into Malware. It gives great detail on new threats and methods of removal. Microsoft Adware Removal Tool is incorporated in later Microsoft programs but is still on the net.
Windows Defender, formerly known as Microsoft AntiSpyware, is a software product from Microsoft to prevent, remove and quarantine spyware in Microsoft Windows. It is included and enabled by default in Windows Vista and Windows 7, and is available as a free download for Windows XP and Windows Server 2003.
Microsoft Security Essentials provides basic real-time protection for your home PC that guards against viruses, spyware, and other malicious software. It is a free download from Microsoft that is simple to install, easy to use, and always kept up to date so you can be assured your PC is protected by the latest technology. It is easy to tell if your PC is secure. When yours is green, your computer is OK If it is orange you need to click it and follow the instructions. It runs quietly and efficiently in the background so that you are free to use your Windows-based PC the way you want without interruptions or long computer wait times. See http://www.microsoft.com/Security_Essentials/
Microsoft SpyNet is the network of Windows Defender and Microsoft Security Essentials users that help determine which programs are classified as spyware. The signatures created for any submitted programs by the users of the product are available to all users, displayed as a bar graph that shows the percentage of people who have allowed, blocked, or removed an item. This method of spyware classification allows rare, unknown, or new spyware to be categorized as most people choose to send their data.

A good article discussing the merits of Windows Security is at http://lifehacker.com/5401453/stop-paying-for-windows-security-microsofts-security-tools-are-good-enough. It concludes that you don't need anything else and that includes the Windows own firewall (Advanced mode)

How good is Microsoft Security Essentials ? Can I get rid of my other anti virus /anti adware programs ? See Bob Rankin's write up at http://askbobrankin.com/microsoft_security_essentials.html

If you installed Microsoft Windows Defender on your PC it will be automatically turned off when you install Security Essentials. So, you might as well delete it

What is a Firewall ?
For a complete description of this essential security element see http://www.askbobrankin.com/do_i_need_a_firewall.html Most people know that Windows has its own Firewall. Unfortunately it is not completely effective (doesn't check outgoing calls) and it is advisable to add another such as Comodo
The other famous free firewall is Zone Alarm from Zonelabs. Lately I have found that their newest version has selectively caused problems with (1) NTL e-mail collection (2) Avast anti virus updates and (3) Google Earth. So I gave it the heave-ho and used Sygate for a while. But I found that Sygate was letting everything through and I have returned to Zone Alarm. If you have a firewall.... and you SHOULD have... do you know whether it actually stops your computer accessing the internet without your permission. There is a small program called the Leaktest from http://www.grc.com/lt/leaktest.htm that will check this. But your firewall may be doing this outward bound check. Certainly Zone Alarm does. So, if you use Leaktest, the correct result is that your firewall should BLOCK it when it tries to access the net.

It really is about time all ISP's woke up to their responsibility to protect their customers from malware. A friend has been seriously inconvenienced in this respect and, after getting a second new machine in under a year, this one has become infected with a Trojan, probably as a result of being inundated with popups shortly after he got on the net. His Norton has said there is no problem but there clearly is and he is now completely off the air. It really is not fair of Tiscali to let him down like this and it is costing him dear in cash and worry. There is no good reason why an ISP should let through 1) viruses 2) Spyware 3) Popups 4) Spam. Mine doesn't and there is no excuse. Once again I suggest that anyone who is bothered by these things despite heeding all the warnings and installing all the requisite protection they should CHANGE THEIR ISP.
Good alternatives to AVG are Antivir, and Avast! from www.avast.com,
At one stage the US Government suggested we don't use Internet Explorer (!!!) to browse the net as it was so full of holes! Alternatives are Opera and the latest favourite Firefox, free from Mozilla. See the link at the top of the page on Web surfing. It is the one I use in preference to Internet Explorer. Unfortunately even these Browsers are vulnerable.

Lately I have found that people are getting infected by simply clicking on a website or clicking on a message which has appeared on their screen. It says click here to do ...(various things). Whether you click Yes or No you still get infected. My advice would be to go off line immediately, even if you have to pull the plug out of the wall or the modem. Keeping your PC clean of viruses is important, not only for you but for the rest of the Internet system. Your PC may be among those being hijacked to send the emails and spam! Such PC's are termed 'zombies'. As well as proliferating the problems the method is used to prevent the rogues being traced. .

It is now possible for any idiot hacker to get hold of "Phishing" software, which will 'spoof' you bank's heading and lead you to click on a link aimed at getting your account details.

So, think before your click links in email messages, even if those email messages are from friends, family or companies. This is especially true for links in email messages from Amazon, AOL, eBay, PayPal, your bank, your credit card company, or any other company you normally do business with. If any web site, financial company, or commercial entity sends you an email asking you to click on a hyperlink in that email to update your account information, DO NOT CLICK ON THAT LINK. This only applies to hyperlinks in email messages and web pages, not addresses you manually key in to your browser's address bar. So,to be really safe, if you need to access your account information at Amazon, AOL, eBay, PayPal, your bank or financial institution, your credit card company etc and manually enter the address.

Software is also available to view and hear you through your webcam, so be sure you are properly dressed !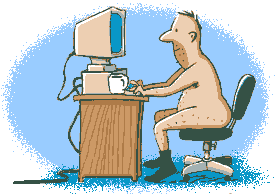 SIMPLE SECURITY RULES :
(1) NEVER download an attachment to an e-mail (even from a know address) if you are unsure what it is. Infected attachments most commonly end in Pif, Scr, Exe, Com and lately may be Zip(ped- compressed versions )of these
(2) Keep your email and web browser programs up-to-date; get the latest updates from Microsoft from Http://windowsupdate.microsoft.com .
(3) Get and keep up-to-date an anti virus program.
(4) Install a Firewall program.
(5) Occasionally run an up-to-date anti Spyware program.
(6) If an e-mail says "Pass this warning on", don't bother, it will be a hoax.
(7) If you are suddenly invited to 'click here', win cash or take an IQ test, don't. Go off line and get back on again. See below for free programs that can help.
(8) If you use music file sharing software, expect to get virus infections.
(9) If you get a spam email then DO NOT CLICK ON ANY LINK in it, even one which say you can unsubscribe with it. It is possible that the link will lead to a website which will send you a VIRUS ! This is called V-SPAM If you want to know how to avoid viruses look at the following page http://uk.trendmicro-europe.com/ It is also the home of the Housecall free virus checker.

A general site for virus information is www.f-secure.com And PLEASE check with them that the scary message you are forwarding is not a hoax. Many of them are, (see list below). You can also check for hoaxes on www.vmyths.com. See also www.getvirushelp.com/. Another nice explanation is at http://www.securityfocus.com/columnists/220 What to do if you get a virus infection

Obviously, if you have an anti virus program you should do a full scan. However, no anti virus software is completely effective and many are out of date, so you should also run another anti virus program from the net e.g. http://housecall.trendmicro.com When I get a request about a problem that I suspect is a virus I immediately search the Internet for the main word e.g. "Sober" or "Bagle". Inevitably I am led to helpful 'Forums' or Anti virus companies that are having to deal with similar problems. If you get problems, such as regular unwanted pop-ups I suggest that you do a search of the Internet in this way and look for links to sites that appear to be dealing with the problem. You may find a simple cleaner : There are a number of small programs that will clear groups of viruses and there are also tools issued by anti virus companies to clear specific viruses: see their sites e.g. For Bugbear get a fix from http://securityresponse.symantec.com/avcenter/FxBgbear.exe
For a tiny virus cleaner for Bagle, Bugbear, Netsky, Sasser, Bispy, Zafi, download the remover vcleaner.exe from www.grisoft.com. Avast also do an effective free anti virus program. Network Associates (Mcafee) provide another excellent 750k program (Stinger) which will check your machine for 30 recent viruses. Download it from http://vil.nai.com/vil/stinger.

Windows ME and XP users, when clearing viruses, should temporarily turn off Restore (go Start, Help, and search for Turn off system restore). If you do not do this you are in danger of re-infection and your anti virus software will also continue to report an infection. Turning it off (see XP Help) will clear all previous restore points, so make sure you restore RESTORE after you have cleaned up.


Often the problems are caused by, not one but, a number of 'foreign' files in the computer and one technique to get rid of these things invariably involves downloading a program called Hijackthis from www.download.com. When run on your computer this program shows a list of the programs (good and bad) that are running in the background so a forum expert can advise which are the nasty ones and how to get rid of them. They usually also advise the running of the latest versions of programs such as Ad-aware and Spybot and external virus checkers such as the one offered by Housecall (see above). But the Hijackthis log will mean very little to the average computer user and has to be analysed by an expert.

**************
Dialers or Dialers. Recently I have been called on to disable a number of these programs. It is difficult to know how they arrive on people's computers but they can have rather unpleasant results. One of them constantly contacted a pornography site and others have been know to dial very expensive premium numbers without the knowledge of the person using the computer. In two cases the person had responded to a pop-up, which had invited them to take an IQ test. This connected them to a premium number which remained connected even after the test was completed. Dialers can cost a great deal of money in phone bills and this is not discovered until your next bill arrives. I have heard that the IQ test person, Neils Jalbo in Denmark, is STILL doing it and has recently ripped off one person for £60. Rogue dialers cannot affect people on Broadband .

A friend got a virus as a result of downloading an attachment to a very official looking email purporting to be an update from Microsoft. So watch out ! Microsoft NEVER send out updates. You either have to go and beg for them or your machine may be scheduled to automatically update. The symptoms of the virus were an error message about memory problems and a disabled anti virus program (which prompted the memory error at Startup). This was followed by over 90 emails, mainly bounced from non existent addresses and a few which told him he had the virus (Worm Swen A). I cleaned it by downloading www.housecall.antivirus.com then installed an up to date anti virus program and did a second scan.

Msblast is a common worm (virus) It doesn't affect Windows 95, 98 or ME but can hit Windows XP. It is not received via email but through a weakness in XP's armour. You are unlikely to get it if you have a Firewall active or if you have downloaded the latest XP patches. It is not destructive in that it does not delete files but may cause your machine to 'boot' over and over again, which makes it difficult to remove. In order to remove this virus please search your PC for msblast.exe (usually found in system32 folder) Delete it. Then Click Start and select Run, Type msconfig & click OK. Select the start-up tab. Disable msblast. Reboot machine and enable your firewall and anti-virus software. As an added precaution, perform the next 2 steps: Disable Client for Microsoft Networks ; Disable File and Printer Sharing. Once you have done the above, get a Patch from an Anti Virus program supplier such as http://securityresponse.symantec.com If you are unable to get on-line, then the file is small enough to download from another PC on to a floppy disc, to install on your PC at a later time.



Definitions :
Adware : Uses a similar technique to Spyware but is usually a market research tool. May result in popup adverts.
Virus : The generally used term for malicious programs which infect computers.
Zombie : A PC that has been infected with a program that enables a hacker to distribute Malware (or Spam) without you knowing.
Botnet : The name given to the thousands of PCs infected by Trojans and turned into Zombies without their owner's knowledge
Dialers or Dialers are programs which dial premium numbers from your computer without your knowledge.
Key logger : A program which makes a record of what you type. This is then accessed by someone who can find things like your banking password or other confidential information such as a Visa Number. Particularly dangerous and obnoxious
Malware. The generic term for all viruses and harmful spyware
Phishing : Emails which appear to be from a bank and asking you to confirm your account number and password
Spam : Unsolicited advertising.
Spoofing This is where a link on a site is not what it appears to be but leads you to a different site.
Spyware : Programs or 'Cookies' which send information back to the 'owner' regarding your surfing habits. Often used for marketing purposes.
Trojans : A dangerous program masquerading as something harmless and which allows the perpetrator to remotely control or view your computer, usually sending out spam, viruses or phishing mail
Worms : Viruses which arrive mainly as email attachments and use your email contacts to spread the infection to others. They do not require action on your part to replicate. They may be harmless but can rapidly overwhelm an office network.
One very silly 'virus', which may show up on your computer is Clickme. This shows as an icon on your desktop which, when clicked, moves to a different place. Not damaging but very annoying and difficult to remove as, like many of these programs, it is working in the background and you cannot remove a file which is in use. It is often necessary to start your machine in "Safe Mode" in order to do anything about it.

Excel and Word macro vulnerabilities discovered ! What's new about that ? ! Microsoft is encouraging users of their Office suite to download patches that will fix a problem discovered in both Word and Excel. Affected Windows versions include: Excel and Word 2000 and 2002, Microsoft Office XP. Get the details and patches from Microsoft.

A friend asked me to speed up his Word program, which had slowed suddenly. Printing took for ever. I didn't suspect a virus as he had PCCillin and Norton on the machine. But they were out of date and a virus is what it turned out to be. I never thought that a virus would just affect one program but it did.

IMPORTANT : To prevent accidental re-infection with a virus you should delete infected mail from your Inbox and your Deleted folder. I suggest the following method. First make sure that your e-mail Display Panel is OFF. Then right click and Delete all suspected emails (with attachments).

When you have cleared a virus always restart your computer because it is very likely to still be in memory

***************
HOAXES. Almost as bad as viruses and Spam for blocking up the system are hoaxes. They almost all have dire warnings and advise you to pass the message on to everyone you know.

A site which lists Internet hoaxes and myths is www.vmyths.com. They are pleased to receive any hoaxes so that they can track the occurrence of these. You should forward them to HoaxFYI@vmyths.com Also see www.snopes.com

Please don't delete the file Jdbgmgr.exe, even if some e-mail tells you to. It is a HOAX. The file relates to Windows Java Debug Manager. And it is quite normal for the file to show a small teddy bear icon by the side of it. If you have already deleted the file you can get it back by going to the Microsoft knowledgebase article Q322993 for instructions how to restore your system: http://support.microsoft.com/ But your PC wont collapse if you don't. HOWEVER, if you receive an email with an attachment called Jdbgmgr.exe you should not (of course) download it and run it because some crafty soul has confused the whole issue by using it to disguise a virus ! On my XP machine the file Properties shows the genuine one to be dated May 2002 and is 15,120 bytes, though hovering over the file says 14.7k.

Similar is the Sulfnbk.exe hoax. Please note that your computer SHOULD have the program Sulfnbk.exe, which is a Long File name utility (it stands for Set Up Long File Name Backup) So, you should NOT remove it. But, no more panic notes about it please !

Typical Hoax Names

Before circulating these (and blocking up the web) please check with www.snopes.com. Some may be real threats. Most are not.

Anti perspirants cause breast cancer. No.
Cough CPR. The suggestion that coughing could help in case of a heart attack. See http://www.snopes.com/medical/homecure/coughcpr.asp
Reversed pin number at your ATM calls the police (new Dec 06)
Olympic Torch burns your hard disk
WTC (World Trade Center) Survivor
Dial 9 in response to an offer of a holiday and finish up with a huge bill.
jdbgmgr.exe and Sulfnbk below. Asks you to delete a normal file which, of course, you find because it is a correct file !
Cancer chain letter
Perfume hoax
Money Transfer hoax
Life is beautiful hoax
Microsoft piracy letter
!0000 email address trick prevents spam
Applebees Gift Certificate Gift Certificate hoax
Good Times
Cell Phone hoax
Your screen name hoax
Microsoft E-Mail Tracking System hoax
Sulfnbk.exe. This hoax urges you to look for and delete the perfectly innocent Microsoft program called Sulfnbk.exe. Naturally you find it and think you are infected. You are NOT ! Sulfnbk.exe is a normal (but rather unimportant) program
Be My Valentine
Virtual Card for You
Cancer chain letter
Money Transfer From Nigeria
Wobbler virus
Perrin.exe
Don't Lick Envelopes urban legend
Internet Flower For You
Cracker Barrel Gift Certificate
Don't Delete Iwon.com chain letter
Lotus Notes virus
Petroleum Trust Fund
Luck chain letter
DeafSupport e-mail
Budweiser Frogs
All Seeing Eye Virus
Bill 602P
My New Pics
Girl Thing
RH Power chain letter
Infected Bananas
HIV needles
WIN A HOLIDAY
Klingerman Virus
Deutsche Telekom warning
Yahoo! Service Systems Overload
Zlatko Virus
Internet Flower
Cola-Cola
Old Navy chain letter
Barbie chain letter
Victoria's Secret Gift Certificate chain letter
Win a Nokia
Riddle chain letter
Neiman-Marcus Cookie chain letter
Ericsson WAP Give-Away
AOL IM chain letter
Good Times
Hotmail Account
Gas Out chain letter
Newell Company chain letter
Touched By An Angel>PBR virus
El Poco virus
Free Diet Coke
How to Give a Cat a Colonic
Kentucky Fried Chicken chain letter
Drew Kennedy virus
Hacker's List chain letter
PDS (Parcel Delivery Service). This WAS a scam but has been closed down

Backup methods :

Other possibilities include
A memory module Flash Drive) to push into a USB socket. Upwards of 32Gb
An additional hard drive - internal or external (via USB) £50 - £100.
4.7Gb (or more if it is dual layer) Re-writeable DVD Disks from 30p.>See DVD Writers
To make a compressed backup of your hard disk use Norton Ghost. This is a utility for fast and safe system upgrading, backup, and recovery.
---
Site Navigation Links :- Please click on SITE MAP
---