Scams

For Spam click on Here
---
Avoid those Internet (and other) Scams

b>The latest news about SCAMS can be found on an A to Z at5 http://www.actionfraud.police.uk/a-z_of_fraud Report them if you have time




If you have lost money via a scam look at this form from Which :

https://www.which.co.uk/consumer-rights/advice/how-to-get-your-money-back-after-a-scam-amyJW6f0D2TJ


Lots of news about vulnerabilities of hardware in everything from mobile phones to Apple and Windows based machines of all kinds. Make sure that you are ready for any impending scams by backing up anything precious and trying to avoid any unusual requests and downloads.

Guru Bob Rankin warns against some new antivirus software called TotalAv. It, like Scanguard and PCProtect, are praised by sites such as Top10Bestantivirus. He infers that they are all cahoots with each other and probably run by one organisation called SSprotect. The ploy is to report loads of problems, then suggest you pay $49 to clear them, followed by even bigger payments for the 'better' version. BEWARE.


Ransomware Has been much in the news and this has even hit individuals. Malware gets onto a computer and scrambles everything. You are then advised that you an unscramble your precious files if you pay th ransom. See this link if your think you or a friend has been affected https://www.grahamcluley.com/how-to-respond-to-a-ransomware-infection/

The Wannacry exploit. What is it ? Are you likely to be affected ?
If your computer is infected with Wannacry, all of it will be encrypted (turned into meaningless letters and numbers) and you
will just see a page which tells you that, if you want the key to unencrypt, you will need to pay the equivelant to $300 (£230) in
'Bitcoins'. Bitcoins are an internet currency, whose value varies. It is used by criminals because the owner is untraceable but they
can be exchanged for any currency they wish. The encryption is so complex that it is unlikely that any organisation or computer
specialist can help. The demand is set so that many organisations (even police, hospitals, financial institutions etc) will gladly
pay up - and are doing so.

Do you have it ? Unlikely if you are reading this.
Could you be affected in future? Quite possibly, particularly if you ....
1. Use Windows which has not been updated by https://technet.microsoft.com/en-us/library/security/ms17-010
This is more likely if you are still running Windows XP, which is no longer updated by Microsoft.
2. AND have inadvertently downloaded the malware which allows the Wannacry exploit to load. This is normally introduced by
a carefully designed invitation to open an attachment to an e-mail or a link in a web page. If the malware is active on one
machine it can infect other connected Windows machines. This may lay dormant until the next round of Wannacry is broadcast
to the infected machines.
3. Have insufficient anti virus software which can spot and block the infection.

How to avoid this problem:
Normally I rely upon free versions of such software. The companies which develop and update this software are keen to get a
payback and, these days, constantly remind you that their 'Pro' version is better, if you pay.
So, recently I have gone along with some of these suggestions, at least on my main machine.
The software I use is:
Iobit Malware Fighter (Pro) - includes anti ransomware, if turned on. Does an automatic check daily
Superantispyware (Pro) Prompts to do a scan daily
Avast (Pro) Does an automatic check. Reminds me if any protection is not turned on
Microsoft Security Essentials with Windows Firewall. Has a reminder to do a full scan.

To check the status of your protection go to your Control Panel, System Security, Review your computer's status, Security.

Please note that, to my knowledge and to date, Wannacry only affects un-updated Windows equipment; not Apple (desktops,
laptops, tablets and phones) or equipment using the Android or other operating systems.


End of section on Wannacry Ransomware


AGE ACTION ALLIANCE A good downloadable page on scams

Banks are considering introducing a phone number (555) which can be rung quickly if you believe you account might be affected by a scam. Some banks will allow you to put limits on the amounts withdrawn from your account via ATM


Leo Notenboom's excellent warning about the Tech Support scam https://youtu.be/HmnTDiwYL68?t=119

An interesting site on Fraud Prevention https://www.cifas.org.uk/

Phone call scam The method used is for the scammer to fake the number from which they are calling, to make it appear that the call is from a reputable source, probably known to the victim. This may appear on the phone if Caller ID has been set up. The caller then sounds very plausible and persuades the victim to give sufficient information about their bank account to enable them to access it. Money is then transferred to another temporary account and associates draw cash from a variety of ATMs around the country. People are advised to check with their bank USING THE PHONE NUMBER ON THEIR STATEMENT and not one suggested by the caller. And certainly not call back. If they do that it is likely that the number (of the scammer) will be left open and they will be talking to the scammer, not their bank.

Don't fall for the GATSO report scam. http://nakedsecurity.sophos.com/2014/11/03/gatso-speed-camera-phish-leads-to-cryptolocker-ransomware-clone/ It is another Cryptolocker style ransomeware scam.

The BBC suggests a list of 'cyber crimes' one should watch out for and avoid. See http://www.bbc.co.uk/news/technology-25200338

August 2014 I am beginning to think that much of the hype about internet threats is exaggerated for the sake of selling newspapers. But the Cryptolocker scam DID manage to cream off millions before the group was broken up. But, if you are affected, the following address might get you out of trouble https://www.decryptcryptolocker.com
But ransomeware is still out there See a good article on the same subject at http://www.theguardian.com/technology/askjack/2015/jul/09/help-ive-been-hacked-have-i-lost-all-my-files

But to see what your government suggests see https://www.cyberstreetwise.com/

se days. See HERE for Leo's excellent article on these things, which mostly have one aim in view : to direct you to where THEY want you to go on the net - usually with advertising revenue in mind. Some arrive in you list of programs and can be deleted but others can be quite difficult to stop in their tracks. +

April 2014 At last someone has been had up for that nefarious phone call scam, where they convince people that their PC has a number of viruses. They then ask for a payment to clear these, take your credit card details and, if you are lucky, install some free anti virus software on the PC. If you are unfortunate they infect your PC even more and do what they want with your credit card ! The guy was given a suspended sentence (the jails being full) but at least had fines and costs amounting to £24,000 - if the court manages to get that from him

Jan 2014 A contact has sent me a very useful article on on-line fraud and asked me to add it to my site. Do have a look at http://www.sycura.com/avoiding-online-fraud

November 2013 Cryptolocker A new scam has started. Malware infects your PC (if you downloaded the virus). It then encrypts the data (such as documents and spreadsheets) and when you try to open them you get a demand for a large sum of money to get the key to open them. I have checked that this is genuine and not too difficult to exploit. A company might be totally dependent on these files and there is NOTHING anyone can do to break the encryption. If you have backed up the files to somewhere outside the machine (another machine, an external hard disk, a flash device or something like Dropbox, you will be able to restore them. But otherwise you are in a fix.

June 2013 The phone calls from "Microsoft. Support...we have detected your machine is running slowly/has a virus etc" continue to be commonplace. We just tell them we don't have a PC and they go on to find another mug. Another version comes from a company called Help PC Online, which "Which" investigated. Their British phone number actually connects to a call centre in Delhi and their address in Crawley appeared on Google to be a car park! For £110 per annum they promise to give you support. They then take over your PC and install and run two (legit) free packages (Ccleaner and Malwarebytes) Whilst I thoroughly approve those two programs, the charge is excessive. But there can be much worse consequences from allowing someone to take over your machine. In fact you are giving them the right to search the whole hard disk and they may find details you would prefer not to disclose. Always report scams to Action Fraud on 0300 123 2040 http://www.actionfraud.police.uk/

Jan 13 A vacuum cleaner/phone scam. You get an email which asks you for your opinion on vacuum cleaners. You might win one. You have to click OK to accept the terms and conditions and enter a valid mobile phone number. That number is not so you can be contacted day and night on your views on vacuum cleaners, but – and this is in the small print – so you can be billed on your phone. It says: "Service costs £3 per question played and a £4.50 sign up fee. You will receive an additional £1.50 charge for a reminder message tomorrow." An expensive 'free' vacuum cleaner.

The latest (real) scare is that malware can get into your computer by a weakness in the browser add-on called Java. It should be turned off (disabled) until further notice. Some people are worried that turning off Java also turns off JavaScript. Most modern websites make heavy use of JavaScript, so these people are worried that sites such as Facebook, Twitter, and even Naked Security, will be pretty much useless if they follow our "turn Java off" advice. Java and JavaScript are completely different. Turning off Java will not turn off JavaScript. To turn off Java (not JavaScript) in any or all browsers you use (Internet Explorer, Chrome, Firefox.


If you suspect that a mailshot to you is a scam it is suggested that you report it to Action Fraud. There is currently a Scamnesty campaign, as these things seem to be affecting so many people. About 7% of those who have been duped have lost £4000 or more.

What is Ukash ? Ukash.com is an organisation which sells vouchers via outlets such as shops and these vouchers can be used to pay for things on websites. Unfortunately, Ukash has been used by scammers and virus writers to spread their evil trade. Please be careful if you get approaches mentioning Ukash. Make sure it is genuine. I was caught in this way whilst attempting to get an article advertised on Freecycle.

In one scam people are sold a power saving plug for £90. It doesn't work and can be dangerous. Worse than this, the seller has now got you credit card details. A second call offers compensation if you send a bankers draft for £300. You don't get any compensation but you will certainly lose a further £300 ! Clever.

The OFT have issued guidelines regarding the top scams. They say
The phone call which convinces you there is something wrong with your computer. They may even get access to it. Don't let them and don't pay a penny !

Advance fee - the Nigerian letter scam. (Send them cash and you will get millions. Just hand over your bank details)

Investment opportunities. (The Boiler Room Scams - YOU will get scalded)

You advertise something and you get an even better offer. They will send you a cheque but could you send them the difference

Lotteries. (You have WON ! even though you didn't enter)

Miracle health cures (Snake oil, or a couple of bottles of Dr Good)

'Phishing' Some are so clever - see below

Prize draws and sweepstakes (Just hand over your bank details)

Pyramid selling and chain gift scheme. (All you have to do is recruit more mugs)

Work-from-home schemes (you pay THEM)

An email from a relative says they are stuck in some foreign part and can you send them some cash.

** Telephone scam. Typically these people say there is a virus on your computer. When you look they point you to log files from something called an event viewer that displays normal system errors and they say they are viruses - rubbish. DO NOT under any circumstances listen to these people or let them on your computer.
Watch out for sites which offer to help with debt problems. The Office of Fair Trading has managed to close at least 19 of these sites, which were selling on personal information from callers, who were then inundated with calls from Debt Management Companies. Details are worth as much as £1000 per person, so you know that the sharks are keen to make a killing. Sites such as "SameDayLoans" and even "Loans for people with disabilities" should be viewed with great suspicion.
I nearly fell for a genuine looking email from Virgin media telling me my bill wasn't paid. I even went as far as filling in my email address and password but the next page wanted my card details. Looking at the top of the page I noticed the address was a Polish one ! (PL) I reported it to Virgin and changed my password quick. Phishing mails are so convincing these days.
I get summaries of software from CNET downloads. I have never seen one as critical as the one on TuneUp360. Supposedly shareware, it does the usual trick of telling you what is dangerous in big red letters, then suggests you buy their software to clear the problems. It makes changes you don't ask for and a further check says you still have the problems. Shareware used to have good connotations. This shareware appears to be more SCAREWARE !
Someone raised the hoary one about not ringing back some unusual phone number you were requested to call - as if you would! Snopes reckons the dangers of being charged thousands of dollars is small these days. But just don't do it, even if they promise the earth.
This problem of phone calls has become so serious and frequent Action Fraud are asking people to report cases to them so they can coordinate with The National Fraud Intelligence Bureau run by the Metropolitan Police. These people sound so convincing ! I doubt if you can find out details of the fraudsters but if you do please report them to http://www.actionfraud.org.uk/
A really clever one this. The Solicitors Regulation Authority and Law Society are supposed to check solicitors which are registered with them. But bogus solicitors are to be found on their " Find a Solicitor' lists. In three cases recently (Mail) bogus solicitors have made a killing by raising mortgages (from gullible Building Societies ?) on houses which were not even for sale ! Incredible.

And the email which suggests you download a file so you can collect an undelivered parcel has come back to haunt us again. Beware of such emails.
Beware of sites that tell you you can make hundreds of pounds a week for a few hours work. Always do a search on such sites and see what others say. Most of them are making a good living out of selling their system to YOU ! So, do your research before sending off any cash.
Everyone should now be alert to the numerous e-mails which claim to be from your bank and it isn't difficult to spot if you have never had an account with that bank. But the Phishers and scammers constantly look for ways to trick you into giving away your passwords or try to infect you machine so that it becomes part of a 'Botnet' or 'Zombie', which means they can use it remotely to spread even more mahem or merely spread spam. It must be worth the effort or they wouldn't do it. So watch out for things such as invitations to add some stranger as a friend in Facebook; or get a notice which says you have bought something; or are told that your Facebook, Paypal or whatever account is being closed down; or they have noticed some unusual activity on an account etc. Another common one is the bargain item. Just when you are searching for a used car and you see one that is low mileage and very cheap - even if it is advertised on a reputable site. Contact them by email and you may be at the start of something nasty. The car may still have HP debt, be stolen, made up of parts or may even not exist at all. So, BE ON YOUR GUARD
Zdnet (and Mcafee) say If you get an e-mail that appears to be from Facebook saying the company reset your password and urging you to open an attachment, it is a scam
The National Fraud Intelligence Bureau (NFIB) advises victims of fraud to report these directly to Action Fraud, the national fraud reporting centre, rather than their local police force. And Computer Active would like to hear as well at letters@computeractive.co.uk
If you are called it would help us if you could note down: The name, number and website of the person calling, If they want payment and any details they offer such as Paypal ID access codes if they offer to take control of your PC, The name of any software they may try and sell you
We had a telephone call and my wife said that the caller said that there was something wrong with my computer. I immediately asked "How would he know ?" But apparently lots of people fall for it and finish up giving them details they shouldn't have. Beware !
Not a scam but I signed up to Shopper Discounts and Rewards (United States), who promise cashback for various things. But, if you look at the small print, they intend to charge £10 a month to your Credit/Debit card ! I canceled immediately. I got into this as a result of booking a coach trip with National Express on line. Everyone who does this is invited to 'click here to print a voucher for £10, which can be set against the next booking. I had already given my credit card details and clicked ! So watch out if you are booking with National Express. I have since noticed other organisation which have cottoned on to this way of making money. There are plenty of voucher and cashback sites one can use without charge.
Computer Active reports three scams.: In the first someone paid £140 for Festival tickets that didn't arrive. The only recourse was to claim the money back from the credit card company (and change the credit card) The second was when someone sold an item on Ebay. They had an e-mail from 'Paypal' to say the money had arrived. But it hadn't. The email was a spoof. They lost out. The third case was a purchase of an iPhone from a website. Their credit card was refused so they sent £400 by wire transfer, as requested. The site even had a golden padlock. But they lost their £400. They were advised to change their credit card as the information had been given to the fraudulent company. Recently I have been called in to remove scareware on PCs. Their PC was full of reports of viruses and a request to register the anti virus software (requesting as much as $79. If you agree you will not get rid of the viruses they planted and what is worse they will have your credit card details. For a gangster it is a win-win-win situation ! Beware of software called Antivirus 2015 and so on ad infinitum. If you are infected please get in touch with me via another PC.
The BBC has uncovered a credit card scam in India. The criminal gang was selling UK credit card details stolen from Indian call centres. Two undercover reporters met the main broker in a Delhi coffee shop, who said he could supply them with hundreds of credit and debit card details each week at $10 a card! Three card holders ordered the same computer software package (Symantec) within hours of each other. Their details were then in turn passed on, almost immediately, to the reporters. Symantec has since tightened up their security within the call centres.
Age Concern (now called AgeUK) on 0800 169 29 39 produce a book called " How to avoid scams "
Just had a call from a friend. They had a phone call from some Indian sounding person who told them that they had a virus on their motherboard. They said they were from a company called "Support on Click" . I instantly suspected a scam. I mean, how could they tell that she had a virus on her PC? I Googled for the 'Company' and found that it was an organisation attempting to talk you into allowing them access to your PC and then plant viruses/trojans etc.
You get a call from someone who says they are from Visa and seems to know quite a bit about you. They say they are investigating unusual withdrawals on your Visa card and ask you to verify the last three numbers on the back of your card. DON'T DO IT !
Computer Active reports a new scam. Adverts are appearing in recruitment sites for people to take orders or handle financial transactions. The advertisers may use well known company names. The person is sent cash to their account and they are supposed to send money back after taking a commission. It is similar to the car deal scam (which I have seen in action). The Money Mule (or Ass) sends real money only to discover that the money order they received is worthless and the bank reneges on the payment. They are left in debt.
eBay and PayPal have linked up with Gmail to roll out technology designed to block fraudulent emails and phishing attacks. Though not claimed to be 100% it will mean fewer scam emails purporting to be from Paypal and eBay. I consider that Gmail (Googlemail) spam filtering is also nearly 100% and saves me a lot of hassle.
For free information about ways to prevent fraud and identity theft see www.cifas.org.uk. the not for profit UK fraud prevention service. See also http://www.identity-theft.org.uk/who-can-help.html
In a scam admitted by Norwich Union over £3,000,000 was paid out to criminals. They had obtained details of people from Companies House. They then phoned NU and asked them to change the address and email for individuals who had life policies. They later canceled the polices and walked away with the proceeds. Fortunately, some have been traced and had up and some of the money was recovered. NU have apologised and tightened their security. Not sure about Company House.
A teenager in New Zealand has been caught by the FBI after infecting a million PCs in Holland with Keylogger viruses. These keep records of things you type in such as bank details, which he was able to access, siphoning off millions from their accounts. I wonder how many people do not keep their anti virus software up to date because they don't know how, it takes too long, or they haven't even got any ! Sleep well.
Research commissioned by the OFT involving 11,200 interviews found that 1,388,000 UK consumers fall victim to prize draw and sweepstake scams, 400,000 to bogus holiday clubs, 330,000 to work at home scams, 200,000 to miracle health scams, 170,000 to clairvoyant and psychic scams, 110,000 to loan scams. The total taken amounts to around £3.4 billion. Some elderly people whose name has been added to a 'suckers list' have received 70 letters a day ! To fight this menace, the OFT has launched Scams Awareness Month. The watchdog says it has made it a priority to tackle mass-marketed scams and help reduce the number of victims.
SCAM, SCAM, SCAM ! Everywhere you look. Ok, you expect an email from Nigeria asking you to help transfer a million dodgy £££ for a cut, or offering you over the odds for that car (as long as you send them something first... ) But these days we are being ripped off by what used to be upstanding organisations. The banks have been overcharging for unauthorised overdrafts, insurance companies have been mis-selling insurance, banks and building societies have been selling debt insurance to people who couldn't claim and councils have been charging rates on the basis of incorrect valuations done by someone driving by in a car ten years ago ! These days you have to be very wary.
Derrick reports " received a TEXT on my mobile that just stated "Hi There" twice and had a 'Smiley' face after each entry. Unfortunately I clicked it to see who it was from and it took me to a website, which looked very suspicious. Just hoping we wont have a phone virus or a large phone bill". So don't accept a call like this.
Computer Active reports that a company website called instant-av.co.uk has been taking orders for equipment, then using card details to buy thousands of pounds worth of goods (mainly alcohol). The site had no Security Certificate but was using Google Checkout and Worldpay methods of transferring cash. Google and Worldpay have now terminated their payment services. But it does show how easy it is for crooks to set up such sites. If in doubt click on the golden padlock on the bottom line to check the validity of the sellers certificate, though even this is not 100% fraud proof.
Not a scam but a very expensive way of calling certain numbers. I am trying to block all Google ads which invite people to make an income out of premium numbers. If you see such an advert on my site please let me know. This is the sort of thing they quote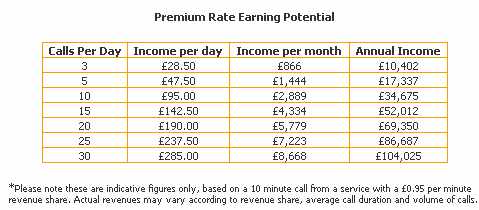 I am also blocking the huge number of advertisers who get you to scan your hard disk, revealing lots of scary problems, then expect you purchase software to clean them. Some of these may be legitimate but some actually plant nasties on your computer.

On line fraud (such as not getting goods ordered from Ebay) is now so common that the police are showing no interest if the sum involved is just a few hundred.

The chief increase in crime has been robbery and most of that has been mobile phones. It would hardly be worthwhile if people blocked calls as soon as they had their phone stolen. If your phone is stolen you can block its use by the thief if you should report its unique serial number to your mobile phone company. Make sure you record this number in a safe place. It is obtainable on ALL mobile phones by pressing *#06#. Do it now and keep it in a safe place !

www.immobilise.com. is a free service where you can register the details of items such as mobile phones and bicycles. If you lose your phone your account should be canceled quickly by notifying the telephone company. But stolen items notified to Immobilise.com are notified to the Police rapidly. Worth a look but with the police attitude to 'smaller' items I wouldn't hold my breath.

** n.b. The most common form of robbery on the streets today is for mobile phones. And yet you can block the use of a phone almost immediately by getting in touch with the service provider and telling them to block it. You will need to tell them the Serial Number. To get this you should press *#06# on the phone and make a note of it in a safe place

** Credit card fraud is on the increase after a lull after 'Chip and Pin' was introduced. These days people are having money taken from their accounts from ATM machines from Toronto to Bangkok and Sydney. How is it done ? Some clever organisation tampers with a Chip and Pin machine (often in a petrol station). This not only records your number but also the Pin you tap in, so you account is now open to crooks who draw from it in countries where Chip and Pin has not been introduced (most). A quick call to their mate in Kuala Lumpur and they are rich ! Perfect ! It is untraceable until enough people report they used that garage. By then the machine has been changed back. Hopefully your bank will notice unusual transactions - but I wouldn't bank on it.

Barclays is expected to issue its card users with a small device, which will produce a randomly generated number, which will then need to be used, along with passwords and identification numbers when accessing a Barclays account. Other banks may follow suit, except HSBC, which says it sees no need.

Phishing Good explanation of what Phishing is about http://askbobrankin.com/phishing_scams.html

The Parcel Delivery Service scam is now a hoax. Although this happened last year it has now been closed down by ICSTIS (now called Phonepay Plus) and the Trading Standards Office : A card was posted through your door from a company called PDS (Parcel Delivery Service) saying that they were unable to deliver a parcel and that you need to contact them (on a premium rate number). The tale is that, if you call the number, you would start to hear a recorded message you will already have been billed £15. This was never true and is an 'urban myth'. The amount charged was much less. But if you do suspect a telephone scam report it to ICSTIS (Now called Phonepayplus) If anything sounds like a scam address it is PhonePayPlus but it IS the genuine thing!

PHISHING NEWS (phishing is an e-mail designed to look as if it is from a bank and asks you to fill in details). DON'T
If you get a phishing e-mail...and you WILL, you can report it by forwarding it to reports@banksafeonline.org.uk or to reportphishing@antiphishing.org

Internet Explorer browser is designed to warn you about 'Phishing' sites. Is this what Microsoft calls Phishing Tackle ? Even old IE 6, or Firefox users can get an anti phishing toolbar. See http://toolbar.netcraft.com/


Identity Theft : Means getting hold of enough information about you to pose as you. When you finally dispose of your computer you are advised to wipe the hard disk clean. See Wikipedia on DBAN http://en.wikipedia.org/wiki/DBAN (DBAN is a Linux based boot disk which really wipes your drive.) Otherwise people may find your details, even though you have deleted them. Many recycled computers are sent to third world countries to help them. But you do not want them to help themselves to your bank account ! Also, you should be careful with things like domestic accounts, Gas bills etc. as they are often requested by banks as a method of proving your identity. Take care to get rid of account details at the top of bank statements. If you move house or flat make sure that mail is forwarded to you and not left in some hallway for anyone to pick up.

Phonepayplus (formerly ICSTIS) the Premium Services Regulator has been given the power to fine companies that run rogue dialers up to a quarter of a million. Fines can also be levied on companies that make unsolicited premium rate calls to mobile phones.

If you get unsolicited premium messages on your mobile phone (up to £1.50) the sender is breaking the law. Complain to the regulator Phonepayplus and demand a refund from the sender. Get the SHORT CODE from the http://www.phonepayplus.org.uk/ number checking facility and send the single word STOP to the short code number. To download the Phonepayplus leaflet on Premium rate Dialers go to the site above.

DIALERS. BT's Modem protection program, downloaded from www.bt.com/btprivacyonline, can now be set up to make sure that your machine will warn you if your machine tries to dial numbers other than the ones you specify. If it happens to you you should come off line immediately and investigate how this has happened. The program is only available to BT customers. This is NOT required for Broadband users, who don't dial.




Identity theft of a dead person has risen to 80,000 known cases in 2005. One technique used by criminals is to watch for deaths in a newspaper; watch for their house to be sold and even view the house. If they then can pick up mail from the hall they are well on the way to obtaining enough information to apply for a credit card in that person's name. It is therefore VERY important to make sure that deliveries are stopped, especially of domestic bills, which are one of the proofs requested for the opening of accounts. There is an organisation at www.the-bereavement-register.org.uk, which will arrange such things.

It is recommended that you check your credit record at least twice a year. You can obtain a copy of your credit file for £2 by writing to each of the three credit reference agencies Equifax, Experian and Call Credit. Bad debt information is held for six years and you need to take steps to clear this , especially if it is incorrect. A friend arranged to pay a direct debit on the first day of each month. Unfortunately his wages went in a week later. He was surprised to find that he had a bad credit rating due to the occasional bouncing cheque.

Fraud victims can add a notice to their credit files warning future lenders and telling them to ask for a password when dealing with credit applications. They can also join a protective register held by CIFAS, the credit industry fraud avoidance scheme. It costs about £12 and is available through Equifax's service on 0870 010 2091 or visit cifas.org.uk.

A 12-Step Prevention Program for Identity Theft

Even if you're not wealthy, you could put yourself at risk of identity theft if you're not careful. If you don't want to be among the thousands of people who are victims of identity scammers each year, here are some things you can do to protect yourself, both online and offline
Use a good (preferably crosscut) shredder for papers such as bank statements and domestic accounts. I have two bins in my office and spread the output between them. It would be a simple matter for an identity thief to put together shredded strips. If you haven't got a shredder at least rip out the account details from the top of such papers and bin them separately
Never send personal information such as credit card or social security numbers by email. Think of email the same as a post card, in terms of security.
Don't reveal your password to anyone. At websites that require a login, use something other than your primary user id & password.
Be wary of "phishing" scams in emails which provide official-looking (but bogus) links to your online banking, Ebay or Paypal account. Always use a link in your browser favorites or type the website address by hand when logging in to check your online financial accounts.
Reveal as little as possible in online profiles, blogs and personal journals. Make sure children who use the PC understand this also.
Be very careful at public Internet terminals, ATMs and phone booths. Someone could be "shoulder surfing" to learn your password, PIN code or calling card number.
When you're in a public place and you have to enter private data, use the "two finger" method. Put both of your index fingers on the keyboard or keypad, and pretend to press a key with one hand, while pressing the desired key with the other. With practice, you can enter your PIN number in a way that makes it difficult for snoopers to detect.
When making an online purchase, be sure the merchant uses a secure server. (The site address should begin with HTTPS instead of HTTP.)
Don't respond to messages informing you that you've won a prize especially if they require you to provide a credit card number, NI No., etc. in order to claim the booty. You didn't win. It's either a spammer or a scammer trying to get money or personal info from you.
Keep a close watch on laptops, PDAs and mobile phones when you're in a public place. Protect access to these devices with a password.
Practice safe computing when using a wireless internet connection.
If you sell a computer or hard disk, make sure the disk is wiped clean. But deleting files or even formatting the disk may not be enough. I suggest a digital "file shredder". You can find a free program to do this at www.Download.com by searching for "file shredder" or "secure delete".
If you lose a computer, PDA or mobile phone with personal details, try to get it back but CHANGE ALL YOUR PASSWORDS. Lost property is auctioned after a certain time and who do you think is crowding round the auctioneer eagerly snapping up these items ?
**************

Got Caught ? If you believe that you have become a victim of identity theft, quick action can minimize the damage. Here are some steps you should take immediately if you lose your wallet, passport, or birth certificate, if you have a laptop stolen, or if you note suspicious activity on your credit card.

Notify the police in case of fraud or theft, and get a copy of the police report.

Contact your bank and inform them if a credit card or other account may have been compromised.

Ask the credit bureaus to attach a fraud alert to your report.

Contact the post office to see if a change of address has been filed.

Change any passwords that you think might have been compromised


Site Navigation Links :- Please click on SITE MAP
---