Software, Downloads and Utilities
---
WARNING : Increasingly I find that when trying to download a free program I am being tricked into downloading other programs which I do not want. The owner of the free program is getting a commission every time you download the alternative. A good example is the excellent media player VLC, which I recommend as it is capable of playing far more video and audio formats that Windows Media Player (and there are a LOT). If you find that you have downloaded other programs that you do not want it is usually easy to uninstall them. Alternatively, do get in touch with me at paterson.keith@gmail.com and I will try to help.
For an explanation of the problem see http://ask-leo.com/why_did_i_not_get_the_download_i_wanted.html He calls it 'the cost of free'
Please note that the Google Pack, which included many useful programs, was discontinued in 2011
VLC from Videolan is a good media player and it is free. But they are making something by agreeing to allow additional downloads to accompany the main download. In fact, even from the main Videolan site I counted FOUR additional programs that one has to carefully avoid. So, to get VLC alone I recommend that you go to http://www.filehippo.com/ But before starting the download be sure to untick all three boxes referring to Babylon. Otherwise it will replace your home page when you open your Browser.
At the next stage exit the Babylon screen with the X without accepting it with OK
On the next screen avoid each of the following : Start Scan Now; Is your PC Slow? and Fix Windows Errors
Now start the download and click the VLC installer shown at the bottom of the page and follow the remaining instructions. You CAN leave the tick in the box regarding updates from VLC. Not sure about the other one. Safer to untick it.
It really is annoying that that most free programs have caught on to this way of making commission from other software companies but I suppose we have to live with it.
If you have found Babylon has crept into your machine then go to Add/Remove programs and uninstall it. It is NOT malware but it gets installed by surreptitious small print and that is not nice. For further details see Q & A for a way to remove it.
An excellent site on free software is www.thesimpledollar.com It is a bit dated these days but only a couple have gone to the software heaven.
My favourite download site us www.filehippo.com, even for programs like Ccleaner
http://www.educational-freeware.com/ Very useful for youngsters.
So, from the Top Free Hundred, what do I suggest ? Many links to these programs are lower in this page
Video/Picture manipulation : DVD Flick, DVD Styler, Windows Live Movie Maker, PhotoStory3, Windows DVD Maker (Vista and W7 Pro), Lightworks, Picasa
Video downloader Freemake http://www.snapfiles.com/get/fmvideodl.html (do the Advanced download to prevent it taking over your browsing)
Capture your screen actions Camstudio (for creating tutorials)
Graphics : Irfanview, TheGimp, Google Sketchup, , Picasa3
Media Players : VLC, (see instructions above) ReralPlayerSP. Klite Codec Pack
Backup/CD?DVD Burners CDburnerXP, Imgburn. GFI Backup 2009, Cobian Backup
Office Suites : Lotus Symphony/ Open Office, OxygenOffice Pro
Optical Character Recognition. Simpleocr (with a scanner)
Accounts : Turbocash Accounting
Communication : Skype, Msnmessenger, Yahoo Messenger,
RSS: Feedreader
Security : Microsoft Security Essentials, File Shredder, Avast (AV), Keepass (password list)
Partitioning Easus
Anti Malware : Malwarebytes, Superantispyware, Spyware Search and Destroy, Mcafee Adviser
Design : Artweaver, Google Sketchup, Blender, Kompozer, DoubleCad Free
Cleanup : Ccleaner.
Online Storage : Dropbox, Googlemail (allows 7gb free)
Other : Notepad2, Gadwin Prrint Screen, or my favourite: Mwsnap. PDF creator, Recuva ( recover deleted files even on a memory disk), PDF Reader : Foxit NOT Acrobat
Genealogy Family Tree Builder
Remote access Logmein or Windows own.
Clear unwanted programs from a new PC : Pcdecrapifier
Clear data or everything from an old PC Eraser www.heidi.ie/eraser
Startup analyser and reducer Soluto
Cloud Computing These days you do not even have to load software on your computer. If you have a good (broadband) connection to the net you can use programs that are 'up there in the cloud'. Here are just a few that can be used instead of Microsoft Office. So you can create or amend documents (Doc and Docx), spreadsheets (XLs), presentations (PPT) without buying Office 2007. Incidentally the latest version of Open Office can also open these file types
ZOHO: http://www.zoho.com/ Zoho is probably the best online office suite that I have come across so far. Its whole office suite comes with the Zoho write (word processor), sheet (spreadsheet), show (presentation), wiki, creator (database management), notebook, planner (calendar), meeting and chat. Some of its great features include the option to publish the content to your blog, convert your files to pdf, tagging for easy retrieval, template library and a small bookmarklet that allows you to add content to your zoho account as you surf the Web.
Google Docs: http://docs.google.com/ Google Docs provides a simple word processing, spreadsheet and presentation editing tool. Its main advantage is its ability to integrate Gmail, Google Calendar and other Google services seamlessly. While it is not comprehensive in its feature, it is definitely the most heard of (probably the most popular) in the Web.
ThinkFree Online: http://www.thinkfree.com/ ThinkFree is probably the online office suite that resemble Microsoft Office the most, including the toolbars, icons and functions. In fact, it claims to be fully compatible with Microsoft Office files. ThinkFree also provide you with 1GB storage space, which you can use it as an online backup for your local files.
Live Documents: http://www.live-documents.com/index.html Live Documents looks and works exactly like the latest Microsoft Office 2007. In fact, it is a mimic (or you can call it a hack) of Office 2007. The rationale behind this is to give the user a familiar environment so that there is nothing new to learn. The full strength of this office suite lies in its ability to use your existing desktop Office application as a smart client that permits offline access to your document, and synchronizes all changes the next time you go online.
Note : I registered for Live Documents and opened a Docx (Word 2007) document on my PC, amended it, added a picture from my computer and saved it on line and on my PC. I was also able to turn it into a PDF file and save that to my machine. I had an email with a link to get back to the document. Very clever program and certainly a good one for people who are confused by getting Docx files from people which they cannot read. It is even possible to notify others about your document and allow them to amend it.
Ulteo: http://www.ulteo.com/ If you have come to love Open Office, then you will find Ulteo familiar too. Ulteo literally put the whole full feature Open Office in a browser so that you can use it online. The whole application is run on Java and is aimed at Open Office enthusiasts. Initial loading can take quite a while, but taking into account that it is providing a full-feature office environment, the waiting time might just be worth it. (Ulteo provides more than office suite. It is in fact an online operating system where you can open up your very own KDE desktop.)
MARKETING TECHNIQUES OF SOFTWARE SUPPLIERS There are various ways in which a software company can market its programs to a world where millions of people are just a click away. Most are perfectly legitimate but you should be aware of them :
Persuade (pay?) a computer manufacturer to put a time limited version on new computers. When it expires you will be asked to pay to continue to use it
Give away the last or older version of their software with heavy hints as to the benefits of the latest version. This is often (but not always) the case with magazine cover disks. Once you register the free version you can be fairly sure you will get reminders about their new version.
Persuade websites, including download sites, to put links to their software. Such software might offer to check your computer, make it faster etc. but in the end you have to buy their product to achieve this aim. This is not to confused with Scareware (see here) which falsely claims that your machine is infected in order to get you to buy an equally false 'cure'.
Software, such as Pctools, though legitimate, may even add something to your register and Startup to pester you to buy every time to start your PC.
Microsoft offers a number of free programs that may be very useful. They include Messenger, Email, Photo Gallery, Movie Maker and DVDMaker See http://download.live.com/
I used to use the CNET download site but since they try to get you to also download the Babylon search add-on I have fallen out with them. If possible, go directly to the site owner or try another site such as www.filehippo.com, which has many good downloads. To get rid of Babylon (if you have fallen for it) see my Tips of the Week page for a link. You may also find it in Add/Remove programs
A great place to go to get safe downloads of useful software (much of it free) is the Downloads section of Computer Active
This is a typical selection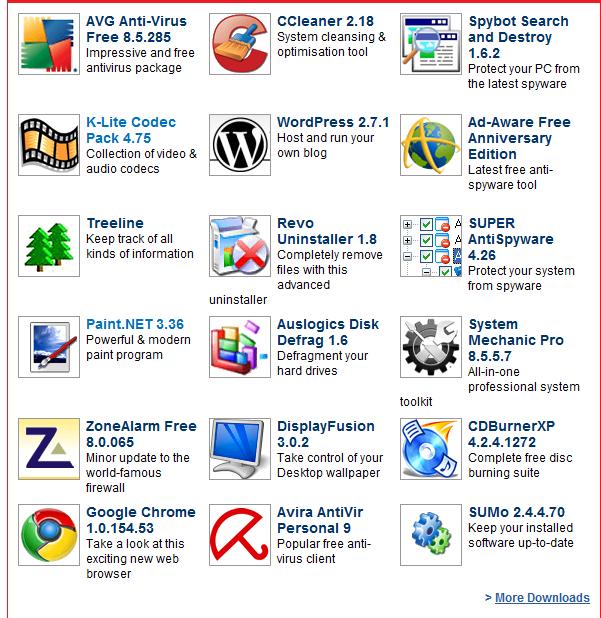 The Google Pack has been discontinued but many apps are available from Google e.g. : Picasa (Photo editor/Organiser); Skype (Free voice and video calls); Google Earth (see your own house from satellite) Google Talk (chat to others), Google Desktop - (fast searching of your hard disk) plus some great art work and screen savers.

With more and more of these little mini computers running the free Linux Operating System you may be intrigued to find out more about it. Linux can completely replace Windows and there is a great deal of free software available for it these days. If you wish to experiment, without dispensing with Windows, it is possible to establish it in a 'Virtual' (memory based) partition within your ordinary hard disk and easily swap between that and Windows. Alternatively you can get a disk which will boot your Windows PC in Linux, without disturbing your Windows version. For more detail on this, do have a look at http://www.psychocats.net/ubuntu/ Incidentally, Ubuntu (see Glossary) is a well established version Linux.
Ccleaner is a free cleanup program which is very reputable. The latest one (July 08) is 2.09.600 version is 2.09.600 and can be downloaded from http://www.filehippo.com Click the link on the RIGHT, NOT the one for Regcure on the left, which is reputable but will inevitably ask you for cash when you have used it. Ccleaner also includes a Register Cleaner
You might think that Windows is a complete Operating System that doesn't need any additions in order to make it do everything you ever need to do. Although many additional programs are unnecessary - and may even create problems for you, there are a few which are important and some which I find to be very useful. This page is intended to help you choose which might be worth getting.
Definitions :
Freeware : Totally free.
Shareware : Try before you buy. It might be 'crippled' or time limited or just nag you to buy or it might be fully functional.
Commercial software : You buy it from a shop or download it off the net and pay in the usual way..
N.B. Not all software has to be downloaded. Providing you are on Broadband you can use a number of programs 'on line'. These include word processors such as Buzzword, Google Docs and a whole plethora of programs from www.zoho.com. All are free and provide on line storage for your files. Files can be shared with others and you can pick them up from ANY PC in the world that has an internet connection
Downloading
There are numerous sites from which you can download. Programs might be Freeware, Shareware or require payment. Freeware is completely free. Perhaps there are no strings attached or it may be a 'Lite' version with a suggestion that you buy the 'Heavy' version. Or they may be given away by companies such as Microsoft e.g. Media Player, Outlook Express etc. Shareware is usually free to use but may have a 'nag' suggesting that you pay a fee in order to continue to use it. Other programs can only be downloaded on payment of a fee. In the UK many free and shareware programs can be found on 'Cover Disks' of magazines. This can save a big download. A large program, such as Windows Media Player (comes with XP) might take an hour or more to download if you are using a slow connection. Page 17 of this site gives an indication of the variety of cover disks and what they contain. Download sites include www.webattack.com (very good - look for their Top 100) http://www.opensourcewindows.org/ http://www.microsoft.com/downloads/search.asp http://www.mgshareware.com http://www.zdnet.com/downloads and www.download.com www.google.com/downloads/ is a useful site for Google's very good free products such as Picasa, Google Earth, Google Talk, Firefox and Ad-aware etc http://www.pcworld.com/reviews/article/0,aid,124883,pg,5,00.asp is another good free software download site
In my view you definitely need some sort of Media Player, Zip file decompressor, PDF file reader, Anti Virus, Firewall ,Web Browser and Email client. If you do not have the MS Office Suite you may need 'Reader' programs for Word, Excel , Powerpoint and similar files you receive. These can be downloaded from the Microsoft link above. Take a look at http://www.ramsinks.com/ All the best free and shareware essentials
For people with Windows XP/Vista and digital video cameras Microsoft do a free Movie Maker program. Now on version 2 and said to be better than the one that came with XP you can get it from http://windowsupdate.microsoft.com if you don't mind an 8Mb download . Computer Active gave it 5 stars
WATCH OUT ! Recently I have noticed various techniques to get you to download other programs when you are looking for free ones. You go to the site recommended and there is a big download button. You find that you are downloading some program that will, no doubt, do the job but then asks you for the inevitable $29.95 to finish it. Another technique is to have a similar named program to the popular free one. e.g. I did a search for Spybot Search and Destroy and the top (paid) link in Google was Search and Destroy - an entirely different program, which planted a trojan on my PC which even Spybot couldn't clear.
One of the most reliable sources of up to date downloads (mostly free) is http://www.filehippo.com/default.aspx. Interestingly they also have small update program that will check your computer to see if you have all the latest versions http://www.filehippo.com/updatechecker/. I found a dozen and it then gave me an easy way to download and install these.
I regularly use most of these IMPORTANT UTILITIES The star rating is mine
The addresses for specific programs are:
http://www.stardock.com/products/fences/index.asp If you have a crazy mixed up 'Desktop' like mine you will find this a great program. It automatically puts your shortcuts into appropriate categories (within fences) and makes sure they are alphabetical. No lost shortcuts again.
http://docs.piriform.com/ Piriform is the developer of three excellent free programs, Ccleaner, Defraggler and Recuva. Check the site for info

Ccleaner **** Safely cleans megabytes of old, temporary files but also includes Registry and Startup cleaners.
www.iobit.com. **** Advanced System Care. A bit like Ccleaner. Cleans out the dross and the register I have used it without ill effect
http://www.thesimpledollar.com/ List the links to 30 essential a free pieces of software. All good stuff.
http://pgoh13.free.fr/software_progs.php Is a great site for free utilities recommended by a friend in Paris *****
www.grisoft.com (AVG Free anti virus - always the most downloaded) **** or
www.avast.com (Avast Free anti virus) *****
http://www.personalfirewall.comodo.com/ Comodo is now a combined anti virus and Firewall product. Unfortunately, I found it too " fussy" **
www.zonelabs.com (Zone Alarm Firewall) *** Some sort of firewall is ESSENTIAL if you browse the net
Microsoft Messenger Major Chat/video conferencer) *****
Skype : Chat to people with text, video and sound. Excellent if you are deaf. You can even record what is seen and said or record you own message.
www.winzip.com (file compressor, uncompressor) *** You may NEED a file unzipper of some kind. A free example is 7Zip ***
www.lavasoftusa.com (Ad-aware anti spy and anti marketing program) ***
http://windowsupdate.microsoft.com (various Windows programs) ***** Set it to update automatically.
Adobe flashplayer/ If a site says you need the Flash Player *****
http://www.siteadvisor.com/download/ie.html *** Free Mcafee program :tells Internet Explorer & Firefox users if a site on a search list is safe
Browsers are used to search the net. Alternatives to Internet Explorer are Firefox, Opera and Chrome (must have XP SP2 or Vista)
www.apple.com (Quicktime movie/video player) **** Very large and persistently asks you to update it because of security worries
www.adobe.com (Acrobat PDF file Reader) *** You will need one of these. A much lighter version is Foxit Reader ****.
Spybot Search and Destroy. Now on Version 1.6 **** Probably the best free spyware remover. These days you can include a program that asks you whether you want the register changed when you install a new program. Do not use Search and Destroy, which is typical scareware.
www.malwarebytes.org. Powerful virus cleaner *****
www.Superantispyware.com Powerful anti spyware program ****
Foxit Reader (3.1) is a good alternative to Acrobat at just 5Mb download and under 10Mb when installed. To create PDF files from a word processor you can install a program called PDF995 or use the Open Office word processor


USEFUL TO HAVE
Google provides a number of programs which can be download via the link at the top of this page.
Gnucash A free version of Msmoney or Quicken
http://www.freemake.com/free_video_converter/ which is capable of converting from all the following : : AVI, MP4, MKV, WMV, MPG, 3GP, 3G2, SWF, FLV, TOD, MOV, DV, RM, QT, TS, MTS, and many more. Import music (MP3, AAC, WMA, WAV), and photos (JPG, BMP, PNG,GIF). It can then convert to AVI, WMV, MP4, MKV, SWF, MPG, 3GP, MP3, also iPod, iPhone, iPad, PSP, PS3, Android. They also do a video downloaded at http://www.freemake.com/free_video_downloader/
Googlemail A great web based email progran. Get you mail anywhere in the world ****
www.soluto.com. Soluto checks what is loading at startup and suggests ways to reduce that load. Needs more than 256mb RAM (Memory)*****
www.osalt.com This is a great site for 'Open Source" software. Open source means they allow anyone to download it and even amend it.
www.digiguide.com Digiguide is a software/database for displaying information on ALL the TV channels available....which is invaluable if you use satellite or Freeview TV. Being a computer database it is interactive. It is continuously updated, with a charge of £8.99p per annum. There is a 60 day free trial.
http://www.my-blood-pressure.com/ Keeps track of, and displays, blood pressure readings. You can input directly via a USB port from the BP monitor, or manually. There is a 30 day trial and buy it on the net for £13.
http://www.openoffice.org/ The Open Office free equivalent of that very expensive Microsoft product, Office. It is Word/Excel etc compatible *****
These days it is even possible to have Office compatible software which works on line. See http://www.zoho.com/
http://bluefive.pair.com/pixresizer.htm Reduce the size of one -or many - pictures.***
www.picasa.com The best free (and simple) graphics manipulation program ever invented *****.
www.mlin.net Startup Control Panel (instead of using Msconfig) **** `
www.nicocuppen.com (Photocopier for a scanner) ****
www.dsoft.com.tr/stripmail (Program to clean up email and webpage downloads) *****
http://www.mirekw.com/ Mwsnap. My favourite screen grabber *****
Mwsnap notes:
Make sure it is permanently set to save in JPEG (BMPs are so big) - Open the program and see Settings, Autostart
Amend the place they are saved (e.g the desktop) so you can find them - Settings Autostart again
Use the shortcut Ctl + Shift and A to activate it. (it is the default)
You can then use the left mouse to drag across the area (or the pad on a laptop) The alternative in the Mwsnap menu is a rectangle with a red spot)
You can print them even without saving but the default is very tiny. Choose Scale and at least 5 or 6 times the size. It will default to that next time
www.belarc.com (Belarc system analysis) *****
www.skype.com. (Free telephone calls) *****
www.dsoft.com.tr/stripmail (Stripmail email cleanup) *****
Mozilla Firefox (Internet explorer alternative) **** see Here
Mozilla Thunderbird (Outlook Express alternative ***
http://www.filehippo.com for Quicktime .It is 75Mb, which you will have to uninstall
www.google.com Search engine
http://bluefive.pair.com (Fontpage. excellent for viewing your fonts) ***
Terrapin FTP uploader ***** (small cost)
AbAlarm An alarm clock for your screen and speakers.*** Click HERE for this useful free utility by Abelsoft
The Gimp A Powerful graphics manipulation program
K-lite CODEC Pack. Codecs may be required to run certain programs such as DVD PLayers
Paint.net. More powerful than Microsoft Paint.
Cobian Backup. A straightforward backup program
Drive Image XML Make a complete image of a hard drive. Great for recovery or transfer to another drive.
CCleaner. Everyone's favourite hard disk and Registry cleaner
RECUVA. Recover deleted files (even from a memory stick) This can also delete and overwrite files
Easeus Disk copy. Great CD or DVD copier and partition tools
Gmail notifier. Shows Googlemail users that they have email
Final Burner. A simple CD/DVD maker
Please note that you can get the latest Open Office Suite (compatible with Microsoft Office 2007 programs) from http://www.8daysaweek.co.uk/. It costs £8.99
These days you may not be able to send and receive faxes from you PC. For info on FREE fax programs see http://askbobrankin.com/send_a_free_fax.html
A new list mentioned in a blog. I have to admit I have only tried the ones marked ** myself. I am quoting directly from the blog.
"30 Essential Pieces Of Free (and Open) Software for Windows (Mainly XP)
The blog continues : Recently, I bought a new laptop from Dell. Upon receiving it, I removed a lot of the 'free' software that is preinstalled on Dells. Then I installed some truly free software that takes care of pretty much every software a person needs. If you want to do likewise take a look at this list and pick and choose. You will have to copy the link (e.g. http://www.getfirefox.com/ ) and paste it into the address line of your Internet Explorer.
**Firefox 3 http://www.getfirefox.com/ Replaces Internet Explorer 6 and does much of what V 7 does. If you haven't switched to Firefox for your web browsing needs, do it now. It stops annoying popups and it has tons of amazing plugins that can make surfing the web even better. Don't worry, you can keep a shortcut on the desktop to IE as well
**Thunderbird http://www.mozilla.org/thunderbird/ Replaces Microsoft Outlook or Outlook Express. Thunderbird is an email client that has five big things going for it: it's free, it's full featured, it's lightweight, runs quickly, has a spam filter, and it protects you from phishing attacks by clearly indicating which emails send you to a bogus website. If you're not already using a web-based email solution such as Googlemail, Thunderbird should be your email program.
Another from Mozilla. Sunbird http://www.mozilla.org/projects/calendar/sunbird/ Replaces Microsoft Outlook's calendaring functions. It's extremely easy to use and easy to share your calendar with others.
Abiword http://www.abisource.com/ Replaces Microsoft Word. It's lightweight (meaning it runs quickly) plus it can save files in formats that you can exchange with Word and WordPerfect users, plus open any of their files, too.
**OpenOffice http://www.openoffice.org/ If you use Abiword and also want a Microsoft Excel and Microsoft PowerPoint substitute. It includes replacements for those programs (and workable replacements for Access and other Office elements).
ClamWin http://www.clamwin.com/ Replaces Norton AntiVirus or McAfee ClamWin is a slick anti-virus software that's quite easy to manage and is unobtrusive while keep your system free of viruses. But, personally, I prefer Avast from http://www.avast.com.
Gaim http://gaim.sourceforge.net/ Replaces AOL Instant Messenger, Yahoo Messenger, Windows Messenger, etc. simultaneously with one program.
BitTorrent http://www.bittorrent.com/ BitTorrent is a peer-to-peer software that provides the fastest, most efficient means of distributing and discovering large, high-quality files on the Web. Search for media files you want and download them.
GIMPShop http://www.gimpshop.net/ Replaces the very expensive Adobe Photoshop. This is a version of the GNU Image Manipulation Program which imitates Adobe Photoshop.
Gnucleus http://www.gnucleus.com/Gnucleus/ Replaces LimeWire, BearShare for downloading media files but without all of the spyware? Limeware is likely to be closed by a USA judgement (May2101)
VLC Media Player http://www.videolan.org/vlc/ Replaces Windows Media Player, Quicktime, RealPlayer, etc. Runs pretty much every media type you'll run across.
Juice http://juicereceiver.sourceforge.net/ Juice lets you effortlessly subscribe to podcasts, organize them, and listen to them at your convenience.
**Audacity http://audacity.sourceforge.net/ If you're interested in recording your own voice Audacity and a microphone are pretty much all you need.
RSSOwl http://www.rssowl.org/ One of many open source RSS readers. In other words, it enables you to use one program to keep track of the content of a lot of different blogs. If you have a laptop, it's preferable to using sites like Bloglines, but if you're on a desktop, a web-based feed manager might be better.
MusikCube http://www.musikcube.com/ Replaces iTunes If you're not already committed to downloaded music from the iTunes Music Store, then MusikCube is the best choice available for a music organizer and player. It organizes your mp3s, makes it really easy and really fast to find them, and allows you to make playlists.
KeePass http://keepass.sourceforge.net/ is a program that securely stores and manages passwords.
TrueCrypt http://www.truecrypt.org/ TrueCrypt enables you to convert a memory stick (or whatever) into a strongly encrypted data storage device, meaning that you can store personal data on it without worrying about losing it.
PDFCreator http://sourceforge.net/projects/pdfcreator/ Replaces the expensive Adobe Acrobat PDFCreator creates a virtual printer on your computer that, if you print a document to it from any program, creates a PDF of that document that can be read on any computer with Acrobat Reader on it. After installing PDFCreator, all you have to do is print like normal and out comes a PDF!
Freemind http://freemind.sourceforge.net/ Freemind is a "mind mapping" software program. It enables you to brainstorm and link together ideas quickly, creating "maps" of concepts similar to what you might do on a whiteboard. .
NASA Worldwind http://worldwind.arc.nasa.gov/ Replaces Google Earth .WorldWind is very similar to Google Earth in that it allows you to browse the globe. Incredible for viewing three-dimensional landscapes of any place on earth.
**Notepad2 http://www.flos-freeware.ch/notepad2.html. Replaces Notepad adding features such as multiple documents; line, word, and character counts; and some highlighting of tags. Much better for editing HTML than Notepad.
GanttPV http://www.pureviolet.net/ganttpv/ Replaces Microsoft Project, managing projects quickly, easily, and freely. If you need to move to MS Project later, you can export from GanttPV to Project.
GnuCash http://www.gnucash.org/ Replaces Microsoft Money or Quicken GnuCash is a slimmed-down version of those packages, but it contains all of the features you need for managing your money - it functions much like a checkbook ledger on your computer.
And one free game: True Combat: Elite http://www.truecombatelite.net/ Like Quake IV, Halo, etc. a third person combat game, the graphics are spectacular and the game is quite engrossing.
If you've downloaded and installed all of these, you've got access to all the productivity software you are ever to need."
Focus Software is commercial but always reasonably priced (£5 - £10) See Here for titles such as 3D Arts and crafts, Model Railway, Typing, Greeting and Business cards, T - shirts etc

---
Site Navigation Links :- Please click on SITE MAP
---