Windows 10

---
The How to Geek site says that you can still upgrade to Windows 10 if you have a Windows 7 or 8 key
In view of the fact that Windows 7 is no longer 'supported' this may be the way to go. See https://www.howtogeek.com/266072/you-can-still-get-windows-10-for-free-with-a-windows-7-8-or-8.1-key/
Version 1903 (that was the May 2019 Update) reserved 7Gb of your hard disk for updates. If you're updating from a previous version of Windows 10, 'Reserved Storage' will not be enabled. If you don't have enough space for updates they will fail to install. If you are short of space there is a way to prevent Windows from reserving this space. To check whether Windows is using Reserved Storage, head to Settings > System > Storage. (You can quickly open the Settings app by pressing Windows+i on your keyboard.) Click "Show More Categories" under the list of items taking up space. It isn't advisable to prevent this reserved space and it would require amending your register - a risky practice.
If you have a shortage of space and have upgraded from Windows 7 you can free up 30 Gb of space (that's a lot), which is where the old Windows 7 is kept in case you want to go back to it. It is in a folder called Windows Old. The easiest way to delete it is to do the following. You will not be able to go back to Windows 7. But, love it as I do, it will not be supported after December 2019

Here's the proper way to

delete

the

Windows.old

folder:
Step 1: Click in

Windows' search field, type Cleanup, then click Disk Cleanup.
Step 2: Click the "Clean up system files" button.
Step 3: Wait a bit while

Windows

scans for files, then scroll down the list until you see "Previous Windows

installation(s)
Aonther 2.5 Gb is taken by something called 'Update delivery optimization', which is supposed to make the download a bit faster. I zapped that, too.

In the same update there is a new, brighter, background screen, a change to the 'Sandbox' feature for geeks and and an enhanced search facility. Previously. not all files on your PC were indexed and searched. You can turn the new feature on by going to Settings > Search and choose the Searching Windows tab on the right. Under the Find My Files section select the Enhanced option. The machine will then index many more areas - taking a while to do this.

Windows Defender
is the normal windows antivirus program. If, for some reason you need it to check your computer directly from Microsoft :
On a Windows 10 system, here's how to start Defender Offline.
From the Start menu, select Settings, then click Update & Security > Windows Security > Virus & threat protection. Next, select "Scan options" under Current threats. Select the "Windows Defender Offline scan" option and then click the "Scan now" button.Your PC will restart, then load Windows Defender Offline. After scanning and removing any malware that was found, your computer will restart Windows. Expect the process to take 10 to 15 minutes.

Windows 10 Password
Microsoft was keen to make Windows 10 more secure, especially for people who leave their laptop on trains and in taxis ! So they insisted you enter a password at startup. To confuse you (as they do) they insisted that it was the password for your
Microsoft
e-mail (interpret that as the password for Outlook, Hotmail or one of their other discarded e-mail programs). If you haven't got one, you had better get one. But computers are slow enough to start up without having to watch it until you can enter you password. So.. if you are happy to have a slightly less secure home-based computer you will probably like to know how to start it
without
a password. See the PCAdvisor instructions
HERE
It isn't very difficult. But I have to admit that I had to go round the houses a couple of times before I got rid of the password. Get back to me if that happens to you. Mind you, if you let your PC go to sleep, you may be asked for the password again.
Bob Rankin also shows you how to
reset
the Windows 10 password at :
https://askbobrankin.com/forgot_your_windows_10_password.html?awt_l=Orks6&awt_m=J_L3caNT8eP6SL
Should you defer major updates if your Edition of Windows 10 permits it?
Bob's Rankin's 'How-To Geek' page has an exhaustive (and exhausting) review of all new features coming in Version 1803. It includes "Easy Wireless File Sharing" and a new app called "Diagnostic Data Viewer" which shows exactly what data Win 10 is transmitting back to Microsoft; "Quick Pairing for Bluetooth Devices" should have been here long ago. "Progressive Web Apps" will run in their own windows, have their own taskbar shortcuts, and generally behave as desktop apps should. Unfortunately, they work only with the Edge browser. But PWA is a new standard for apps that Google, Mozilla, Microsoft, and even Apple are supporting, so it's something we had better get used to.
There is a change in the way permissions are granted to apps . So you may suddenly find that you can only download Microsoft apps !
If this happens follow this method to allow you to install non Microsoft apps :


Step 1: Open Settings > Apps. Step 2: Click Apps & features > De-select "Allow

apps from the Store only" option under Installing apps and click the one which does allow this. When you complete the steps,

Windows

system will automatically keep all changes without restarting your PC.

Bothered by the Yahoo Browser ?

I dislike it when ANY organisation tries to push itself to the fore. That includes Microsoft. But Yahoo is one of the most persistent when it comes to wanting you to change to its browser. Suddenly the search box looks different and you see an unfamiliar Y in the top left corner. How to return to the browser you prefer (in my case Google/Chrome) ?

Open Chrome and

click the three dots top right. Click More Tools and clear Browsing Data - All Time. Now go back and click Settings, Manage Search Engines. Click the three dots on the right of each one and delete all that you never use. especially the Mcafee one, which includes Yahoo.
Also have a look at the Add-ons list and delete any which are set to on which you do not want. In Start-Up set Pages to Google
******************
I have automatic updates set on on my Windows 10 laptop and it said the latest big 'roll-up' update had been completed. A friend did it 'manually' and it appeared to reboot many times before it was complete.
Many people have had problems with Microsoft updates. It is true that they are often followed up with corrections when they have received feedback. In future, Microsoft is to offer Windows 10 update 'snoozes'. It says that people will be able to choose a time to activate updates and reboots. But this is NOT an option for Home Edition users
Know you Virtual Reality from your Augmented or Mixed Reality ?
With its fourth major update Microsoft announced plans by computer and virtual-reality headset makers to introduce new hardware for businesses, consumers and video gamers to take advantage of so-called "mixed reality" features (Microsoft's term for both augmented and virtual reality software features. .
Augmented reality overlays text, sounds, graphics and video on real-world images that users actually see in front of them, while virtual reality creates entirely computer-generated worlds

The multimedia content can be viewed on computers, TV displays, smartphones, tablets or, in the case of virtual reality, on dedicated goggles. Microsoft plans to target these features first at advanced video game players using VR headsets, with business applications to follow, officials said.

Microsoft's push comes as the U.S. tech giants - Microsoft, Google, Amazon, Apple and Facebook, along with China's Baidu - increasingly battle to make augmented reality, together with artificial intelligence and cloud-based services, into the next computer platform. As well as gaming and entertainment there will be applications for communications, manufacturing, fitness, health and retail.

The company also announced a range of devices from key hardware partners ready to take advantage of mixed reality features in the Windows 10 update available in mid-October from vendors including Lenovo, HP Inc, Dell, Acer, Asus and Fujitsu.

Microsoft's new software release shrinks the laborious set-up of VR headsets for users to around 10 minutes, down from two to three hours (!) now and helps cut the costs of headsets, in a step towards making such technology more mainstream.

Other new Windows 10 features include a refreshed Photos app and the capacity to save files up to the cloud using Microsoft's OneDrive service, without consuming local storage space. Win10 will also offer "Game Mode", which allows video gamers to devote the full processing power of their computers to what they are playing, as if it was an Xbox game console, the company said.

Spring 2017
People have been objecting to the amount of information Microsoft is obtaining about users of Windows 10. A massive update (4gb!) was scheduled for some time in the Spring (17). This included a screen like this Turn off what you prefer: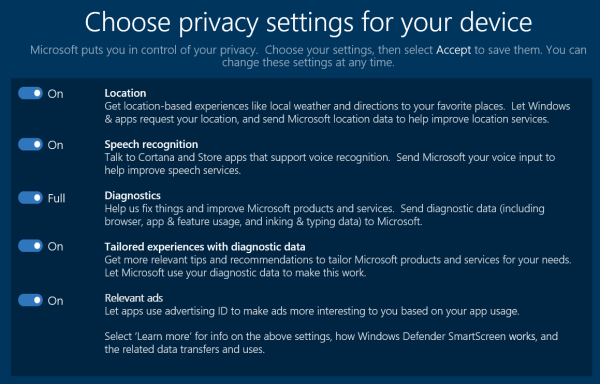 This will give you the opportunity opt out of various aspects of the OS. Can't come soon enough.
Historically this was the sort of problem people have found:

Microsoft issued two updates in rapid succession. Users found that the first stopped their web camera working. The second stopped their PC working ! Mine went fine but there are many different machines out there.
https://www.digitalunite.com/guides/whats-new-windows-10
on the differences in Windows 10. However, one feature, "Windows Hello", is unlikely to be available until you have very sophisticated equipment. The idea is to be able to avoid yet another pesky password by allowing you to sign in by recognising your fingerprint, iris or face. The first require a fingerprint reader, the second and third require a 3-D depth webcam, such as the Intel Realsense camera.
But I just want to avoid a password altogether !
So, if you are sure no-one is likely to get at your computer, you CAN remove it from Startup. Tap in the word
Netplwiz
at Start (bottom left of the first screen). Click it and press the Enter key to run this program. Next you will see User Accounts. Click on the name you use (should say Administrator). and UNTICK the box which says "Users must enter a user name and password to use this computer" You will be asked to enter the password you have been using and repeat that below. Click Apply and OK.
EXCEPT
in my case the little box was already empty ! But I was still having to enter a password. SO... I clicked the empty box, restarted the PC and went through the same rigmarole all over again, this time unticking the box and restarting the machine :(( At long last I was able to start the thing without a password.

My early reactions
When I went to install Windows 10 on my laptop I was concerned because it did not seem to be downloading anything. The percentage stayed resolutely zero. After 30 minutes I thought it had failed and switched off.
On restarting the PC later that day, I went to click on a program and the laptop announced it was closing. But then it announced that it was installing Windows 10 and not to switch off. It then continued to install various things and announced the percentage it had completed. After that I just left it to its own devices and it continued to the end of the process, with various reboots and warnings not to switch off. I returned to the laptop after several hours and after a few preliminary announcements my desktop looks almost the same as when it was running under Windows 7 except that some of the shortcut items had changed. Web page items now had the Internet Explorer icon instead of a Google version. Also everything is tiny and overflowing the much reduced screen space. It took me a week to discover how to cure this (increase the resolution from the minimum to the maximum, as it had been before the 'upgrade'.
n.b. If this is a common problem, right click on the screen. Click Display settings. Ignore Change the size of text etc and go down to 'Advanced Display settings'. This is
hidden lower down the screen
.. There you can change the resolution (back) to what is recommended, and click Apply. Back out by clicking X and your screen should be more to your liking
I was able to get a 'normal' desktop screen by clicking start but when I began to use it, the changes under the hood became apparent.....
Clicking the Start icon (now a 'window pane') revealed a Windows 8.1 style set of items in square boxes.
It is headed 'Life at a glance' and has a Calendar; Mail (it strangely says 'We speak Yahoo'); Microsoft Edge; Phone companion; Twitter; Store (has social media and games) Skype video; a colourful box which was initially suggesting Candy Crush but seems to be where one gets downloads;
Underneath 'Play and explore' (which wanted me to sign in with an email address I don't often use), were Groove Music; which immediately suggests you Go Premium (and give them your credit card), and Movies (£3.49 each) No thanks..
What is new in Windows 10 ?


What ISN'T in Windows 10. Those who found Movie Maker and DVD Maker great for making DVDs that would play on a PC as well as on their DVD Player (to a TV) will be very disappointed as they were dropped after Windows 7. There is no suitable free alternative for DVD Maker but Win Moviemaker is worth trying. But, after having a go the non watermarked results can only be made by getting a registered version at £30
Microsoft is hoping to make the latest version of Windows the hub of many devices around the home and have been cooperating with many manufacturers to ensure that, whether they are directly or tirelessly connected they will just work. There will be up to nine kinds of Windows 10, though some vary only slightly. Updaters will get the equivalent Windows 10 to their original Windows 7 or 8. The basic version (Home) contains support for
Windows Universal Apps
, the
Edge browser
(as well as the latest version of
Internet Explorer
), Windows
Hello facial recognition
,
Fingerprint recognition
software and the
Voice recognition software (Cortana)
. The Pro version gives you tools for linking into Cloud Services (big deal!) and managing Mobile devices. Windows 10 Enterprise is like Pro but for those buying volume licenses. It also has something called
Device Guard
so uncertified Apps can be locked out (by the boss). There is also a Windows 10 for Education (cheap academic volume licenses plus some extras). Mobile users may get
Windows Mobile
or
Mobile Enterprise
(for small screens) plus a light
Office suite
and the ability to connect to a large screen and keyboard. There will also be versions for ATMs, robotics and yet another for those little machines with small capacities.
Where did Safe Mode go ?
Since Windows 7 Safe Mode has not been accessible by just holding down F8 at boot up. See
HERE
if you want to install an easier way to get to Safe Mode. Safe mode loads a basic version of Windows and can be useful if it fails to start - particularly because of some Malware interference. You can then run restore or anti malware software.
Windows 10 introduced ways in which the program can track your activities and report to Microsoft.

What to do if you object to this tracking of activities ?
Hold down the Windows key and press R (for Run). In the box that pops up type in 'services.msc' and press Enter. In the list that appears in the next window scroll down until you find Connected User Experiences and Telemetry and double-click it. Click Stop. Select 'Disabled' from the drop-down menu and click OK.
Alternatively, if you haven't installed/been offered the Threshold 2 update yet, the process will be listed as 'Diagnostics Tracking Service'. The steps to remove it remain the same – simply find the process by that name instead. Your PC or laptop will have one or the other, so be sure to check. With that, you shouldn't have to worry about Microsoft leeching your private usage data.
Until the next update, that is !
Note: This does NOT mean that you cannot change your mind at a later date
Guru Bob Rankin also suggests how to stop Microsoft's nagware:
Uninstalling update KB3035583 gets rid of the "Get Windows 10" utility on most systems. To uninstall the update on Windows 7 or Windows 8 systems: Go to Control Panel, then Programs, then Programs and Features. Click on "View Installed Updates" and you will see the list of installed updates in your Windows system. Search for KB3035583, select it with the mouse, and choose "Uninstall". If a User Account Control (UAC) dialog asks for your confirmation, click on "Yes".
Next, you need to make sure Windows Update doesn't install KB3035583 again. Type "windows update" in the Start menu search box and click on that phrase at the top to open Windows Update. Click "change settings" in the left-hand sidebar. Uncheck "Give me recommended updates the same way I receive important updates."
Rolling back if you don't like Windows 10 (see under re the Windows Old Folder)
Bob Rankin also gives a brief guide to rolling back to Windows 7 or 8. It goes :
1. Open the Start Menu and click Settings (or tap it on a touch display)
2. Click or tap "Update & Security
3. In the dialog window that opens, choose "Recovery" in the left column
4. Under the entry "Go back to Windows x" (Where x is Windows 7 or 8) and tap "Get started"
And here is Leo's guide if you decide to go back: https://askleo.com/four-ways-to-go-back-to-windows-7-from-windows-10/
If you decide to go back It is important to revert to the previous version within a month before Microsoft deletes the old Windows files
But it leaves the Windows Old folder co0ntainung 35Gb of Windows 7 files unless you delete them !

Is Windows 10 really free for qualifying users ?
Leo says: Many people have inferred the "free upgrade for the first year" offer as meaning that they'll have to start paying after that year is over, much like the Office 365 subscription, They're concerned that they're somehow being sneakily moved to an annual subscription where only the first year is free. He says this is not so.
What do people find bad about Windows 10 ?


It seems that some people are not very fond of some of Windows 10 'features' Bob Rankin suggests the following if you want to 'streamline' it:


A 'professional' game player (I know a few of those) complained that when he was playing a game against hundreds of others Windows 10 suddenly decided to install an update. He lost contact with all his opponents and was none too pleased.


Cortana
is either a helpful voice-enabled artificial intelligence assistant or an annoying busybody that listens to everything you say. Here's how to disable Cortana, if you like. Click the Start button, type Cortana, and press Enter. Click the Notebook icon in its left-hand options pane (if it's not already selected), then select Settings from the list. Slide the slider control under "Cortana can give you suggestions…" all the way left to "Off." Now Cortana is disabled, and all locally stored data she collected about your computing habits is deleted.

If you do want to use Cortana you cannot unless you enter a Microsoft email account. This is either the ancient (and rather dodgy) Hotmail account or the modern equivalent, called Outlook (so confusing as it is nothing to do with Outlook Express OR the paid for app, - part of the Office suite - called Outlook) So, I tried my Hotmail address, which I rarely use. It would not accept my password. Unfortunately it did not offer me a way of getting a new one and kept saying "I can only help you if you sign in with a Microsoft account, Do you want to go back and sign in ?" After three attempts I got no further and gave up. Later I found that it accepted the same password !

The Edge browser
is Microsoft's alternative to Internet Explorer, and the default browser when you first run Windows 10. It cannot be uninstalled, but you can use another browser as your default. Just download
Google Chrome
or
Firefox
, open the browser, and find the "make default" button. In Chrome, it's near the bottom of the Settings main page. In Firefox, it's on the General tab of the Options page. Open either Settings or Options by clicking the "three bars" icon at the top of your browser's main screen.

Windows Defender
is Microsoft's built-in anti-virus protection for Windows 8 and 10. It's essentially the same as the Microsoft Security Essentials tool that was available for Windows XP, Vista and 7. Third-party lab tests have found that regardless of the name, it's inferior to almost every other Internet security software available. And with so many free alternatives that do a better job of protecting you, you might consider turning off Defender, and leave the defending to one of the
free antivirus alternatives
that I recommend.
OneDrive is integrated into Windows 10 to facilitate online file storage and collaboration. Storing your files in "the cloud" with Microsoft OneDrive can make life easier if you have more than one computer, if you travel, or if you want to share files with other people. But if you use a different cloud storage tool (such as Google Drive) or you have no interest in cloud storage, you can disable the OneDrive feature in Windows 10. See this guide from Microsoft to Turn off or uninstall OneDrive.
Some apps can be uninstalled easily; by "apps" I mean nagware like "Get Office," "Get Skype," and even the "Get Started" tutorial. "Phone Companion," Microsoft Solitaire Collection, Money, News, and Sports are uninstallable apps, too. So are most bloatware apps installed by your computer's maker. Just right-click on the app in the "All Apps" view of the Start menu, then select "uninstall" from the dropdown menu.
Turn it Off...
Some Microsoft apps cannot be uninstalled this way. Fortunately, these stubborn apps can be removed with Powershell (gets you to the basic machine, like CMD used to) a scripting utility built into Windows 10. Launch Powershell by typing "powershell" in the Start menu search box, right-click on the Powershell item that appears at the top of Start, and click "run as administrator" on the dropdown menu. Then copy and paste one or more of the following command lines (shown in bold below) into Powershell's command-line window and press Enter.
When finished type Exit and press Enter
3D Builder: Get-AppxPackage *3dbuilder* | Remove-AppxPackage
Alarms and Clock: Get-AppxPackage *windowsalarms* | Remove-AppxPackage
Calculator: Get-AppxPackage *windowscalculator* | Remove-AppxPackage
Calendar and Mail: Get-AppxPackage *windowscommunicationsapps* | Remove-AppxPackage
Camera: Get-AppxPackage *windowscamera* | Remove-AppxPackage
Bing Weather: Get-AppxPackage *bing* | Remove-AppxPackage
Voice Recorder: Get-AppxPackage *soundrecorder* | Remove-AppxPackage
Xbox: Get-AppxPackage *xboxapp* | Remove-AppxPackage
I managed to do this last one by typing it exactly, even to the upper and lower case and spacing. Otherwise it was rejected. However, as soon as I went to try something like Spider Solitaire, the XBOX thing presented itself and, once again wanted an Outlook email password. So, Xbox is difficult to get rid of. Whatever happens, all roads lead back to Microsoft.
Telemetry is one more thing in Windows 10 that many users would like to eliminate. In a nutshell, telemetry is the transmission of data about your uses of Windows 10 to Microsoft. A lot of misinformation and FUD (Fear, Uncertainty, and Doubt) surrounds telemetry, but suffice it to say that no personally identifiable information is being sent to Microsoft HQ. Overall, I prefer to leave it on and give Microsoft automatic feedback about what my computer is doing if it crashes (telemetry's real purpose) so MS can fix bugs.
But if you want to turn off telemetry completely and permanently, here's how: Type "services" in the Start menu search box. Click on the "Services" app when it appears at the top of the Start menu. Stop the "Diagnostic Tracking Service" in the list of services. Set the "Diagnostic Tracking Service" to "disabled.
********************
The first update - called
Threshold 2
(Win 10 itself was Threshold 1) - actually removed some of the favourite programs which people had added. This has caused many users to become incandescent with rage at their impertinence. Adding the programs back has not created problems., so it was not due to incompatibilities.
Windows 10, even Windows 8, lost Media Player - some sort of copyright spat. But you can get an even more versatile player if you install VLC from Videolan

One of the annoyances was the introduction of a 'Lock Screen' which greets you when you start the PC. Just another thing you have to click before you get to use it. It can be removed but it is a rather 'techie' fix described in an article by Bob Rankin HERE but many people will go pale at the the thought of editing the register, which is what is required.

Many people ask 'What happened to the Windows 7 Photo Viewer program ? One common complaint I've heard from people who moved to Windows 10 is that they can't find their pictures. Your photo files have not moved, but the Photos app hides the "complexities" of folder names and trees by default. The app automatically catalogs every image file it finds in the C:\Users\\Pictures folder on your computer.

Personally, I still use Picasa, even though it has been dropped by Google. It works fine under Windows 10 if you can fins an installer. See my page on Picasa

If you store photos in other folders, you will have to add those folders to the Pictures folder before the Photos app will catalog them. Open the Photos app, go to Settings and under the Sources section, click Add a folder. Find the folder you want to add, select it, and click Add this folder to Pictures. The new folder will appear as a Source, complete with its original path name.
Note that if you have a Microsoft OneDrive cloud storage account, Photos will probably catalog its image contents too. If you don't want OneDrive images to appear in Photos, go to Settings and turn off that option.
So, "Can I get Win 7's Photo Viewer back?"
If you upgraded from Win 7 or 8.1 to Win 10, the familiar Photo Viewer is still there, hidden as an option. Here is how to make Photo Viewer your default app for viewing images instead of the Photos app:
Open File Explorer and navigate to the folder where your pictures are stored. Right-click on any image file. Move the pointer over "Open With." Select "Choose Another App" from the dropdown menu. Click the "More apps" option. Select "Photo Viewer" from the list of apps. Click on the "Always use this app to open .___ files" checkbox to leave it checked. Then click OK.
From one of my many contacts, read on: (A really bad result)
This is just to let you know about my very recent upgrade from Windows 7 to Windows 10. To my surprise, the download and installation seemed to go well at the time. The actual upgrade/installation takes some time, with the computer automatically switching itself on and off during the process, which is apparently normal. The only downside (at the time) seemed to be that all dates in the machine had changed to the American format (including the dates on any existing and new spreadsheets. However, within a few hours, I had to use the (HP) printer, which Windows 10 began to uninstall without any instruction from me. Minutes later, the computer would not work. A black screen suddenly appeared which stated, 'Missing Operating System.'
Consequently, I took the computer to the company where I purchased the machine. The staff carried out tests and confirmed that the 'C' Drive was devoid of any Operating System. NO trace of either Windows 7 or 10!! Even the small partition (where original components are stored) had been wiped from the drive. Windows 7 had to be re-installed - and the engineer advised me to refrain from upgrading to Windows 10 until October, when any bugs should be ironed out. He informed me that a number of customers had complained about Windows 10 carrying out unauthorised operations.

Sequel : The contact complained to Microsoft in the USA. He got a groveling apology and even the possibility of compensation !
Leo Notenboom's answer to a similar problem (complete installation failure) was : Instead of doing the download / upgrade path that seems clearly broken for you, I would instead download the Windows 10 DVD image, burn it to a DVD, and then use that to perform the upgrade. I've had much better luck with this. You may need to revert to your image backup to start the process – I hope you made one. You can get a copy of Windows 10 image in ISO format from Microsoft. ** see below.
After hearing this, perhaps we should take note of Leo's warning and back up before taking this radical step. See: HERE
** As a safety measure I made a DVD of Windows 10 on DVD. It was a very straightforward method on a Windows 7 desktop


For a precis of Leo's article on backup please refer to Help16a.htm

Other Criticisms and problems
:
Suggestion from the web : After I installed the automatic Windows update all of my personal documents/photos/files etc disappeared and I was unable to locate them. I tried several times to restart my laptop, use the "Recovery" feature. THEN I simply enabled the "Guest" User Account (Control Panel>Users) and restarted my laptop and everything was back to normal - all my files were exactly where I had left them. 30 people found this helpful
Some people were disappointed to be informed that, after all, their PC was not suitable because their PC did not have the right drivers e.g. Nvidia graphic card software.

Microsoft have followed the Google route of introducing advertising to a number of features. These adverts will be personalised to the user. In order to do this Microsoft will gather information about the user, including their age, sex, location and their computer use e.g. buying patterns. This has brought protests from those who value their privacy. It IS be possible to prevent Microsoft from gathering such information. But the conditions are buried in 45 pages of text, which most people will accept without reading.
Another complaint is that the company will automatically update versions of the OS. This is being done partly for security reasons .It is well known that many people do not install the updates, some of which are created to correct security weaknesses. Users of the business versions of the OS will get the opportunity to decide when to update but others will not be able to choose the updates. If something untoward happens it would be as well to restore the PC to the time before the update..
The WHICH magazine had a look at Windows 10 on mobile phones, They called it a 'Marmite' operating system (some people hated it) and concluded that, apart from for diehard Windows users, the Apple and Google (Android) systems were better for phones
Guardian : Criticisms
http://www.theguardian.com/technology/2015/jul/31/windows-10-microsoft-faces-criticism-over-privacy-default-settings
The Windows.old folder
When you upgrade to Windows 10, a folder on your complete system (called Windows.old) will be created. This folder is nothing new. It was always created if you upgraded from one version of Windows to another, starting with Windows Vista. Essentially, the Windows.old folder just contains the old Windows system. From the Windows system files to your installed programs and each user account's settings and files, it's all there.
The new version of Windows just keeps it around in case you'd like to go back to that older version of Windows or in case you need to dig in and find a file. But, don't wait too long — Microsoft will automatically delete the Windows.old folder to free up space after a month. (NOT SO! I have found it hangs around taking a LOT of space !) .Within the month it will be easy to revert from Windows 10 to Windows 7 or 8.1. After installing Windows 10, you can open the Settings app, select Update & Security, and then select Recovery. You'll see a "Get Started" button under Go back to Windows 7? or Go back to Windows 8.1?, depending on which version of Windows you had installed before you upgraded. Click this button and Windows will restore your old Windows operating system, using the Windows.old folder as the source.
See more at http://www.microsoft.com/en-us/windows/features
and http://www.techradar.com/news/software/operating-systems/10-great-new-features-in-windows-10-1267365
Other Useful Links
Initial Email from Microsoft
https://www.microsoft.com/en-US/windows/windows-10-faq?OCID=reserve_r_PostReserve_header
How to Geek blog : Should you upgrade?
http://www.howtogeek.com/223634/should-you-upgrade-to-windows-10/
Specs required for Windows 10 :
http://www.microsoft.com/en-gb/windows/windows-10-specifications?ocid=reserve_r_PostReserve_mod1_specs#sysreqs
---
Site Navigation Links : To see the rest of the site please click on SITE MAP:
---