Digital Photography (1)
---
Digital cameras have become less expensive and more capable over the last few years. They can be as little as £50 or as much as several hundred. Suffice to say that an old film camera and the film are almost impossible to find and the cost of developing means that many people just keep photos on their computer or send them to friends with emails. And these days every moble phone or tablet computer has reasonable quality camera, most of which can manage a stab at video, too.

In my view Picasa (Google's own Photo organiser) is still one of the best programs available even though Google has retired in in favour of Google Photos. To see why I am so keen click Next Page, above...

Getting them printed. Although good results can be obtained with an inkjet printer and gloss paper, one must look into the cost of ink and paper. Aldi at http://www.aldiphotos.co.uk/ not only offers an on line print service and an online place to store photos but also downloadable photo editing software and album making software. Print prices are reasonable. Better for smaller numbers but with no discounts for large quantities. Boots charges are better for larger quantities. Virgin/NTL users can get 50 free prints a month on their M level.
One of the most rewarding aspects of computing is its ability to take, display, send and print photographs at very little cost. Taking a dozen shots and deleting the worst can make everyone seem a better photographer ! After all, it is what the professionals do.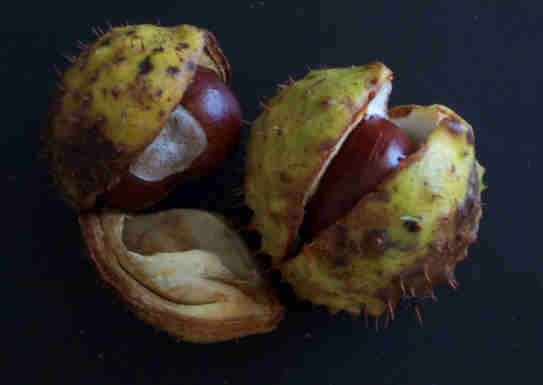 Close-ups are easy with digital
Digital Photography.
A digital camera has no film and, if you wish to just display the pictures on your computer, there are no further costs apart from batteries. The pictures are stored temporarily in the memory of the camera. They can then be transferred simply to a computer via a USB or using cable and then erased from the camera. Alternatively you can extract the memory card from the camera and transfer it to a computer by putting it into a card reader. All but the cheapest cameras enable you to view the pictures on a small screen at the back of the camera and it is possible to delete ones that you don't like, there and then. Many also enable you to crop pictures while still in the camera. Cropping is my most frequently used tool. People want to see the main subject of a photo, whether it is people or a view. They are not interested in acres of grass or people's feet !
I know several people whose lives have been enriched by using a digital camera, whether it be to send pictures of children to loved ones far away or to record a flower or even an insect in the garden. It is one of the simplest of peripherals to set up and use. You can be taking and viewing pictures in minutes. The ability to see your pictures full screen also enhances them compared with viewing prints in an album. I would recommend anyone to get one of these wonderful devices for their own pleasure - and to impress/bore others!
Cameras
So, much depends upon what you expect from a camera. My little Sony (now superceded) had a mere 2 megapixels but its size made it so convenient and the quality of the lens made up for the lack of megapixels. Its main drawback was not having a viewfinder and the tiny LCD screen at the back was not easy to view in bright sunlight.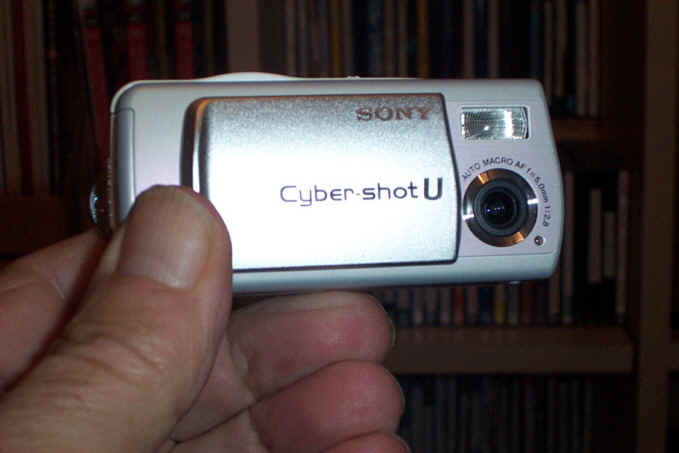 Personally, I feel the megapixel sales pitch has been quite unnecessary. We are now seeing 12 and 14 megapixel cameras with optical zoom for under £100. This results in large picture files that can quickly fill up your camera card and hard disk and can be slow to send with email.
What to look for in a camera
It is possible to get a digital camera for as little as a few pounds but do try to compare results if you can. But even the most basic ones these days are likely to have Date and Time, a bright LCD screen, a cable to connect to your TV or video, automatic focus, red eye reduction (a brief additional flash reduces eye pupil size), a digital and optical zoom, self timer, a battery saver (in case you forget to turn it off), macro (close up - 6 inches), video (movie).
You will find that all 'point and shoot' digital cameras focus automatically and have a wider depth of focus than older cameras. They are also much better in low light conditions, even without flash.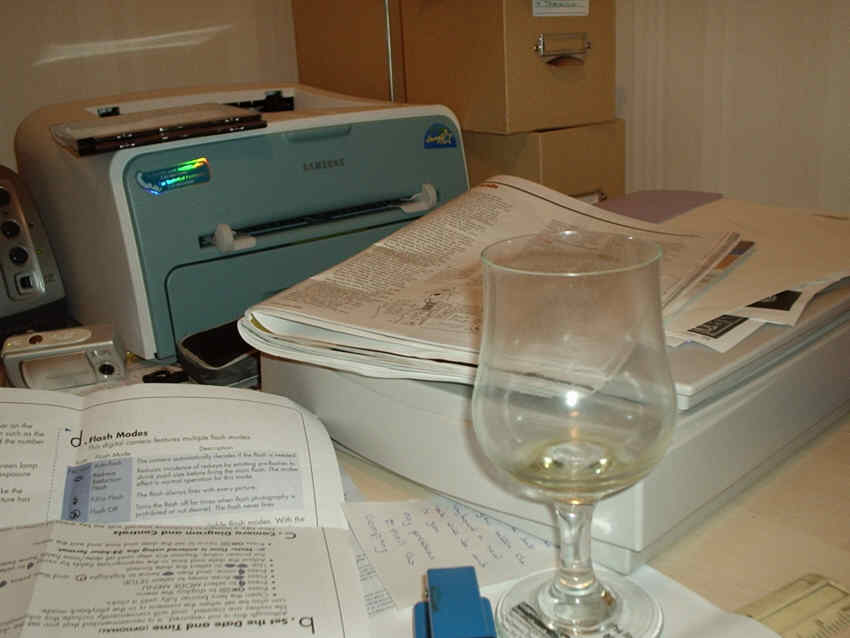 Depth of focus (from front to back) is better than with a traditional camera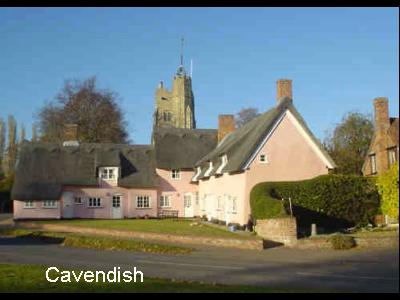 Cavendish, Suffolk.
I compress pictures before uploading them to my website. This picture is a mere 15k. The effect of the massive compression can be seen in the sky, so it is better to keep an original if you expect to print them. One way to make and send a smaller compressed version (as well as keeping the original) is to go to My Pictures and right click a picture, click Send to and then click on Mail Recipient from the list that appears. Click to compress the file. Your e-mail program should show with the graphic attachment greatly reduced in size (kb)
Computer Based Photo Albums - With digital photography being so easy and inexpensive it is not long before you realise that printing every photograph is, perhaps, unrealistic. And when you see your pictures full screen on your TV or montor (or tablet) you can see why software writers have developed programs for viewing them in that way. Windows XP and later has great slideshow facilities as do most other graphics programs these days. So you may be tempted to spend some time on creating an on-screen album of your holiday. Programs such as Google Photos, Picasa, Moviemaker or DVD Maker (regrettably omitted from Windows 10) will enable you to produce a masterpiece, with fancy 'transitions', which can be saved to CD or DVD and thus played on any PC or on a TV, using a DVD player in the latter case. Windows Picture Viewer is also an very simple way to show your pictures and its printing facility is excellent. If you can get a copy I still recommend the free program Picasa. (Now being replaced by Google Photos) It has great (and simple) photo editing facilities (see next page).Some email programs also give you the opportunmity toc adjust the definition when you send a picture. And, if you want to show your pictures to all your friends there is massive free on-line space on Google Photos web albums. Another site where you can keep photos (and even video) safely on line is Flickr and Instagram
Printing your photos. Computer Active did a comparison of costs and qualities of various printing methods. They dismiss colour laser printing for home use, although I have a Canon Laser which does a good job, especially on plain paper. But what about cost for inkjet printing? These varied from 25p to 78p just to print one photograph on individual 6 x 4" glossy paper. Apart from the work involved, and the possibility of poor results, this makes the hobby pretty expensive. It is much cheaper to get photos processed at somewhere like Photobox from 5p each if you order 500 or more (12p for one) and they give 40 free for the first order. And you will get excellent prints on bright-white heavy-duty paper, unlike the flimsy, expensive 180gsm stuff you get in the computer shops These days you just take the memory card in and it will be downloaded to their machine in a minute. So you can get your precious memory card back and carry on shooting. Another company that came out well is Bonusprint. Kiosk printing, where you do it yourself, was much more expensive. Incidentally, Virgin Media people (on the M level Broadband) can register with them and get 50 free prints a month for the cost of postage

If you do resort to printing at home you will find a tremendous improvement in the results if you print on heavy quality glossy paper. Try high quality 220gsm gloss paper, £5 for 50 from some shops.
Photo manipulation Another advantage of digital photography is that it gives the opportunity to enhance your photos. It is important to have some software that will enable you to do this. If you ask the photographic processing company to put your pictures on a CD they often include some software free. I have mentioned 'cropping' a picture to cut out the spare sky and grass or unwanted parts of a picture. No-one is really interested in loads of space, especially on photos of people. In fact no-one is really interested in knees and feet! What they want is a close up of Aunty Mae or the happy couple, preferably head and shoulders! You can experiment and save the bits of the photo to another picture file. In fact there is only one thing you must never cut out in portraiture and that is the person's eyes.

So crop away. Talking of eyes there is the frequent red-eye problem of flash photography, though most cameras can be made to prevent this by double flashing. A photo manipulation program will also let you correct this. Another feature of such programs is the ability to alter the brightness and contrast of the image. Many a dull picture has been brought back to life by changing these aspects. If you have Picasa, go through your dull old pictures and click "I'm feeling lucky". You will be amazed how they improve. But remember to save a copy or you will lose that effect. For more information on Picasa click here.

Other recommended packages for organising and editing photographs are The Gimp and Irfanview (free) or the paid for programs such as Corel Paintshop Pro, Microsoft's Digital Image Suite and Adobe Photoshop Elements. The last one was given a five star rating by Computer Active.

2016: There are also a number of on-line photo manipulation programs mentioned here http://askbobrankin.com/10_free_online_photo_editors.html?awt_l=Orks6&awt_m=J3dm0mY7XeP6SL He recommends Pixir Express and Sumo paint and Photoshop Express, which is also available for iPads.


And don't forget that, if you want to send large numbers of prints to people on slow connections you are more likely to stay friends if you compress the file down to something that will only take a little while to send or receive. If you are not looking to send photos in the highest resolution you should try to convert them to the popular JPG format (not Tif, PNG or BMP, which may be ten times the size) and they can be compressed to various degrees and also reduced in physical (inches) and Megabyte size. Many graphics programs can be used to compress photos before emailing. Make sure that you do not accidentally wipe out the better version when you save a compressed version. Save it as another name - but still in the JPG format. A program like Corel PaintshopPro will 'Batch compress' dozens of photos and stick the compressed version in a different folder. If you have it, see under File, Batch compression. You can just opt to Select All the photos in one folder, set the Option to compress them 85%, choose to send the results to a different folder, then hit Ok. Within seconds 50 photos were compressed from 2Mb to 250k each. Unfortunately PSP costs money to download.

MEMORY One confusing aspect of digital cameras is the great variety of memory various ones use. There are about a dozen different memory card types and they vary quite a lot in price, physical size and even speed but all have become much cheaper lately, have higher capacities and faster transfers frrom camera to memory. Important when you are taking pictures. These days most use SD or Micro SD cards.


Batteries. Some digital cameras contain rechargeable batteries, usually recharged by connecting them to a USB socket on a PC. If you expect to go on a long trip it may be advisable to invest in a second battery. Some older cameras seemed to run through batteries quickly. I have read an article in Computer Active about someone complaining that he has sent his camera back and had replacements three times as it would only take about 50 pictures before the batteries needed recharging. I wonder if the camera actually had a problem. The things that use the most juice are the LCD screen, the flash and the use of any video facility. If possible they should be used without any of these. I have seen people using the flash all the time, when really it is BETTER in good light to just use flash for 'in filling' to expose shadows on faces etc. Next, I have seen people who cannot resist showing everyone what they have taken, so they pass the camera around a large group of people who look at all the pictures. Then they wonder why the battery is flat.
Many cameras have their own dedicated rechargeable battery. Again it is worth getting a spare.


Lastly, people are not aware that AA and AAA rechargeable batteries are not quite as powerful as standard batteries and may fail even when part discharged. Some cameras require them to be in tip top condition, whereas batteries used in torches and toys carry on for much longer. Please bear these points in mind before you return your camera to the supplier. If you buy rechargeable batteries, get the biggest capacity you can find e.g. AA can be up to 2,400 mAh. And do carry at least one extra set - and still be prepared to have to nip in a shop and buy extra Duracells. Do check that BOTH the batteries are down. One may run down more than the other ! Get a battery checker.

One strange thing I discovered when getting a new camera was that if it was set at the maximum definition (as the camera was delivered) the pictures looked fine on the PC but when burnt onto DVD they appeared small on the TV, covering about a quarter of the screen (in the centre). This does not show off the pictures as I would want. I found that, as with most cameras, one can change the definition and the setting will stay the same when you use it again. This is particularly important for people who do not have a lot of hard disk space. A recent camera has 12.1 Megapixels. If set to the maximum definition, even with the massive compression afforded by the JPG format every picture will take several megabytes of space on the camera card (or phone) and on the hard disk.

If you don't even want to install a graphic manipulation program it is possible to change pictures using the on line facilities provided at

http://effects.japplis.com/

Panoramas. I have been fascinated to see the magnificent panoramas which are being emailed to me by 360cities.net and wondered how difficult they were to make.. Their site indicates that it is not beyond the ability of the average photographer and computer buff, so was keen to have a go. In addition to taking still photos all around you from a certain spot, you will need to stitch them together with something like Hugin, a free program downloaded from Sourceforge, then send the result to 360cities to finalise the result. With a basic camera it is much more difficult and you will obviously need to take more pictures which overlap. It is obviously much easier if you have 'fisheye' or wide angle lenses (as in the video). Best of luck with your panoramas. Maybe one day you will make on like this ! Http://www.360cities.net/image/stone-sculptures-tirtagangga And just click on it then drag the mouse to left, right, up and down


Which camera ? This subject is too vast to tackle here. But to give an example of one 'snapper', the Samsung ST150F. It is about the size and thickness of a mobile phone; 10 x optical zoom 16Mpixel, 3" screen, HD quality video at 30fps (PAL and NTSC); Wireless connection to a PC or mobile phone, picture crop, panorama scan. It automatically focuses down to 5 Cms

Publishing your photos

You can upload photos to Youtube or Google, free of charge. One can create a slideshow with a program such as Movie Maker and upload that.


If you really want to impress you can create a photo book e.g. of a wedding. A company such as Jessops will let you download a suitable program to create the book the way you want. Then you can order it from them. They come in various qualities and sizes (dimensions, layouts, number of photos and pages) from £6 to £80 (e.g. linen or faux leather bound). The download is very large (over 100Mb) and takes a while even on a fast broadband. After this they suggest :

1. Choosing your Product: On opening our software you will find several tabs on the left hand side of the window. Clicking on each of these tabs will change the main page to display the options available for each respective product.

2. Adding your Photos: Inside the Editor for each product you will find a light grey 'Images' tab on the left hand side. Clicking on this tab will bring up a file tree of your computer. Simply navigate this tree to select your desired image folder and its contents will be shown in the white area below. From here you can drag and drop your chosen images into place and onto the Editor screen.

3. Placing an Order: When you are happy with your personal creation and want to send it to be printed simply click on the "To Order" button on the bottom right of the window. This will then take you through the short few steps needed to process your order and payment details.

Do you get Powerpoint Presentations emailed to you ? To know how to see them and learn how to make them click my page at Powerpoint.htm.

To see other pages please click on SITE MAP
---