Digital Photography (2) - Using Picasa and Google Photos
But see below. It is being retired ! Woe is me !
---




Regrettably Google is retiring Picasa (still usable even in Win 10 but difficult to download. Try https://picasa.en.uptodown.com/windows/download) in favour of Google Photos (https://photos.google.com) Although very clever (intrusive almost) I have yet to discover the easy ways I have got used to crop, brighten, annotate, email, print, arrange and generally improve my photos with Picasa. I may have to find an alternative package for these jobs. Everyone hates change, including me.

Google photos

see Google Photo Support and https://www.google.com/photos/about Grabs your photos from almost anywhere. It then decides how you might want them displayed ! ASSIST shows things like Discover the day. Your photos from an arbitrary year long past. It makes animations of similar pictures, "COLLECTIONS" i.e. Groups your photos in the way IT thinks might please you, and adds Group titles. One group is 'Your Year in Photos'. In Facebook you may suddenly see photos you took and uploaded a year ago or two, three, four years ago. Again it not clear how they decide which of your years is worth recording. It may include videos

So, are there things that you can no longer do (that you could with Picasa ?). If you referred the URL of Picasa-created slideshows, albums and Public Galleries, these may no longer work. I am yet to discover how I can do all the things listed 1 - 30 below. In fact, the only thing I can't do is email photos directly from Picasa.


There are still a tutorial on Picasa at http://www.youtube.com/watch?v=rskC6c_5L1M

De-duplicating your photos. Picasa has a good method for doing this. In the program click Tools, Experimental and "Show duplicate Files". Though you might be nervous about deleting the folders or files that are shown you CAN do this. Only photos that are identical in date, size and name will be deleted. If you are unsure, first send them to the Recycle bin (right click and Delete from Disk).

If you think a folder has duplicates that have been renamed differently it is easy to see these if you click Folder, Sort by.. Size. They are then likely to sit side by side and one can be deleted. Do this for each folder.

If you wish you can Geotag a picture to show where it was taken. Other people (anywhere) can then see them on Google Earth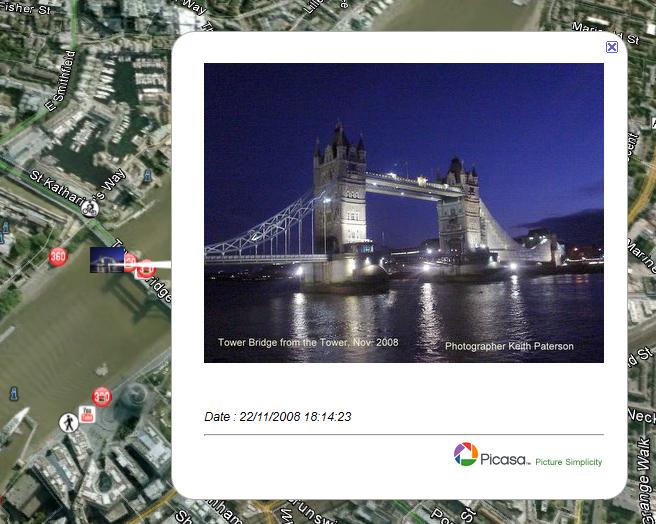 Much as I like Picasa, on a couple of occasions some of the thumbnails have gone peculiar; stretched or even a small cropped piece of photo. Rest assured that your original has not been affected but how to bring it back to normal ? You can try Folder, Refresh thumbnails.. But in the end I just deleted Picasa and reinstalled it. That reindexed everything in the appropriate folders and all was well.
Occasionally Picasa might fail to include a folder. Click Tools, Folders and make sure it is included in the list.

Facial recognition in Picasa is amazingly accurate. Bear in mind that Picasa does not make extra pictures - unless you want to. It is an index to where your pictures are kept. It is the same with Faces. Click on the face and you see the whole picture from which it came.
Here is a small section of the results I got :

Unfortunately Google has managed to disable the email facility in Picasa without replacing it with anything simple.

Picasa still has a useful slideshow facility which immediately takes you into full screen slideshow mode. There is a Text item on the left and you can add text any size and colour anywhere on a picture. Although you can save this and print it you can also hide it. I have just labeled a whole batch of pictures and transferred them to a digital picture frame to describe each picture for viewers.

To say that it is the most friendly program I have ever used is indeed a compliment to its 'intuitive' nature. It helps you achieve the effects you want without even having to look up a manual, though there is some on-line help available. So, why do I feel it necessary to write a manual ? It is simply that Picasa has so many extras that you might not discover at a cursory glance.
If you can find a copy of Picasa the first thing you will notice, on installing it, is that it goes right through your hard disk finding anything that it considers to be a photo (or video). It takes a little while to do this initially but then is produces a list of your folders, displaying the photographs. You get the option, on installation, to choose to restrict the search to the My Pictures folder and I would recommend this. Otherwise you will see pictures of every little graphic from Help files to Graphics programs you happen to have. You may or may not want to include photos from you My Documents folders. (Tools/Folders)

When it has finished you can just click away on these to enlarge them or can click Slideshow to see a display of all the photos in that folder full screen with a few seconds for each. Simple !
Incidentally, when you add or move, add or Save a copy of your pictures it takes a few moments for Picasa to realise you have done this. Eventually you should see it working away putting them into the right place in your folders.
Initially, it will put the folders in the date order when the pictures were taken. If you wish to put them in a different.order (e.g.alphabetical folder, which I prefer) just click View and choose what you want to do. This only creates an index. It does NOT move the original photo.

If you go to File, Save As and change the name of a picture, you will find that Picasa has also created a backup of the original. It is a good safety measure. Later you may decide to delete these originals to save space. Recently I did a search on the word Originals and found more than a dozen folders, some taking quite a lot of space. I deleted them by right clicking each one in turn and clicking Delete.
If you save a PNG file as another name Picasa will change it to the much more compressed JPG format (without aparent loss of quality) Be sure to delete the original large PNG file. I change ALL PNGs to JPG.

NEW in Picasa3 :
Picas3 is much faster.
Easily add text to photographs
There is a retouch brush to eliminate dust etc
Red eye removal is automatic, although you can still do it manually
There are suggestions as to what to crop to create a good photo
Not only view videos but can trim them and even rotate them (if you took a video in 'portrait' format you will see the advantage of that)
Capture stills from videos
Uploading videos also compresses them
Export a section of a video (saved in Picasa/Export video).
Export whole folders of compressed versions of photos (save to Picasa/Export)

Videos are zoomable
Add music or voice recordings to videos or slideshows
It is easy to send your videos or slideshows to Youtube or Facebook

Stitch together stills into a 'movie' and add sound
Move pictures around in the collage feature and there are many layouts or can save it as a desktop picture
Find thumbnail photos of the faces of everyone in your photos and then group them automatically by facial recognition. This can become a little overpowering and inaccurate so you can turn this feature off
So, apart from a super 'viewer' what else is Picasa capable of ? See the methods appropriate to each number below.
Improve brightness and contrast (or do these separately). Try clicking I'm feeling lucky. If it doesn't improve things Undo this or any other feature
Crop... cut to the best part of the photo and save it to a new name. Undo if you want to keep the original as well
Straighten
Red Eye removal . This is now been automated and improved in Version 3.
Sharpen those blurred pictures - to some extent.
Change them to black and white or sepia
Make a gift CD (if your PC has a CD writer). These play on PCs

OR

DVD Platyers. Difficult with most programs.

Make a 'still movie' i.e. a movie program that appears to zoom in on each still picture.See my parascend/paraglide at http://uk.youtube.com/watch?v=fRiZdIk5t_k
Make a collage and (V.3) move the pictures about and alter the angle.
Batch edit multiple pictures
Delete from disk
Rename a folder
Make a caption which appears in the slideshow. Overlay text in any colour, any size.
No longer able to e-mail photos from Picasa

Backup to CD or DVD
Order prints
Print your own pictures (various sizes) in an economic layout on your paper.eg. 4 to A4

Create 'wallpaper 'or screensaver from a picture or pictures
Rotate pictures - putting portraits upright so you can view them easily
Import from camera or scanner.
Easily move, compare and de-duplicate pictures
Make a permanent copy without changing the original. (Save a Copy or Save As) Or just Save (latest version)
Export a picture to somewhere on your PC and 'shrink' it easily.
NO LONGER AVAILABLE Make a Web Album so other people can see your pictures (or even videos)
'Geotag' a photo of your house and upload it to Google Earth for the whole world to see!
Display videos you have made and upload them to Youtube
Picture too dark, bright or light. Change it

Collect the faces from all the pictures you have
Retouch photos, taking out spots and even cracks. You can replace any section with a selected area of the same photo.

Backup to a folder or to disk

Remember you can always click 'Undo' to get back to the original. To select a number of pictures click Hold each time. Alternatively, click the first one, hold down Shift and click the last one. In each case, if you want to save changes to a picture, do so. If you want to keep the original use Save As.



HOW TO DO THE ABOVE
Just click on " I'm feeling lucky' or click brightness and autocontrast. Make a Copy or (with some versions) Save it over the original. Then Undo the action so you can distinguish it from the new copy. If the new one is much better, save it and delete the original. Always undo changes to an original so you can distinguish it.
Click Crop, choose Manual, drag the cursor across the picture then apply (or undo). Save the result if you want or save it to a new name.
Click straighten, move the straightener and then click Apply
Click Red eye removal, and.or drag the mouse across the offending eye. Click Apply
Click Effect, Sharpen once or twice, then Apply. Don't overdo it ! But you can always Undo and action.
Click Effect and choose one of the alternatives and Apply
Select a number of pictures by clicking which you want, then Hold each time. Click make a gift CD. These can include music and zoom or other effects.
As for 7 but click Create Movie. The resultant file is massive but could be saved to CD/DVD to send to someone. To add music, click the Folder Heading and click add music. Of course you have to find some on your PC
As for 7 with about 6 pictures and click create collage (to print). Now you can move them and change the angles
Right click a picture and click Delete from disk. If you want to stop it going to the Recycle bin hold down shift amd click Delete.
Click a picture and press F2. Rename it. Or click Make a Copy on the left
Click a picture, drag the cursor across the word Caption and type in your own. Alternatively click Text and change the colour, size and font and move or angle anywhere on the picture
NO LONGER WORKS : Click a picture (or several ) and click Email at the bottom.

Click Tools, Backup. You need a CD or DVD writer and may need lots of blank CDs/DVDs
Click Create and click Order prints (or other products) You are given a choice of processor. You have to upload pictures, of course, and , if you are wanting many, this is only realistic with Broadband.
Select and 'hold' one or more pictures. Click print at the bottom. Choose the size you want. It will fit pictures the best way it can. To print a 'Contact Sheet' (small pictures) select them all and go to Folder.
Click a picture and click Create. If you click and HOLD a number of pictures you can create an ever changing screen saver like this

Click a picture and use the rotate arrows at the bottom. Save the result if you want.
Click Import at the top and choose your pre-installed camera or scanner
Picasa is great for organising and de-duplicating (getting rid of identical pictures which are in different folders). Not only is it is easier to see duplicates but also, you can 'drag' them from one folder to another. If you select several photos by holding down shift (or Alt) you can move them all at one go. Alternatively you can Cut or Copy (via Edit) and then paste them into another folder. If Picasa finds identical pictures it will give you the option to Skip or Rename the duplicates. If you Skip it will leave the duplicates behind. If you choose Rename it will not overwrite the original but they will appear together and you can decide whether to delete one or the other. It even has a de-duplicating facility. See Tools, Experimental. You can trust it to show all duplicates, which you can then delete.

N.B Any editing you do with Picasa is NOT automatically saved and can be undone at any time within Picasa. To save a change go File, Save, Save As or Save a Copy. A copy will NOT overwrite the original but will rename it with an extra number. You can then Undo the change on the original and (if you are sure the copy is an improvement) delete it.

You may want to create a smaller version of a picture (especially with the massive files that modern cameras create) But to create a permanent small version you can click on the picture or pictures and use Export. It puts the photos in a new folder with the name of the original one. Don't overwrite the original version (unless you want to) because, if you do, you can never get back the quality you started with. But for unimportant photos this is an excellent way to keep a small copy (thus saving masses of disk space)

Web Albums. No longer available

Geotagging. Is under the Tools menu

Click on the video and, while it is playing click Upload to Youtube on the left. They take a while.

If a picture is too bright, "I'm feeling lucky" may not darken it enough, but you can try Tuning and drag the Shadows slider to the right. Especially good for light text scans.

Face recognition. If you ask it Picasa will find EVERY face in your photos. If you recognise one and name them, it will find all the similar ones. Occasionally it gets it wrong. It can be a very big job to select and name all the faces it finds.

To eliminate small spots on photos open the photo make a copy of the photo (File, Save a copy), click Retouch, adjust the retouch circle to a similar size to the spot. Click the spot and click a surrounding area of the same colour. If it is not satisfactory you can always abort the procedure and try again before agreeing to the result.

Click Tools, Backup Pictures and Burn (to CD or DVD or choose a folder

Examples of editing photographs using Picasa features : Here are four versions of the same picture, which have been treated with various Picasa facilities. The first picture has been taken badly, at a slant. This was corrected using number 3 above - Straighten. The third picture shows a 'cropped' version. And in the last case the cropped one has been improved using " I'm feeling lucky" which guesses the better brightness and contrast.



If you would like further tips on Picasa, do not hesitate to get in touch


N.B. When you use the latest Picasa and change a picture, then save it, it cleverly keeps a copy of the original. This is a great safety measure, which would enable you to get back the original if you decided it was better then the new version.

Site Navigation Links :- Please click on SITE MAP

---