DVD Maker - Tutorial
---
This is a brief description of how to use DVDMaker, the Microsoft program that comes with Vista and Windows7 Home Premium versions. Sorry, XP does not support it. Anexample is my "Making a gavel" at www.youtube.com/watch?v=L1pY9TeL3yU
I have spoiled so many DVDs and CDs attempting to do what this program does very simply and effectively. In just minutes you can produce something impressive that can include your still pictures and videos. It can include music for the 'slides' and normal sound for your videos, while giving you the option for a number of superb 'transitions' between slides. It even gives the option to go to 'scenes' within the production, so people do not have to watch all of your boring pictures at one go. The Play and Scenes buttons on screen can be selected with your mouse on the PC or with the controller on the DVD Player. You can preview your efforts before burning them to DVD and even save the outlay so you can make copies later. Once the DVD has been completed it should play automatically on any PC or any DVD player. So you can send them to friends and relatives with little fear that they will not be able to view them.
Happy DVD burning !
Equipment required:
A PC with the ability to WRITE to -"burn"- DVDs. Earlier machines may PLAY them but be unable to write to them. To check this click on "Computer" on the desktop and see whether your DVD says something like DVD-RW. If it only says DVD you are out of luck.
Blank DVDs. There are several types of DVD but the major ones are DVD -R and DVD +R. It is important to get the type that suits your DVD writer. These days they are not expensive. Amazon sell 25 for £5.49. It is not easy to tell which you have unless it says on the cover at the front of a desktop PC. But you may get a clue if you click on 'Computer' on the desktop and find the DVD listed
DVD marker pens. Always mark them with their content and playing method.
The DVDmaker software. Type Dvdmaker at Start and the first screen should be displayed (as pictured below)

So, here we go. The text in blue has been added by me to the screens you will see.
http://www.silverhairs.co.uk/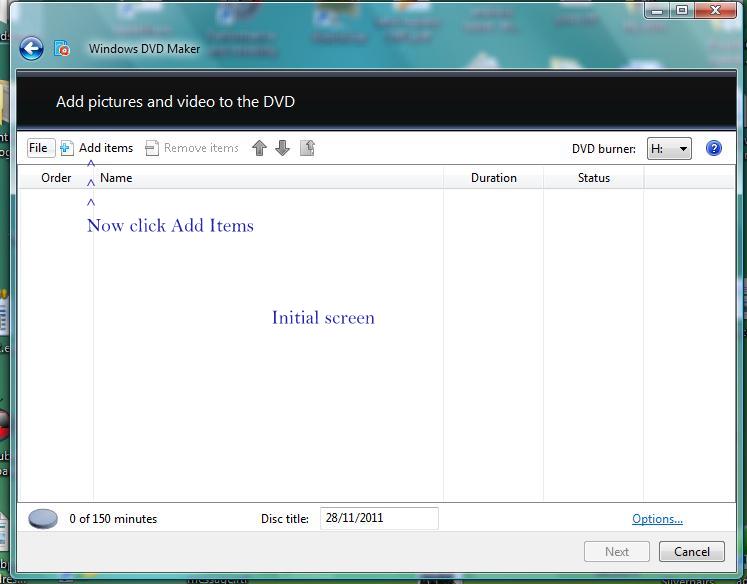 Add the pictures and videos you want. You may find them in the 'My Pictures' folder.
You may wish to put them in a chronological order. I did this by renaming pictures alphabetically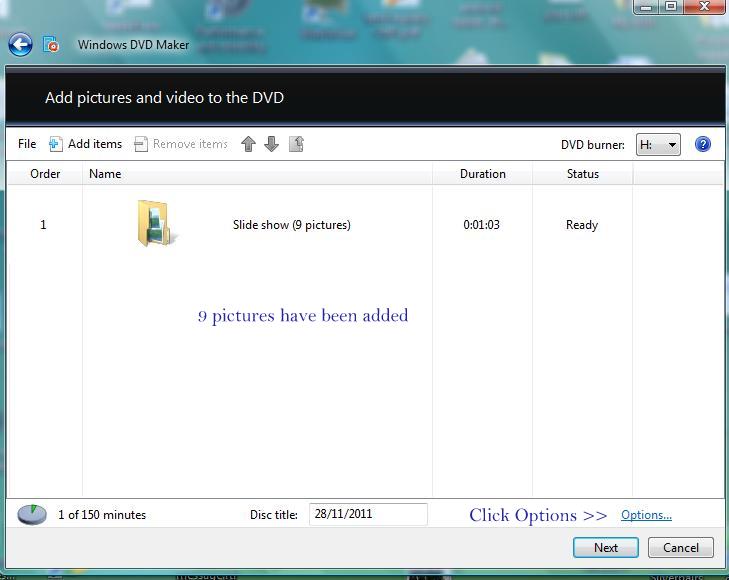 Now click Options at the bottom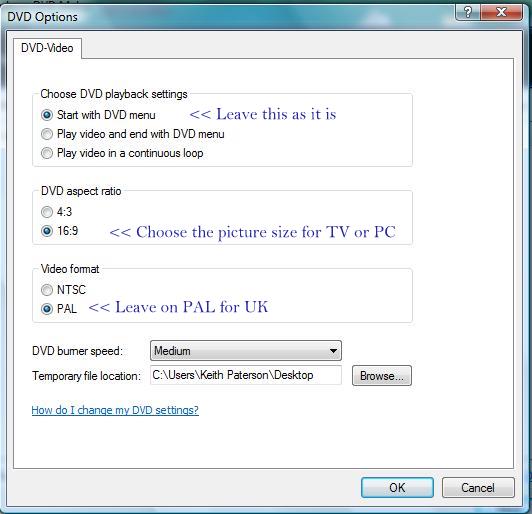 In the Options screen select the screen width and click OK. Is this going to be shown on a widescreen TV?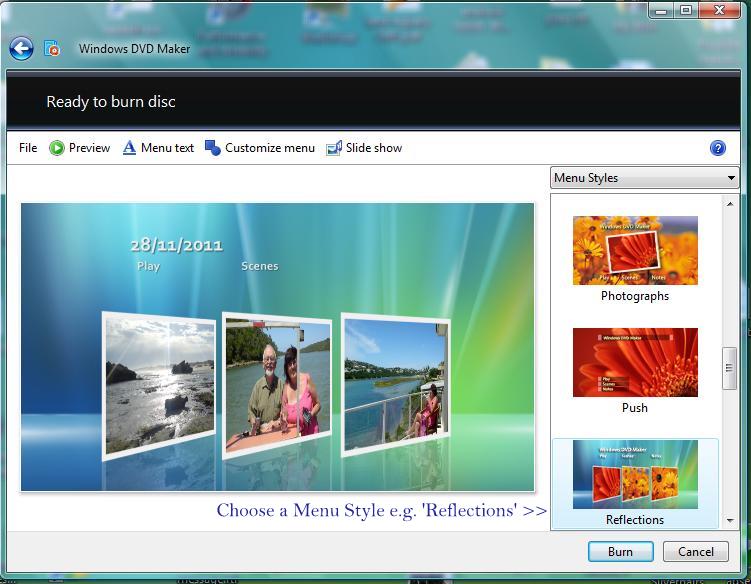 You can already Preview what you have created so far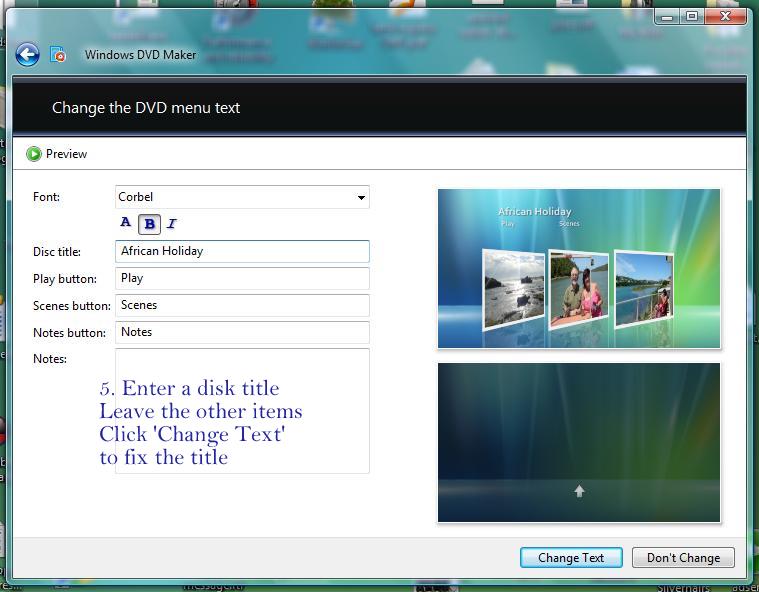 It is better to give it a suitable title, then click 'Change Text'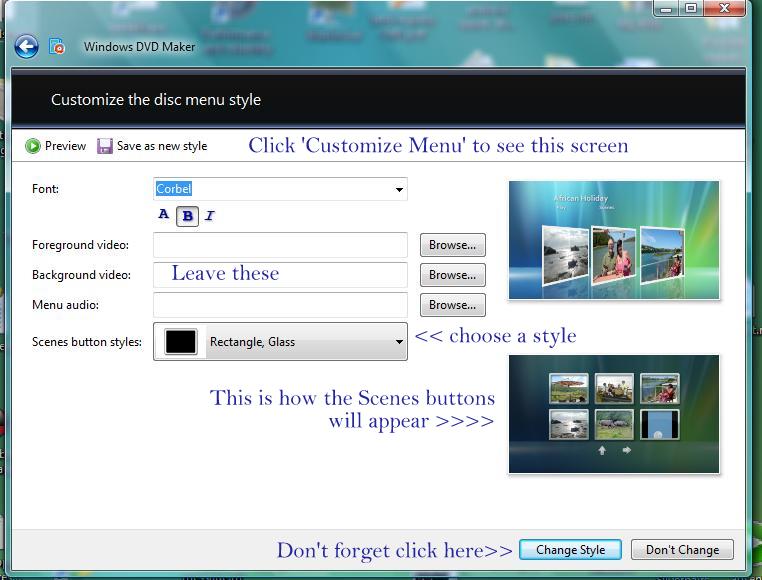 The Scenes button can later be selected by a DVD controller used with a TV (but it is not essential)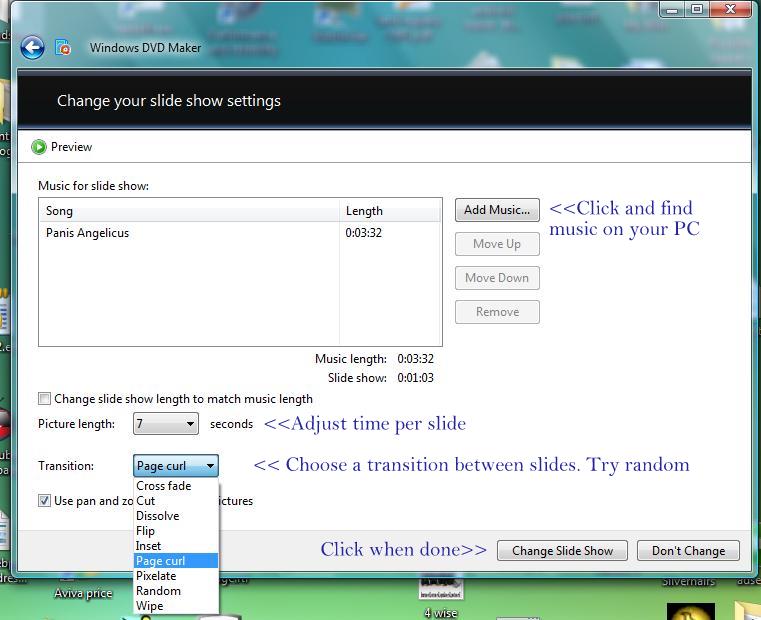 Appropriate Music helps a slide show, as do nice transitions between slides. Experiment. Try 'Random'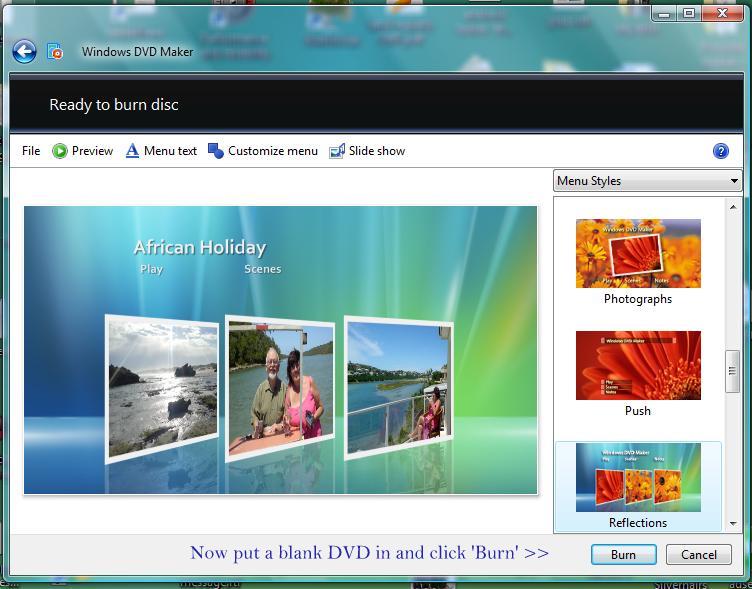 Click Preview and when you are happy click Burn to create the DVD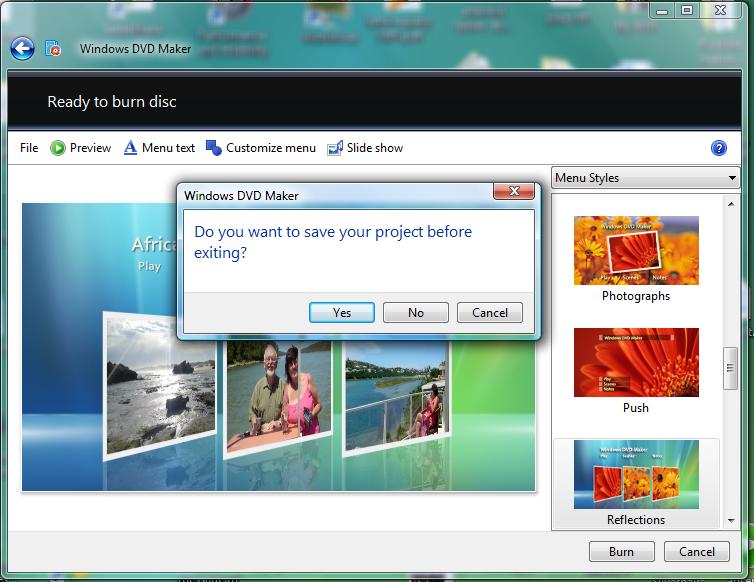 You can then make further copies and also save the layout for later use
*********************
I do hope that this helps you create successful DVDs
To see other pages please click on SITE MAP
---