Egypt
SITEMAP Currently the travelogues are the final pages on this site
Morocco Sailing 1 : Sardinia to Corsica Collioure, France Sailing 2 : Turkey ; The Lycian Coast Marrakech (new)
Acapulco Derbyshire Dales South Africa S.A.Townships Latvia Mediterranean Cruise
Our ancient Trailer Tent Sri Lanka Next Page South Africa (CapeTown to Eastern Cape)
Here is a report from Silverhairs aficionado, Jim
It is to be sincerely hoped that Egypt will soon again be a favourite resort for Brits.
The first week was taken up with a trip on the river Nile from Luxor to Aswan and back, on board the 'Lady Mary'.

M.S Lady Mary
We went ashore at a number of sites of archaeological interest, such as Edfu, Kom Ombo and Luxor itself, where we visited the great temple of Karnak and the Valley of the Kings on the opposite bank of the Nile.
Note : The pyramids (e.g. Giza) were built as tombs for Kings and pharoas of early Egyptian dynasties, as early as 2500 BC. They wer often plundered and later kings (1570 - 1070 BC) were buried in tombs carved from rock on the west Bank of the Nile opposite Luxor (also known as Thebes). On the Eastern Bank, in Luxor and nearby Karnak they built great temples, each dynasty improving on the last. So, the eastern bank was for the living and the western bank was largely a burial place. Even so, most of the tombs were robbed over the ages, which is what makes the untouched tomb of Tutankhamun so remarkable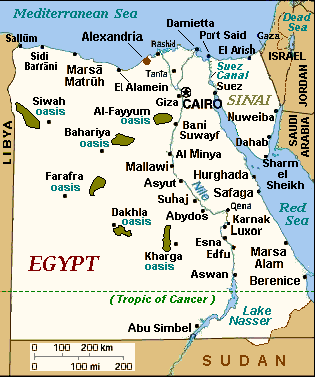 Egyptian towns and cities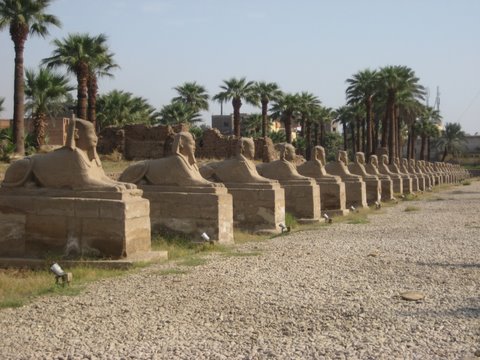 Sphinx Avenue at Karnak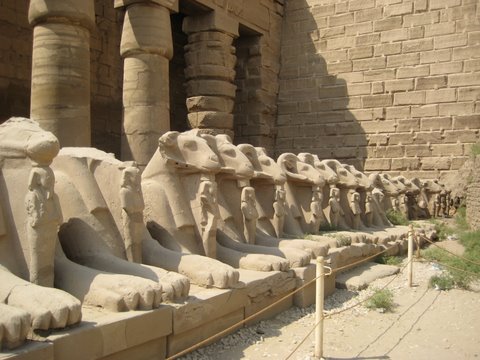 The ram sphinx avenue at Karnak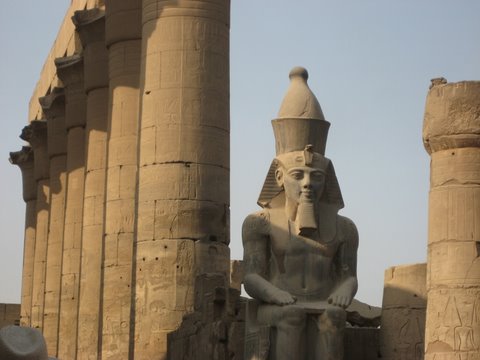 Statue of Ramases II at Luxor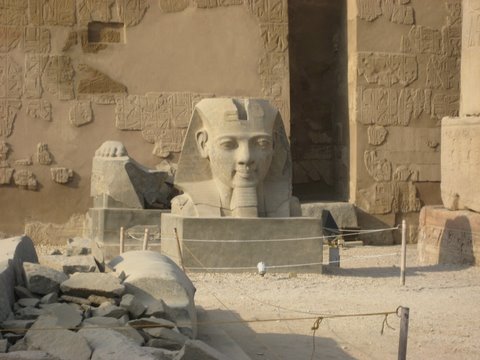 Statue at Luxor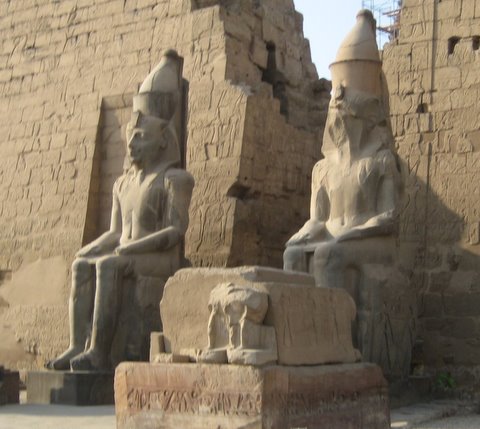 Statues at Luxor
The journey along the Nile was pleasant and relaxing, giving us the opportunity to see the local people on the banks going about their agricultural pursuits in the same way as they have been doing over the centuries.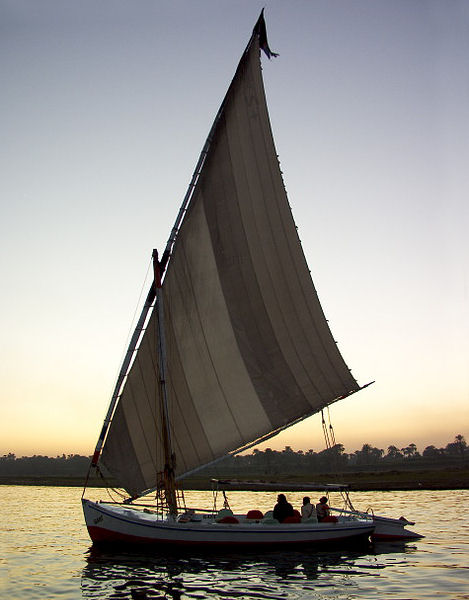 Traditional felucca sail craft
The visits to the temples were interesting, but could be tiring at times, especially when standing around in the heat listening to the guide explaining all the carvings, hieroglyphics, etc.
For the second week we undertook a four hour coach journey, in convoy for security purposes, across the desert to Hurghada on the Red Sea, where we chilled out in a first-class hotel.
Hurghada has been developed as a holiday resort, consisting of a number of imposing hotels set in magnificent grounds and surrounded by souvenir shops, but we did not find it as interesting as Sharm-el-Sheikh, which we had visited a couple of years previously.
Hurghada has a good beach and the snokelling is some of the best in the world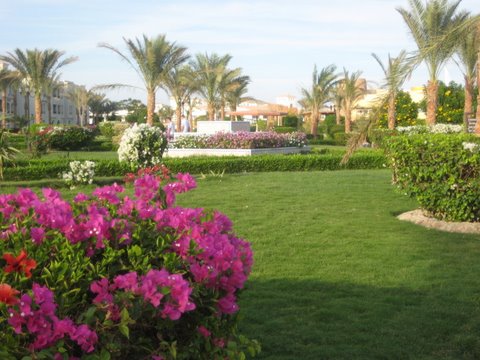 The Dana Beach Hotel, where we stayed in Hurghada
Some tips: The Luxor McDonald's does a mean milk shake, and there is a spectacular view of the temple through its huge picture window.
At Hurghada, if they try to give you an inferior room, make a fuss!
It took a while to get used to the local custom of putting used toilet paper in the receptacle provided instead of down the loo, but I expect that will be the norm here too one day.
Thanks go to to Jim and Liz

| | |
| --- | --- |
| | |
Currently the travelogues are the final pages on this site www.silverhairs.co.uk