Morocco Sailing 1 : Sardinia to Corsica Collioure, France Sailing 2 : Turkey ; The Lycian Coast Marrakech (new)
Acapulco Derbyshire Dales Egypt S.A.Townships Latvia Mediterranean Cruise
Our ancient Trailer Tent Sri Lanka
We visited the Hopewell Game Reserve (Eastern Cape) in November 2009. This weather was perfect throughout the two weeks. We flew via Cape Town and continued to Port Elizabeth by 'plane, without stopping in CT. It takes nearly 24 hours from home to Hopewell Game Reserve. We were greeted warmly and stayed in the Nguni Lodge. You can get more idea of this by visiting the photos at http://picasaweb.google.com/paterson.keith/Hopewell#. or the Youtube at http://www.youtube.com/watch?v=kqH38Pe-mWM&feature=youtu.be We were fortunate to see their hippos and rhino and also a new set of cheetah cubs and baby giraffe. After a few days of luxury we went on the the Bushman's River, near Port Alfred and did side trips to historic Grahamstown. We were astounded to view the Camera Obscura at the Observatory Museum. One could see all round town in clear colour. And this was built in 1868 ! Lastly we drove to (and through) Addo Elephant Park before returning to Hopewell for a couple of nights and more Safari Drives. I have written another article on our 2009 holiday on the Silvertraveladvisor site HERE
For a Photo slideshow click HERE
We prevuiously had a couple of weeks in South Africa in March 2008. It was pleasantly warm; cloudy on occasion with cool evenings. One sunny day it reached 40C and we spent a lot of that day in a pool but I would say that we picked a good time of the year for our visit.
On that ocasion we flew to Cape Town and were based in the Portwood Hotel near to the Harbour, which is smart, with a huge shopping centre and lots of harbour-side restaurants. Food prices were very reasonable throughout our stay, giving us a three course meal with good South African wine for under £10 a head including the obligatory service charge. Service was excellent.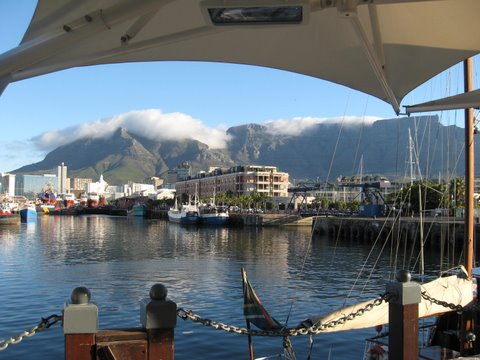 We had booked a full day tour to Simondstown and the Cape of Good Hope and were well pleased. We were surprised to see a large colony of penguins at Simondstown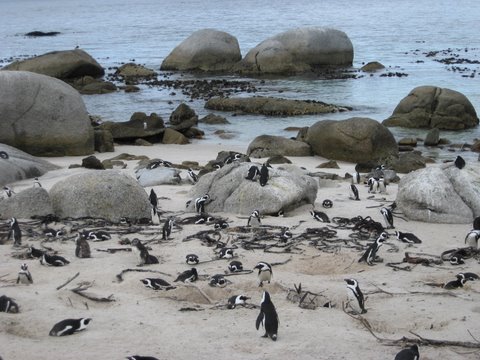 We were accompanied by another couple and, as we were both heading for Stellenbosch, the historic town settled by the Dutch in the 17th Century, in the wine country. So, the following day, we arranged to meet them there.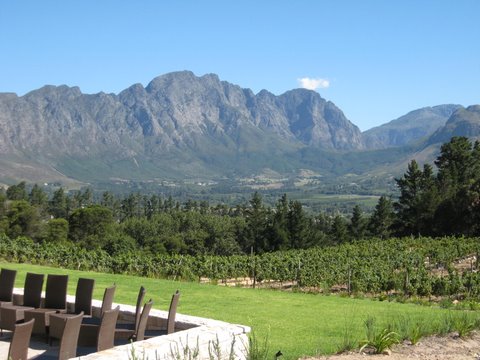 One of the many Stellenbosch Vineyards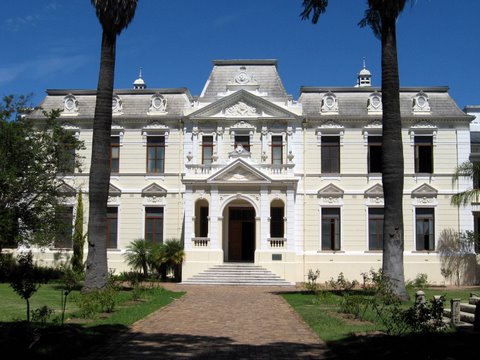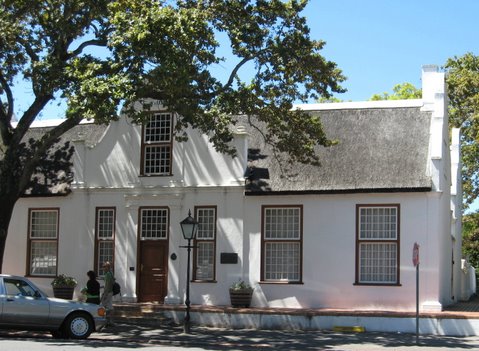 Historic buildings in the main town
The next day we visited Francshhoek, famous for its wines, situated in a beautiful mountain encircled valley. Whereas Stellenbosch was very Dutch, Francshhoek was an area which French people settled. Both very smart places. The tour included a stop at a superb botanical garden in Kirstenbosch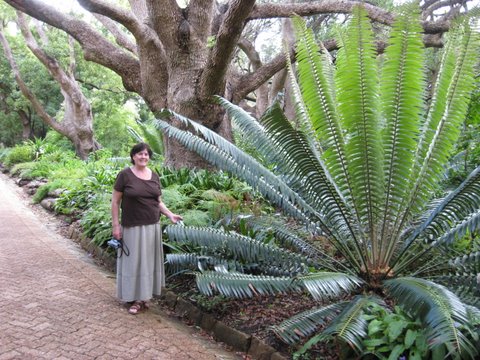 The hotel in Stellenbosch (one of the Protea group), was bordered by golf links and full of golfers. Although we managed pretty well I would recommend anyone booking there would do well to get a car as it is 3 miles out of Stellenbosch and, strangely, taxis in South Africa do not seem to be marked as such and we were at a loss as to how to find one. We had been warned about problems such as mugging and other security problems but we did not come across any examples. People were universally friendly and one did not just feel it was just because we were tourists. There were a few youngsters in Cape Town hoping for handouts but not as bad as London, despite the terrible unemployment rate.
We returned to Cape Town airport and flew to Port Elizabeth where we picked up a car and were escorted to the Hopewell Private Game Reserve about 35 miles from PE. This was indeed a privilege. The game reserve has only been established a few years but already has dozens of animals, including elephants, giraffe, zebra, white rhino, hippos, scores of antelope - (at least a dozen different breeds) - and, the star of the show, a couple of adult cheetah, who have recently had three cubs, now growing fast.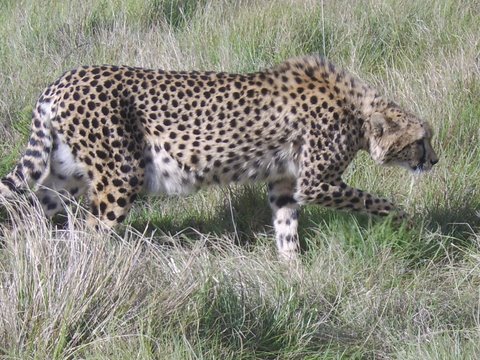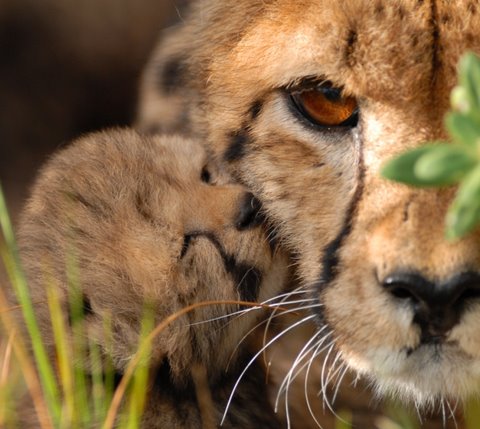 Bruce, the Manager/Game Warden, is a committed conservationist and was pleased to take us on numerous drives, which always terminated in a bush picnic, the grandest of these being a full candlelit dinner under a large tree.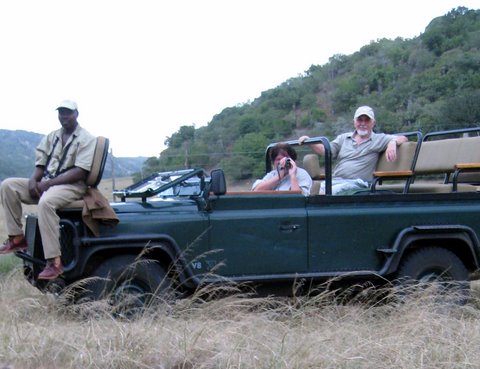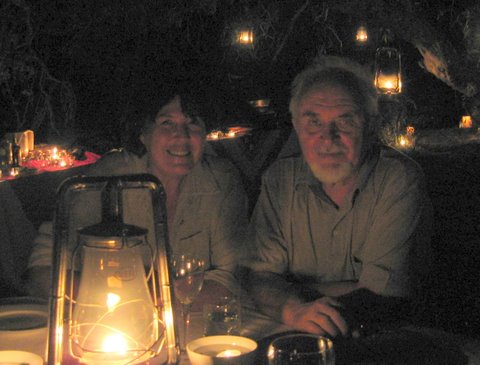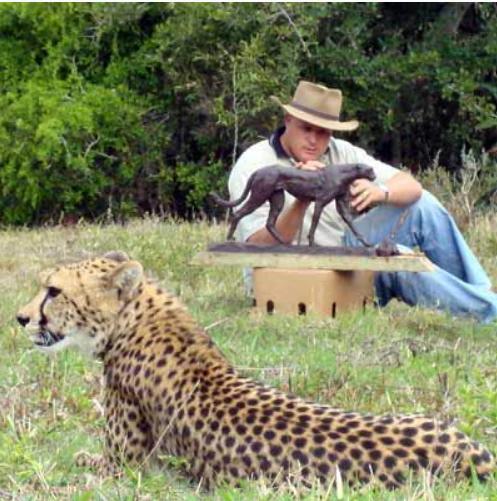 Bruce is also a sculptor of wild animals. See www.brucelittle.com
Later, we then motored on to a small place near Kenton (on Sea) where we stayed in a villa overlooking the Bushman's River. It is a superb tidal river which is navigable for 35 kilometres up country. We were able to walk down to the mouth of the estuary, where the sand dunes reminded us our favourite UK spot of Wells next the Sea.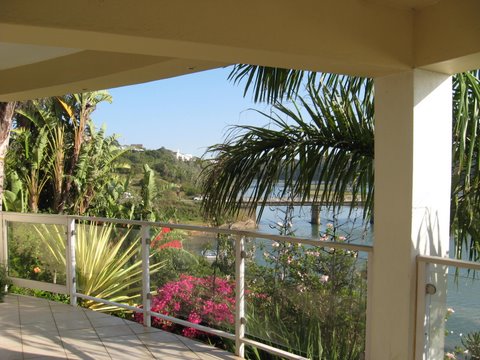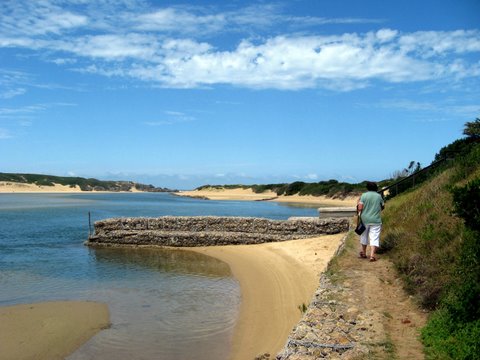 We booked a couple of horses and did our best to trot along the sand and along some frightening cliffs !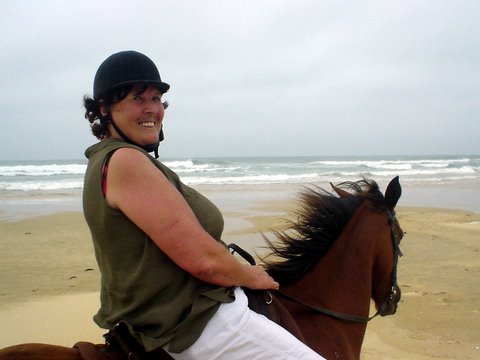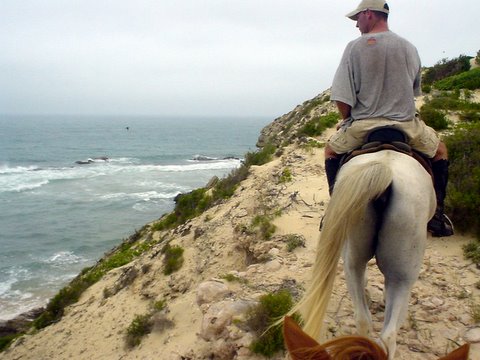 After a week at Bushmans and brief visits to Grahamstown and Port Alfred we returned to Hopewell for one night (and one more safari) before returning to Port Elizabeth for out flight home (via Johannesburg)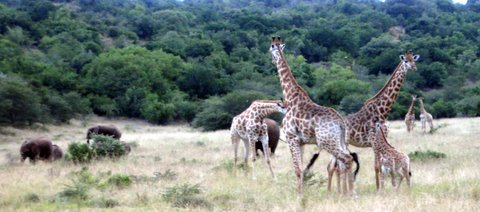 We were fortunate to see elephants, giraffe and zebra all getting on well together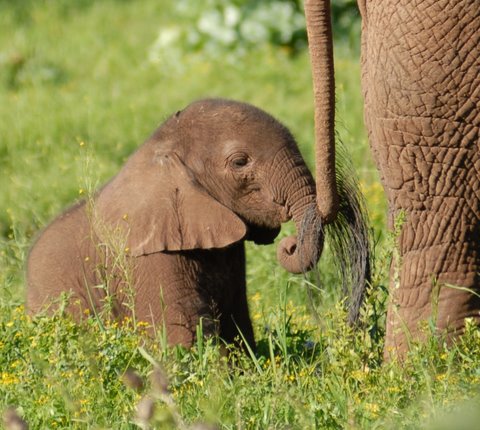 Happiness is........holding Mum's tail
In November 2009 we made a second visit to Hopewell. Another good time of the year yo visit (Spring) On this occasion we also visited historic Grahamstown and the Addo Elephant Park.

While we were travelling to and from airports in Cape Town and Port Elizabeth we were astounded to see miles of 'townships' each side of the motorway. I had thought of townships as being groups of shanty dwellings, not the endless accumulation of shacks that I saw. Many had electricity poles running down each dirt roads between the shacks but little else in the way of amenities. Some attempt has been made to build small bungalows to rehouse people. Some townships are 'official' and some completely unofficial and unregulated. If one is lucky one can get electricity if you can afford a card to use it. If you are lucky you are not too far away from the water standpipe. You are unlikely to be lucky enough to have a toilet and drains, so your 'loo' is a bucket. If you are lucky this will be collected and emptied. But what puzzled me was that the children, especially schoolchildren. were well turned out, and their clothes, spotless. We visited some of these areas where we saw various attempts to help, with creches, play areas, craft workshops and some teaching of pre-school children. Also a Training Centre for teenagers, many of them AIDS orphans, where they can live in, learning carpentry, domestic skills, catering etc. See Oliver Foundation ** It was encouraging, but the housing problem seems overwhelming.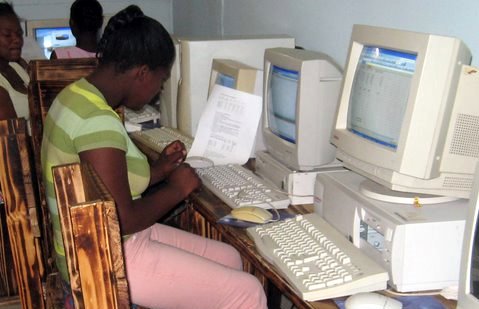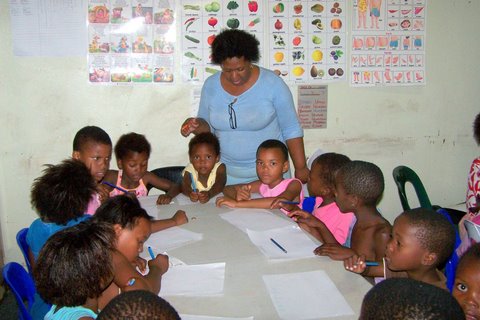 A computing class in a township and a pre school group
** Anyone wishing to donate to this charity can do so via my Paypal Account at pypaterson@gmail.com I can assure you that 100% of the money will be used to help these young people.
My daughter did a sponsored climb of Mt Kilimanjaro in a snowstorm in aid of this fund. Husband, Chris and grandson, Callum, then followed in her footsteps and raised over £70,000. Video at http://www.youtube.com/watch?v=I2X5aiYnS6Y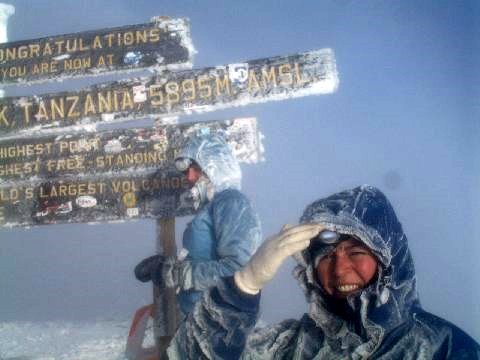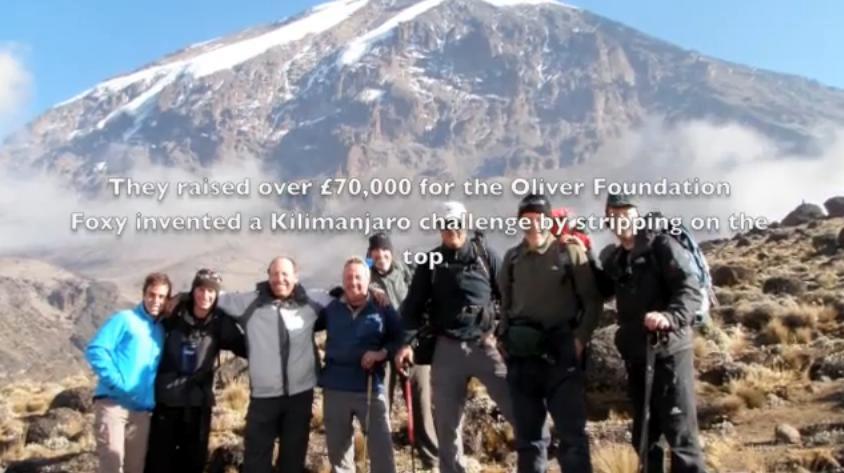 However, South Africa is a country on the move. See http://www.southafrica.info/ess_info/sa_glance/facts.htm. It produces over a third of the wealth of all the 44 sub Saharan countries, has massive untapped resources, including increasingly valuable gold. South Africa does not have large oilfields but converts some of its vast coal resources to oil. Its GDP was growing at an annual rate of over 5% until the recession hit. Tax revenue has tripled in ten years. It spends more on education than almost any other developing country, with 90% of the school child population in school. 17% of government expenditure is on education. The infrastructure is well ahead of other African countries, especially in telecommunications and roads. Its main weakness has been a lack of foresight (as in Britain) in the demand for electrical power, resulting in frequent power cuts ( locally called power sharing) The government is having to impose restrictions on permission for power hungry projects, including factories and large homes with underfloor heating and air conditioning. I did not see evidence of solar heating (as in places like Greece) but, on the Sunshine Coast, it would seem like a winner.
Sitemap Next page - African Townships