Sri Lanka
Next page Cruise
Morocco Sailing 1 : Sardinia to Corsica Collioure, France Sailing 2 : Turkey ; The Lycian Coast Marrakech (new)
Acapulco Derbyshire Dales Egypt South Africa S.A.Townships Latvia Sri Lanka Mediterranean Cruise
Our ancient Trailer Tent
Sri Lanka Holiday Nov-Dec 2009 Jim and Liz Young have been travelling to exotic locations again. See also their trip to Egypt
We flew from Heathrow using Qatar Airways, who looked after us well, until we landed at Doha where we had to make a quick change (no time for the loo) to the already full aircraft (with two little old Sri Lankan ladies occupying our seats) waiting to take us to Colombo, except that the pilot found a computer fault and ordered us all off again. So it was back to the terminal, a rush through security (still no time for the loos) and on to another plane with no old ladies in our seats this time.
When we eventually emerged at Colombo airport tired from the lack of a night's sleep we were met by the Mercury Direct guide, Nalin, who told us it was only another four hours by car to our hotel. It took this long because of the horrendous traffic (no traffic light, no roundabouts, no stop signs) but Nalin was an excellent driver, and though he seemed to spend most of his time on the wrong side of the road, overtaking smoky buses and trucks, I never felt at all uneasy. But it was a relief eventually to reach the hotel in Sigiriya, where we would be spending the first night of our mini-tour.
Nalin called for us bright and early next morning and took us to the Sigiriya Rock Fortress, where he accompanied Liz my wife up the many steps to the famous frescoes painted on the rock face about half way up. They were accompanied by the guides, young lads whose main preoccupation seemed to be to push people from behind as they climbed. I had decided to stay below, but they kept pestering me until I made it clear I wasn't going up and I wasn't going to give them any money. And on her climb up Liz made it clear she wasn't going to be pushed.
The next day we visited the impressive Golden Temple at Dambulla.
and the cave temples around the corner, all of which were occupied by statues of the Buddha in various postures.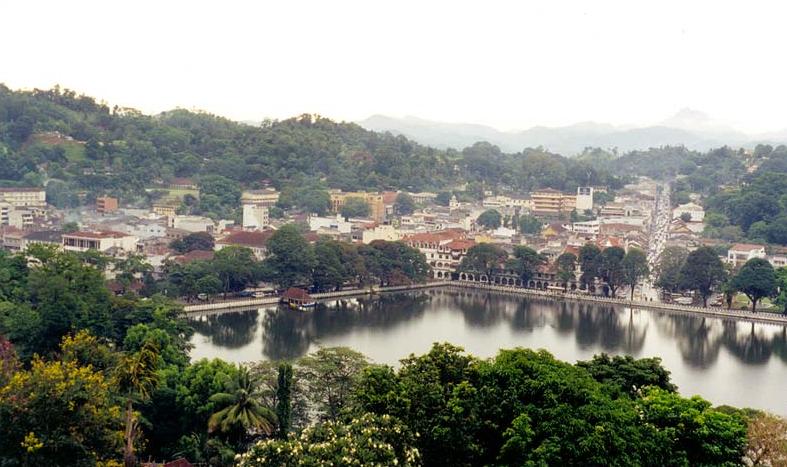 Then on to the holy city of Kandy where among other things we assembled with many other tourists for a cultural dance display followed by a fire walk (no Health and Safety there!).

The last day of our tour saw us strolling in the beautiful, quiet Peradeniya Botanical Gardens,

then it was off to the Pinnawela elephant orphanage where I sat with a nice cool beer observing the elephants disporting themselves in the river while Liz went to feed one of them.

Then to the Browns Beach Hotel, Negombo where

we were to spend the next two weeks relaxing. I won't talk about the hotel here, having already reported on it on www.tripadvisor.co.uk on 29 December under my nom-de-plume of VictorM31. The Victor is for Victor Meldrew, my wife's nickname for me, I don't know why.

Map of Sri Lanka