South Africa (a Township)
South Africa (2) - Township Experience
Go to Sitemap
Morocco Sailing 1 : Sardinia to Corsica Collioure, France Sailing 2 : Turkey ; The Lycian Coast Marrakech (new)
Acapulco Derbyshire Dales Egypt South Africa South Africa (Townships) Latvia Mediterranean Cruise
Our ancient Trailer Tent Sri Lanka
Nov 2012 Although Port Elizabeth is a modern town and conditions may not be as bad as some of the larger urban areas there are still parts that consist of nothing more than self erected corrugated iron and wooden houses and, because of high unemployment and the high death rate due to poor conditions and AIDS, there are many families that live at a subsistence level, often depending on an aged grandmother to look after children.
The result can be street children, living as best they can. There are a number of charities attempting to alleviate these conditions, get the children into school and providing more than just handouts. One such is The Oliver Foundation which provides funds for local organisations to coordinated help, shelter and training for young people. See the video at http://youtu.be/qDEtJxGhuR4 The Khayalethu Hostel already supplied this need but they have now developed a new hostel. And this needs money. I have personally visited the area and know that what they are doing is effective and enabling some youngster to climb out of the impoverished townships.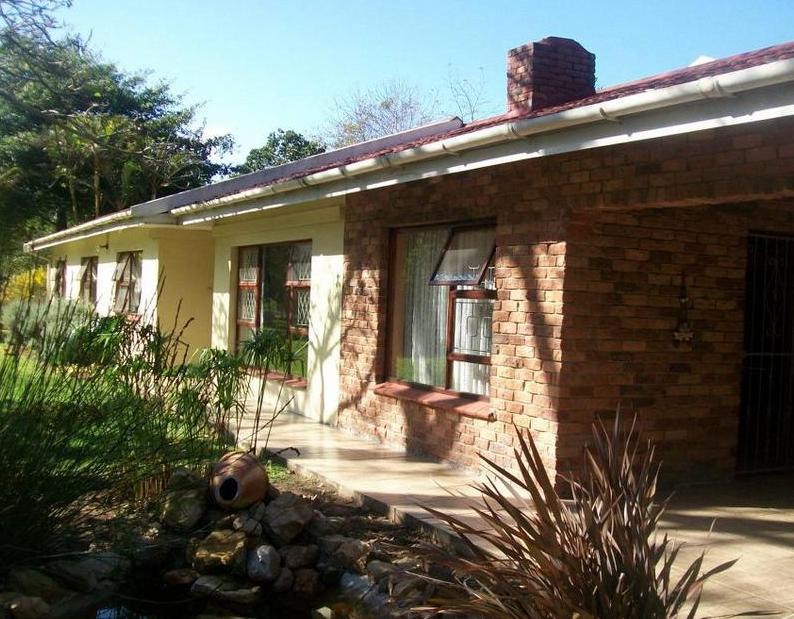 This is a recent picture of some of the older youngsters who have benefited through the scheme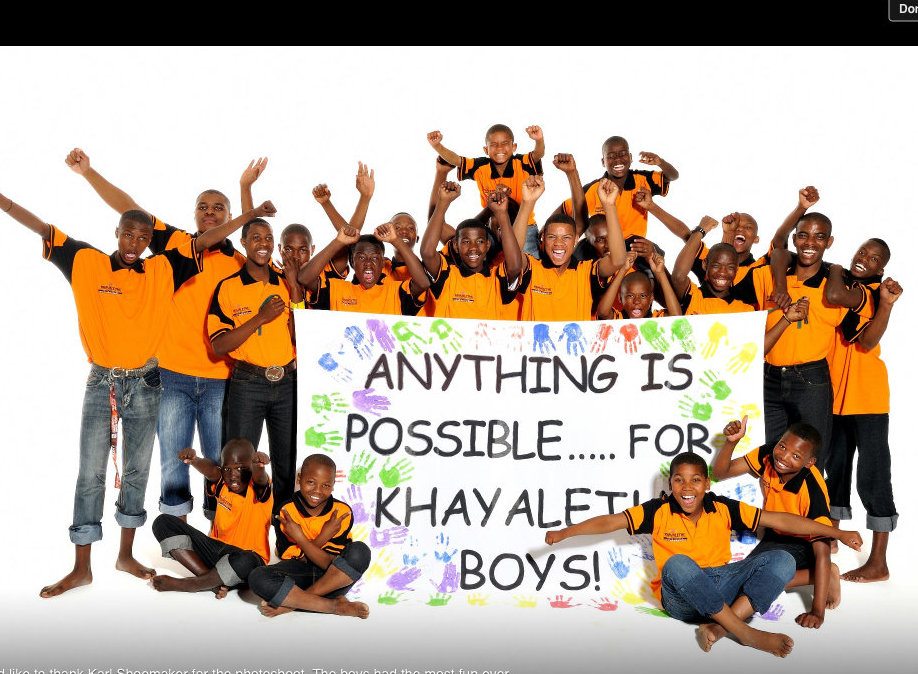 As well as helping youth of a poor Port Elizabeth Township the Oliver Foundation funds pre school activities. Here is a sample of one of the Zama groups enjoying themselves http://www.youtube.com/watch?v=iEqdMVzfqYs And in 2010 a new ballet video : http://www.youtube.com/watch?v=Q0H39PI_MhE&feature=player_embedded (Having been inspired by seeing Milwhynne, a young ballet dancer from the Eastern Cape, Anele composed her own ballet for the Zama Heritage Day celebrations. What a talent!)
In May 2009 a group of young rugby players (under 14s) visited Saffron Walden from Port Elizabeth and play local teams. They wiped the local teams off the field because of the training that they had received. I feel sure that some of them will eventually get to play for big teams like the Springboks. There is a video on Youtube about this HERE
Another video showing the Port Elizabeth choir supported by the foundation can be seen HERE
One of the organisations helping these youngsters achieve more is http://www.unitedthroughsport.org/ which uses sport to encourage them to achieve on the sports field and in the classroom
Grandson and son-in-law have climbed Kilimanjaro with a group of others in aid of a very special charity that is doing excellent work in a township in Port Elizabeth, South Africa. They planned to raise £60,000 for projects and, in the end reached over £69,000! If you find my website useful, please dig deep.
Umzi Wethu is also upported by the Oliver Foundation. They have just received a Rolex Award for Enterprise.
And a video recorded by a local helper can be seen at http://www.youtube.com/watch?v=guK07d2d6-Y&NR=1
While we were travelling to and from airports in Cape Town and Port Elizabeth we were astounded to see miles of 'townships' each side of the motorway. I had thought of townships as being groups of shanty dwellings, not the endless accumulation of shacks that I saw. Many had electricity poles running down each of the dirt roads between the shacks but little else in the way of amenities. Some attempt has been made to build small bungalows to rehouse people. Some townships are 'official' and some completely unofficial and unregulated. If one is lucky one can get electricity if you can afford a card to use it. If you are lucky you are not too far away from the water standpipe. You are unlikely to be lucky enough to have a toilet and drains, so your 'loo' is a bucket. If you are lucky this will be collected and emptied. But what puzzled me was that the children, especially schoolchildren, were well turned out, and their clothes, spotless. We visited some of these areas where we saw various attempts to help, with creches, play areas, craft workshops and some teaching of pre-school children. Also a Training Centre for teenagers, many of them AIDS orphans, where they can live in, learning carpentry, domestic skills, catering etc. See the Oliver Foundation ** It was encouraging, but the housing problem seems overwhelming.
For instance, one of the children who attends a creche sponsored by the Oliver Foundation is called 10c. This is because when he attends he asks for 10 cents so he can buy a Fetcook a sort of African Cornish Pasty, ingredients: Bread dough with filling, the most popular being a mildly curried mince & chopped up vegetables, deep fried.
This is where 10c lived and this was his bed until recently. However he has now been placed in a hostel run for street children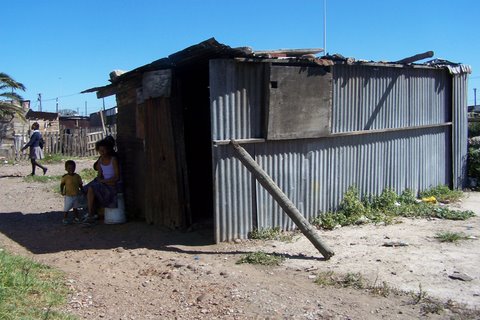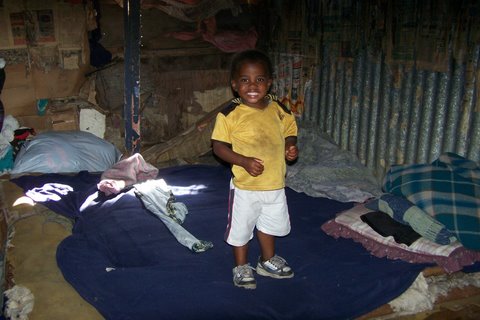 Since this photo was taken in March 2008, 10c has left "home". He was found wandering on the streets, was referred to Social Services and was taken into care. I just hope he is still smiling.
I have become committed to collecting cash for the Oliver Foundation and, up until the end of 2011 had had donations amounting to around £4000 from companies and private idividuals. I have investigated ways of sending things like tools and clothes but there are many obstacles and, for a developed area like Port Elizabeth, the best thing is to send cash to the dedicated local people. If you wish to help please contact me at paterson.keith@gmail.com