Holiday in Latvia
see also http://en.wikipedia.org/wiki/Riga

Go to Silverhairs Home Page SITEMAP

Morocco Sailing 1 : Sardinia to Corsica Collioure, France Sailing 2 : Turkey ; The Lycian Coast Marrakech (new)
Acapulco Derbyshire Dales Egypt South Africa S.A.Townships Latvia Mediterranean Cruise
Our ancient Trailer Tent Sri Lanka
2011 Video of Riga. See http://youtu.be/bjY5NIbVpzA
We flew to Riga, the capital of Latvia, in 2006 and were amazed at what we found. Far from being a threadbare Russian annex it was a colourful modern city full of parks, statues and magnificent architecture. Latvia has always been a lively trading country on the Baltic. It became prosperous when it was part of the Hanseatic League from 1300 right up until the mid 1800's. It stands on the broad Daugava River and has its own seaside playground at nearby Jurmala, still a favourite with well heeled Russians.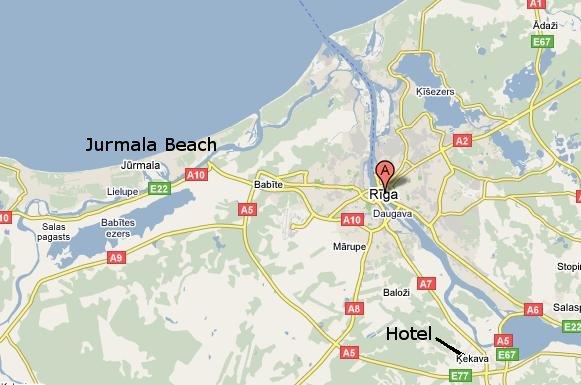 We stayed in a village hotel a short bus ride from the city. Costs of accommodation, food and drink were ridiculously low. We could have bought the whole hotel for the price of a house in the UK.
After the Gorbachov Glasnost period Latvia became increasingly independent from 1989 and a few years later established its own parliament and asked the high proportion of Russians to choose between becoming Latvian ... or leave. The Latvian language became the main one and a museum is dedicated to the "Occupation". It privatised industry and the collective farms, returning them to their owners or compensating them. In 1994 Latvia became part of the EEC and has a strong, expanding economy. As crossroads between Russia and the West it is in a fortunate position.
The climate is pleasant during Spring, Summer and Autumn but winters can be fairly extreme, with the sea freezing.
The Latvians are great flower givers. One sees macho looking men walking around town little posies to give to their girlfriends.
Our girls were presented with flowers wherever they went even if they were just bunches of wild ones with grass decoration!
Smart Riga

| | |
| --- | --- |
| | |
| | |
The banks of the 'canal' reminded me of 'The Backs' in Cambridge

Panorama along the Daugava River
Beautiful Riga

| | | |
| --- | --- | --- |
| | | |
| | | |
There are many old buildings tastefully restored since the Russians departed
Jurmala is a short ferry ride from Riga. It is still popular with Russians. Recently one rich dissident disappeared from his dacha and hasn't been seen since !

Go to Silverhairs Home Page or sitemap Return to Travelogue Main Page