Although they all have sails they rarely bother to put them up and just motor round the bays allowing you the opportunity to swim and snorkel. Competition is so fierce amongst the owners that prices are very reasonable and, although the berths are small and have bunks I recommend the experience to anyone who likes to put to sea and to swim in clear warm(ish) water. Not suitable for scuba enthusiasts and the fish are usually "fiddlin' and small". The food is basic but adequate, usually a very large container of rice, vegetables and chicken or other meat from which you serve yourself at mealtimes. There is a bar from which you can buy alcohol at reasonable prices. This year we joined an all day cruise on a larger gulet with about 60 people on board. The price, including the mid day meal was £5 each !
However, in 2006, we had the opportunity of a week with some friends on the luxurious Wild Salmon, an 80 foot yacht, sailing from Gocek, near Fethiye. After that we decided to stay in the area for a further week and were fortunate that, even in early October, the weather stayed perfect throughout.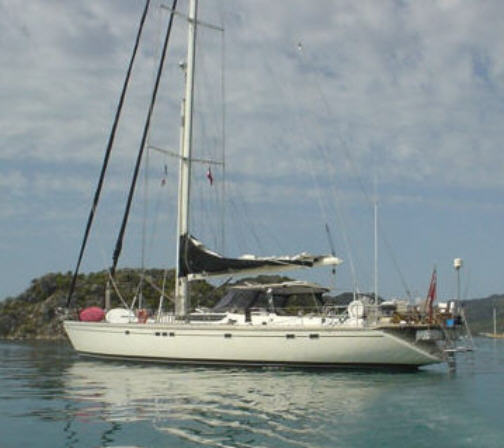 Wild Salmon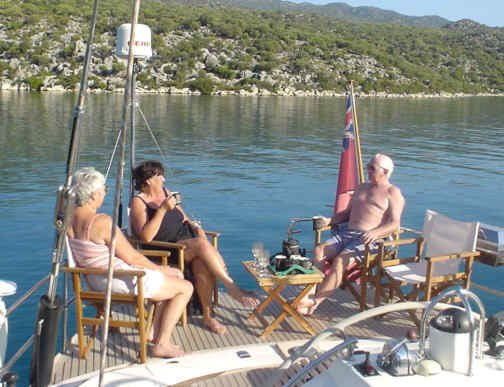 Relaxing
Steve, the captain decided to show us the historic Lycian Coast, which runs from Fethiye eastwards towards Syria. Gocek itself is a delightful port full of large private sailing yachts and even larger power boats. We stopped off at Seagull Bay, Kas, Kalkan, Ukagiz, Kalekoy, Kekova and Kastelerizo (a Greek island).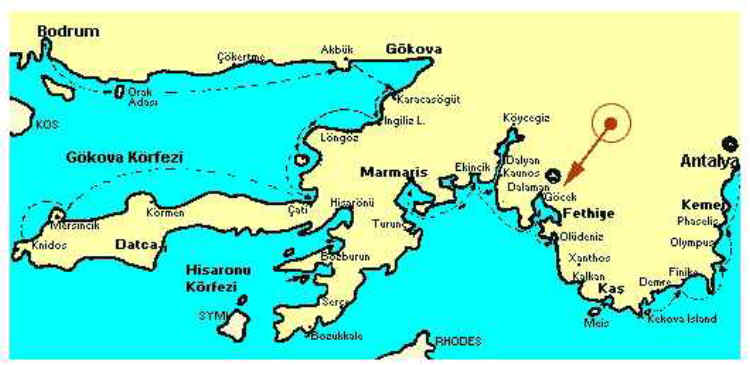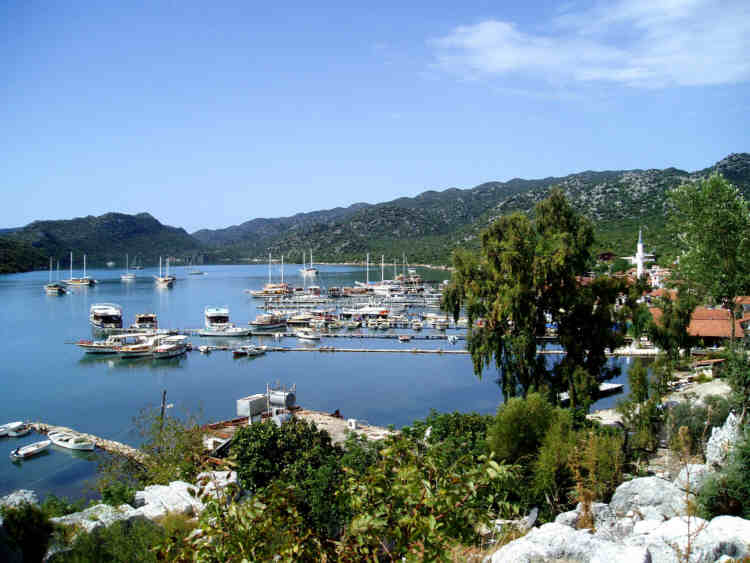 The area has been invaded and colonized by many people over the years and the coast is littered with evidence of their presence. Many of the cliff tombs and sarcophagi are from as far back as 500BC and there are numerous amphitheatres and ruined ports, many from the Hellenist and Roman periods.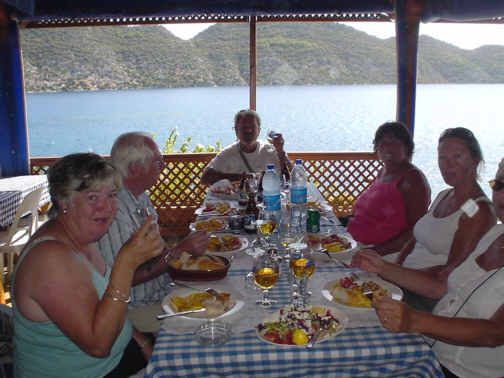 After climbing up to Kekova castle we had a meal overlooking the harbour
Ancient sarcophagi

| | |
| --- | --- |
| | |
The whole coast is very mountainous and appears barren from the sea but surprisingly there is a well worn footpath along the 300 miles between Fethiye and Antalya, called "The Lycian Way". It is a route which many visitors have taken and apparently has adequate stopping off points along the way to enable keen hikers to cover the whole route, given a couple of weeks and a good map and compass.
Sandy beaches are something of a rarity in this area but we did quite a lot of swimming from the boat and, on the last day enjoyed being towed behind the powerful dinghy on a couple of "ringos" and a "banana boat". All great fun and the water was warm if you fell in.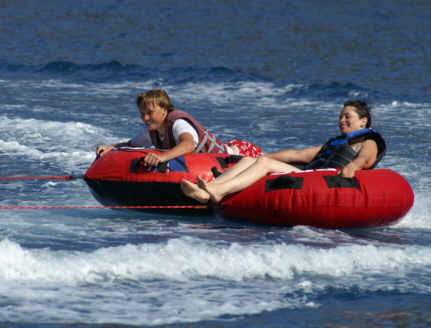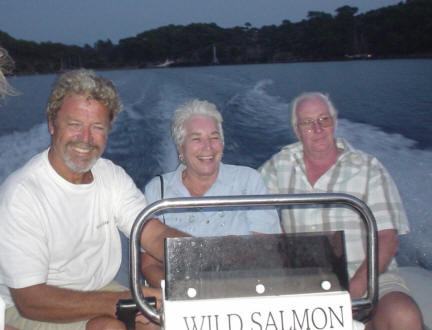 The speedboat is always fun
At the end of a wonderful week on the boat Steve landed us near the beautiful Olu Deniz beach, the premier parascending centre for the whole of Europe and we were fascinated to see a continuous stream of parascenders flying from the nearby mountain (Babadag) down onto the beach.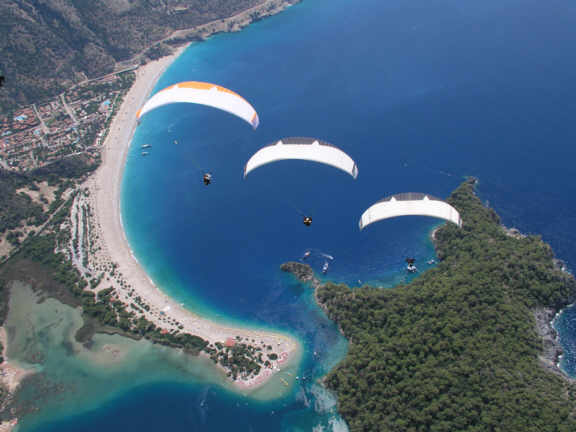 We had booked an apartment at Ovacik on the foothills of the mountain, choosing it from the internet. At that time of the year this excellent modern apartment cost only £150 for five of us.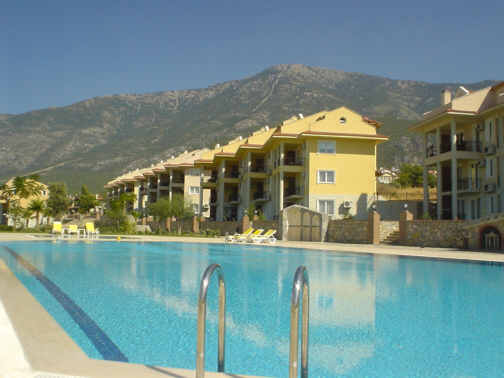 Let me know if you want a contact for the Pinara apartments
Ovacik is a village on the main road from Fethiye to Olu Deniz and it is immediately adjacent to Hisaronou, which is a larger and busier town. Olu Deniz is a smart beach resort and, with the best sand and shingle beach for miles around, has become popular with tourists and residents alike. Many of the hotels and houses have large swimming pools. Its natural lagoon is a protected area where power boats are not allowed.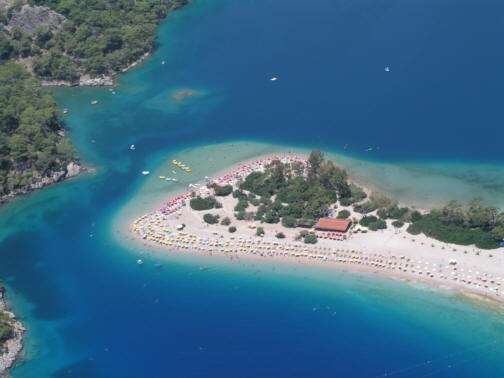 The most photoraphed beach in the Mediterranean
My wife and another in the party decided that they would book for a parascend, so I couldn't be chicken, although the thought of heights make me go cold ! We have both done it being towed behind a speedboat but thinking of taking off from a mountain at about 900 metres (3000 feet) still makes me feel the same even now. Nevertheless we all went up, the journey in a four track vehicle proving to be as frightening as coming down ! I was surprised to see that there were people living on the mountain at that height and more surprised to see rows and rows of beehives by the side of the rough gravel track.
Parascending from Mount Babadag
Flying a parachute is not for novices so we were strapped (rather loosely) to a skilled pilot. A little run down the slope and we were airborne with the pilot shouting instructions in my very deaf ears. I took a still camera with me and my wife took a video and we both managed to record the descent. There were also photographers at the top and on the beach landing area, so it is possible to get a full record of your adventure.
We all did it ! Pat even videoed her descent http://youtu.be/L1fceCCBFkM
Long video of a paraglide : http://www.youtube.com/watch?v=zOEc1MdiCuE
The rest of the week we spent sunning ourselves, swimming (at Olu Deniz and Calis beaches) and eating in a variety of restaurants. I have to say that I have never had any problem with the food in Turkey - or, for that matter, any of the places around the world where we have stayed.
Fethiye, the largest town in the area, has a huge natural harbour and is full of gulets plying for trade and many restaurants. The esplanade has been tastefully developed and the town would be a good place to stay. Olu Deniz has the best beach and choose Hisaronou if you want somewhere lively e.g. the www.hanhotel.com.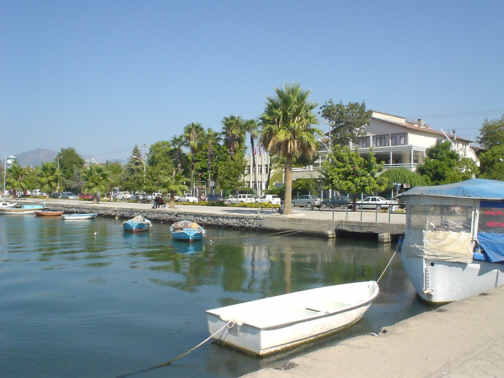 A calm morning in Fethiye Harbour
---
Site Navigation Links :- Please click on SITE MAP
---